Justin Bieber and Selena Gomez caught kissing aboard a private yacht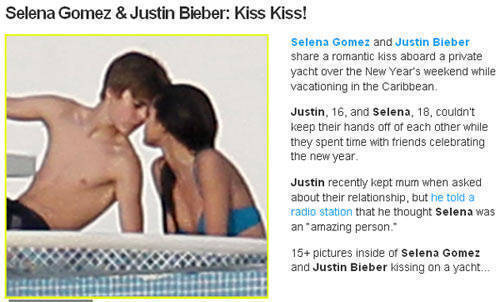 Screencap from Just Jared.
Tween singing sensation Justin Bieber, 16, and actress-singer Selena Gomez, 18, were caught kissing aboard a private yacht this past weekend, reports Just Jared. The photos were taken during the two stars' vacation in the Caribbean with friends. 

There were no photos on Just Jared that showed the pair actually kissing on the lips, but there were plenty of the two cuddling and even some showing Bieber with his hand awfully close to Gomez' butt.

Asked last month about Gomez, Bieber told MTV News, "She's really cool... She's an amazing person." Earlier, Gomez addressed the sighting of them getting pancakes together: "It was pancakes. Who doesn't like pancakes?"
ADVERTISEMENT - CONTINUE READING BELOW
For more on this story, log on to Just Jared.
Recommended Videos
Load More Stories