The Best of SPOT.ph: 100 Best Pinoy Sweets
PINOY PRIDE RETRO SPECIAL: These local desserts and merienda confections hit our sweet spot.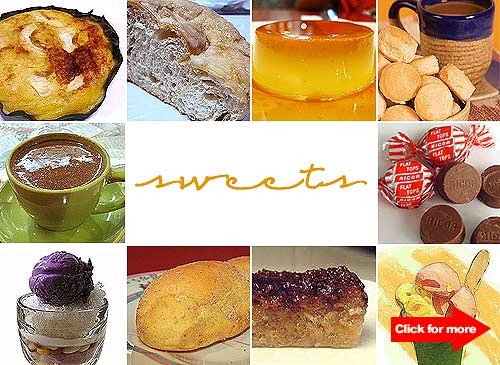 To see SPOT.ph's gallery of 100 Best Pinoy Sweets, click for more.
SPOT.ph has your sweet cravings covered. Here, our top picks for Pinoy treats, from the best bibingka to our favorite local biskwit.

Top 10 Bibingka in Metro Manila
It's bibingka season! Here, our top picks for the prized Pinoy delicacy.



Top 10 Leche Flan From Metro Manila Restaurants
SPOT.ph found rich, creamy, smooth, melt-in-your-mouth goodness all over town!



Top 10 Pinoy Chocolates
Even the most discriminating chocolate connoisseur will agree, these homegrown confections still hit our sweet spot.

Top 10 Favorite Pinoy Biskwit
Remember these childhood favorites? We list our favorite Pinoy biscuits and where to get them.



Top 10 Best Ensaymada in Metro Manila
Looking for the perfect ensaymada to pair with your tsokolate? We've rounded up the best that you can find in the city.



10 Best Tsokolate Spots for a Rainy Day
When the rains come pouring down, know where to get steaming hot cups of tsokolate with our list.

Sweet and Sticky Pinoy Treats: Our Top 10 Kakanin
SPOT.ph gives you the dish on the Pinoy kakanin treats that top our list.



Pinoy Bread: 10 Best Panaderia Classics
SPOT.ph doesn't cut corners on our favorite panaderia goodies. Which ones are your favorites?



SPOT.ph's Halo-halo guide: Our Top 10
We tell you where to get the best halo-halo concoctions in the city.



10 Ice-Cold Summer Sweets That Bring Back Our Childhood
SPOT.ph takes you on a soothing tour down memory lane in the land of the ice drop, ice scramble, and ice candy.



ADVERTISEMENT - CONTINUE READING BELOW
Load More Stories