SPOT.ph Roadtests 10 Mobile Mani-Pedi Services
SPOT.ph did the research for you! We tested 10 mobile spas and nail salons for when you need hassle-free pampering at home.
Which mobile nail spas should you call for the best at-home, mani-pedi service?  SPOT.ph did the oh-so-grueling research for you (somebody had to do it). We asked mani-pedi fanatics and tried 10 popular nail spas that offer at-home pampering services so you can pretty up your hands and feet without getting out of bed.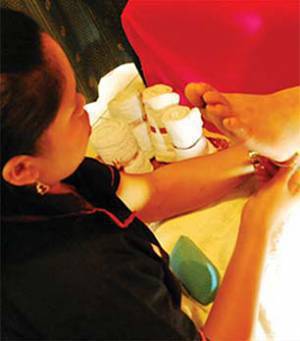 Celebrity Nails
Tel. Nos: (0926) 755-5599, 502-7332 (Quezon City, Pasig and Marikina), 401-7789 (Alabang, Las Piñas, Makati, Parañaque)
Website: www.celebritynailssalon.com
Areas covered: Metro Manila (11 a.m. to 11 p.m. daily)
Price: P500 minimum for their home service

The lowdown: A session with Celebrity Nails starts with hassle-free booking. We contacted them through their mobile number and they called back to follow up on the appointment. While the technician arrived 15 minutes late, she made up for it by quickly setting up her equipment: a foot bath, scrubs, a stool, a foldable chair, fresh towels and a tub-full of polish.

The basic mani-pedi includes a foot bath and a rub-down with an option to choose from their strawberry, peppermint, lemongrass and lavender-scented foot scrubs. You may have to prompt the nail technician to ask  about your preferences--the therapist we had didn't ask whether we wanted our cuticles trimmed or left alone, or what nail shape we wanted.

Thumbs up for: Others may offer cheaper mani-pedi services, but the great thing about Celebrity Nails is their area coverage, which is more extensive than most mobile spas in the market. Plus, their technician had brilliant nail polish application skills (neat and smooth) and the polish on our fingernails lasted for a week and a half before it started to chip. The polish on our toenails, however, lasted for more than two weeks. Celebrity Nails' selection of polish also included several shades from various brands like Maybelline, Orly, OPI, Revlon, Face Shop and L'Oreal.


Bliss Home Service
Tel. Nos: 502-0257, (0917) 832-6479
Areas covered: Quezon City only: Commonwealth and Katipunan; additional transportation charges apply to other areas (starts at P50)
Price: A basic, no-fuss manicure starts at P90 and pedicure is P100; other packages available include budget-mani pedi with polish, mani-pedi with luxurious scrub and premium polish.

The lowdown: Booking a session with Bliss Home Service was quick and painless--after giving our complete address, they informed us of additional transportation charges should the place be out of their area of coverage (charges start at P50, depending on the location).

For our mani-pedi session, two uniformed technicians arrived five minutes after the appointment time. They quickly proceeded to lay out the equipment (stools, polish, a selection of 20-plus kinds of nail polish from The Face Shop for basic services; OPI and Essie nail polish plus foot spa equipment for the mani-pedi package with scrub). All their towels were also neatly placed in separate plastic packs so they seemed like they were properly sanitized. They also brought a small pillow on which to rest our hands.

Thumbs-up for: The technicians asked about our preferred nail shape and if we wanted them to trim our cuticles. They were very thorough yet gentle, and they worked quietly. They were also good with the little things, like deftly cleaning the excess nail polish and cleaning up their work area afterwards. The technician who worked on our manicure also took the time to buff our newly-cleaned nails before applying the polish, which didn't start to chip until after the two-week mark.
ADVERTISEMENT - CONTINUE READING BELOW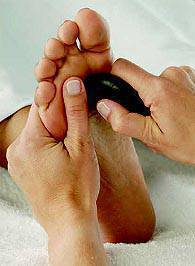 Massage by Us
Tel. Nos.: 392-9233, 211-1557
Areas covered: Alabang, Las Piñas, Makati, Mandaluyong, Muntinlupa, Parañaque, Pasay, Pasig, Quezon City, San Juan, Taguig (10 a.m. to 12 mn)
Price: P250 for the basic mani and pedi; P400 for foot spa and pedicure; P400 for the hand spa and manicure; P700 for foot spa, hand spa with manicure and pedicure

The lowdown: Massage by Us called on the day of the appointment to confirm our session. Their technician, who arrived on time (we called to check if they had difficulty locating our address), brought a trolley with a foldable chair for her to sit on, clean towels and a box filled with her tools and nail polish--a selection from The Face Shop, Orly, Sally Hansen and Bobbie.

The technician was adept at cleaning our nails but didn't ask whether or not we preferred to have our cuticles trimmed. She wasn't as skillful with the nail polish application as we would have wanted (the polish on our hands and feet only lasted for a week) but she did, however, give in to the request to reapply the nail polish until we were satisfied.

Thumbs-up for: The technician worked quickly, and P250 is not a bad price to pay for the convenience.
ADVERTISEMENT - CONTINUE READING BELOW
Pamasaje Mobile Spa
Tel. Nos.: 721-3515, 721-3591, (0922) 809-0869
Areas covered: Libis area, Mandaluyong, San Juan, and most parts of Quezon City; for other areas, minimum services availed should be P1,500 (10 a.m. - 2 a.m. daily)
Price: P250 for the basic mani-pedi
The lowdown: Pamasaje's bookings can be done through SMS. Armed with foot spa equipment, towels individually wrapped in plastic bags, a stool, lamp, and rubbing alcohol to clean their tools, the technicians got our nails cleaned and polished in 40 minutes. They let us choose from around 40 shades with a selection of local and imported nail polish (add P20 for the imported nail polish), which lasted for a week before the color started to chip and fade.
Pamasaje's technicians remember your nail and cuticle preferences if you're a regular customer, while first-time customers will like how the technician consults them before the session starts.

Thumbs up for: Pamasaje's technicians arrived on the dot and worked quickly yet gently.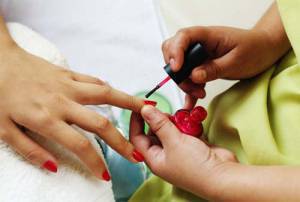 ADVERTISEMENT - CONTINUE READING BELOW
I Do Nails
Tel. Nos.: 502-9099, 635-2654
Areas covered: Marikina, Pasig and Quezon City; other areas require a minimum of P1,000 in services (1 p.m. - 9 p.m.)
Price: Manicures start at P90 and pedicures start at P130, nail packages and sparty packages available

The lowdown: The courteous technician arrived 30 minutes earlier than scheduled, donned an apron, a headband, and a hairnet. She set up her mat, foot spa equipment, sweet-smelling towels and the manicure set all under 10 minutes. She brought pillows and a neck rest to make the session as comfortable as possible.
The basic mani-pedi included a foot soak with oil. The technician asked about our preferences every step of the way, like if we wanted our nails and cuticles trimmed and how the nails should be shaped. We also loved how the nail polish on our hands and feet lasted for two weeks.

Thumbs-up for: I Do Nails' high regard for cleanliness and comfort got plus points and their selection of nail polish hues from OPI and Essie were not your run-of-the-mill salon colors. The technician's massage skills were also much-appreciated--our hands and feet got expert kneading before they applied the nail polish.


Spa Amansala
Tel. Nos.: 489-4320, 633-2843, (0927) 258-9459, (0929) 582-1581
Areas covered: Ortigas Center, Valle Verde, Kapitolyo, San Antonio, Greenmeadows, Acropolis, White Plains, Corinthian Village, Dasmarinas Village, Forbes Park, Urdaneta Village, Bel-air Village, San Lorenzo Village, The Fort, Rockwell and the Makati Central Business District (1 p.m. to 1 a.m. daily)

Price: P300 for the Express spa hand and foot care; P500 for Pampering foot spa with pedicure and P650 for Pampering foot spa with pedicure and manicure; party packages also available

The lowdown: Spa Amansala is all business, from the time you call in your appointment to the time the technician arrives at your doorstep.

Their basic mani-pedi does not include a foot soak nor a foot spa. They got down to the cleaning fast, and left our hands and feet neat and polished--perfect for those who want a quick mani or pedi at home. We liked that the technician brought clean towels and consulted us before working on our nails.
ADVERTISEMENT - CONTINUE READING BELOW
We went for a French manicure and the pretty polish lasted for only a week.

Thumbs-up for: The Spa Amansala technicians were really efficient. Theirs was a no-frills mani-pedi service (no pillows and no foot spa), yet the session was pretty pleasant. The technician observed a good cleaning technique that was neither too rough nor too gentle, wasn't chatty, and they used OPI nail polish for the basic package.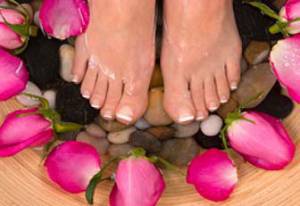 Nail Experts
Tel. Nos.: 659-6206 (49 Japan Street, Betterliving Village, Parañaque branch); 546-6427 (BF Homes, Paranaque area); 487-8775 or (0922) 824-8772 (Quezon City area)
Areas covered: BF Homes, Parañaque, Merville, Moonwalk, Multi-national Village (P500 minimum)
Price: P140 for the basic manicure and P150 for the basic pedicure

The lowdown: Home service mani-pedis are usually no-fuss deals-the nail technician comes with her kit and does your nails. What set The Nail Xperts Home Service Spa apart was how they bring the spa ambience to your home. Aside from the usual manicure kits and towels, Nail Experts brought foldable stools, a mat for our feet, and, for those getting a foot spa treatment, a wooden basin with stones, all in the comfort of your home.
ADVERTISEMENT - CONTINUE READING BELOW
The polish, however, didn't last on our nails for too long. Subjected to an out-of-town trip, the polish started to chip just two days after our mani-pedi session.

Thumbs-up for: The Bella Vie treatment, which includes a foot spa, manicure, and pedicure. The session lasted about two hours and started with a basic manicure, a foot/calf exfoliation treatment and a massage for both hands and feet. Our nails were painted with Orly nail polish and they used Orly Spritz Dry after applying each coat so we didn't need to wait another hour for them to completely dry.
Spa Works
Tel. Nos: 975-3255, 394-8674, (0917) 596-0011, (0922) 832-0111
Areas covered: Metro Manila (11 a.m. to 1 a.m. daily)
Price: P300 for a basic mani-pedi

The lowdown: Making the appointment was simple enough-the person manning the phone was very efficient. The technician arrived late, and it took her around 10 minutes to set up her own stool, light, and the selection of Orly nail polish in various shades. Their basic mani-pedi does not include a foot soak or a scrub and took about an hour and a half, but it was because the technician did a stand up job cleaning our nails and really took the time to be as thorough as possible.

We had to prompt the technician to ask us how how we wanted our nails to look like because she didn't inquire about our preferences. She worked quietly and was very efficient at cleaning the cuticles, but we wish she had been as thorough cleaning up the post-service clippings and residue that was left on the floor. We opted not to have our nails painted with polish but we were happy with our shiny nails which were expertly buffed.

Thumbs up for: Spa Works does an awesome job with cleaning the nails-the technician was very thorough and did a good job with ingrown toenail removal. The nail-filing and buffing was spot-on, too-not painful unlike others we've tried before.
ADVERTISEMENT - CONTINUE READING BELOW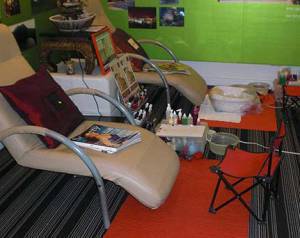 Nails at Home
Tel. Nos.: 726-4877, 726-0814
Areas covered: Greenhills, Makati, Pasig (8 a.m. - 10 p.m. daily)
Price: P360 for a basic mani-pedi

The lowdown: Nails at Home offers the basic mani-pedi service which comes with a foot soak. Their technicians arrived 45 minutes early and took 10 minutes to set up the work area.
Don't expect a large selection of nail polish-they used Orly polish but didn't offer a lot of shades to choose from and the polish only lasted for a week. They also offer spa packages which lasts for four hours for P1,800.

Thumbs-up for: The technicians consulted us about our preferences on nail shape and if we wanted our cuticles trimmed, and also made sure we were comfortable for the duration of the mani-pedi session.
TPM Massage Express Center
Tel. Nos.: 466-3538, 384-3835
Areas covered: Mandaluyong, Makati, Quezon City: Banawe area, Commonwealth, Kamias, Timog and Tomas Morato areas (10 a.m. - 1 a.m. daily)
Price: P250 for the basic mani-pedi

The lowdown: Home service massage is really TPM's main selling point but they also offer foot spa, hand and foot reflexology massage services, and the basic mani-pedi. Theirs is a no-frills deal-the technician was 10 minutes late and we were surprised that she didn't bring a stool to sit on, and if you don't have any at home, it proved to be a challenge when we settled on the couch for our session.

The towels didn't look as fresh as we would have wanted but the technician was, however, gentle in cleaning our nails. We had to tell her our nail shape preference and if we wanted our cuticles trimmed, and she was diligent about heeding our instructions. The nail polish selection was also limited to around 10 shades from local brands and the polish lasted for only a week.


Thumbs-up for: TPM has cheap and quick mani-pedi services. For an added kneading session, the mani-pedi will cost you P300.



ADVERTISEMENT - CONTINUE READING BELOW
NOTE: Spaholics was not included in the list because they did not offer mani-pedi services (their nail technician was on leave) for the duration of the review.
Photos from Celebrity Nails, I Do Nails, Massage by Us and, Nails at Home, Nail Experts
Load More Stories