Filipino-European players to try out for Azkals; 10,000 free tickets to Bacolod game to be released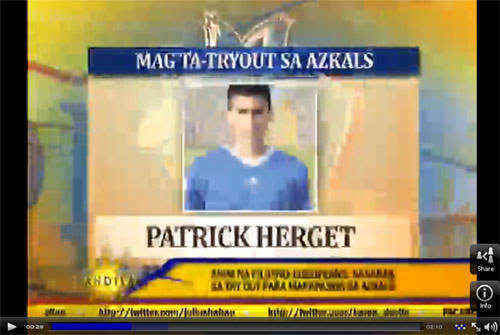 Filipino-European players will try out for the Philippine national men's football team, popularly known as the Azkals, next week, reports ABS-CBNNews.com. Team manager Dan Palami said, "Considering there is yet to be a grassroots program implemented by the federation, we really have to rely on our Fil-foreigners. That has been a proven formula."

According to ABS-CBNNews.com, the following will try out for the home-and-away series against Mongolia in next month's Asian Football Confederation Challenge Cup: Patrick Herget, Patrick Hinrichsen, William Guerridon, Oliver Potschke, Jason Abot Sabio and Jerry Lucena. Herget posted an update on his Facebook fan page saying, "Can't wait to be there (the Philippines) for the training =)"

Mark Philipp Drinkuth and Mark McMahon will also try out, reports Inquirer.net. They were two of the players whom Palami met in Frankfurt, Germany.

The team's home game against Mongolia will be held at the Panaad Stadium in Bacolod in February. The Philippine Football Federation will release 10,000 general admission tickets for free on a first-come, first-served basis, reports Inquirer.net. The federation will announce the ticket mechanics soon.
ADVERTISEMENT - CONTINUE READING BELOW
For more on this story, log on to ABS-CBNNews.com and Inquirer.net.
Load More Stories