Esquire UK features Manny Pacquiao in February issue, reveals election tricks politicians suggested to Pacquiao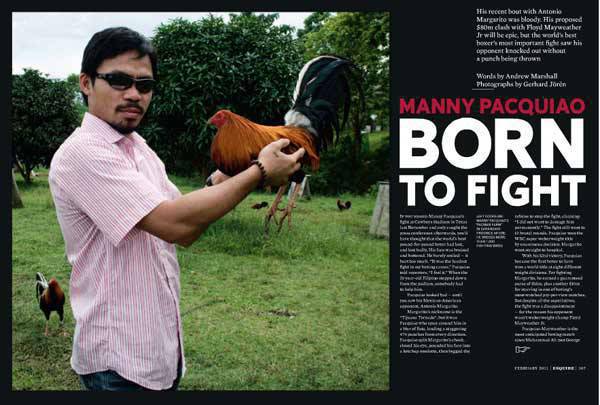 Esquire UK feature

In its February 2011 issue, Esquire UK features Manny Pacquiao's congressional campaign, his bloody win against Antonio Margarito, and the boxing champ's rags-to-riches story.

Writer Andrew Marshall shadowed Pacquiao for a time during last year's campaign season for his congressional bid in Sarangani (which he won). Without naming names, Marshall revealed that some politicians  gave Pacquiao dodgy tips on how to win the election. "One politician (advised) him he should appoint a leader at every polling station and give him 15,000 pesos to bribe voters with," wrote Marshall. Another politican suggested that Pacquiao should "rent out all the public buses or jeepneys... so only (his) supporters can vote."

Marshall also described Pacquiao's charismatic approach to campaigning. "(He spoke) to the crowd, without notes, in an intimate, conversational style. ('You speak from deep in your heart,' he explains. 'It's easy.')" Marshall said Pacquiao "relished" the campaign season while his wife Jinkee found it "boring... and tiring."

Marshall also detailed the 12-round Pacquiao-Margarito match in November, which the Pambansang Kamao said was the "hardest fight" of his boxing career. However, Marshall said, "Despite all the superlatives, the fight was a disappointment-for the reason his opponent wasn't welterweight champ Floyd Mayweather Jr."
ADVERTISEMENT - CONTINUE READING BELOW
For more on this story, check out Esquire UK's February 2011 issue.
Recommended Videos
Load More Stories