CHECK IT OUT: Chuck's Deli in Serendra
This deli elevates the sandwich experience beyond cold cuts and sliced bread.
Chuck's Deli
Serendra (facing Market! Market!),
Bonifacio Global City, Taguig.
Tel. No. 576-4210
Open 11 a.m. - 11 p.m.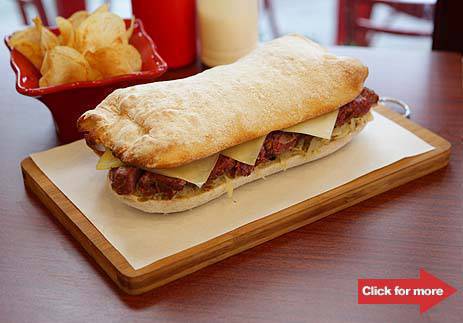 Chuck's Deli goes beyond cold cuts and sliced bread. Click for more photos.
"There's no 'Chuck.'  We just wanted a short name people can easily remember," owner Katrina Kuhn-Alcantara tells SPOT.ph. "[The place] is really an American concept--we've got all kinds of sandwiches and burgers and everything's served on a wooden platter." She adds, "You have to eat with your hands."
ADVERTISEMENT - CONTINUE READING BELOW
If you've seen the size of Chuck's Deli's "slabwiches," you'd know why it's easier to forego the fork and the knife. Home to the "slabwich," Chuck's signature sandwich, this deli is all about hearty eating. The "slabwich" is filled with one kilo of chicken, ham, or roast beef, depending on which slabwich you order, sandwiched in between freshly-baked ciabatta bread. Burgers, subwiches, and flatwiches made with grilled herbed focaccia bread, are also on the menu.
The most popular slabwich is the one dubbed The Buffy (P255, half-slab; P445, 1 slab) with spicy buffalo chicken, coleslaw and a special garlic sauce. Adventurous folks might attempt to "slay" The Buffy via the Chuck Challenge-those who can finish one whole slab of The Buffy in five minutes or less gets the sandwich for free, a t-shirt, and of course, bragging rights. So far, only four people have emerged victorious.
ADVERTISEMENT - CONTINUE READING BELOW
Other slabwiches worth trying out include the Faking Duck (P185, half-slab; P335, 1 slab), made with roast pork cooked Peking-style; and the Chuckatsu (P255, half-slab; P445, 1 slab), made with chicken katsu strips and bacon. Salads are also on the menu-check out the "healthier version" of The Buffy slabwich with greens replacing the ciabatta bread called Martin's Buffy Salad (P145). If you don't care about calories, pair your sandwich with milkshakes and rootbeer floats to wash it all down.
Most of the ingredients at Chuck's Deli are made from scratch-from the bread, to the sauce, even down to the potato chips served on the side. "If we just get all the ingredients from a grocery, we'd just be like any other sandwich shop," Alcantara explains. The best news for Chuck's Deli's growing fan base? A second branch is already set to open at the Eastwood Mall in Libis in April.
ADVERTISEMENT - CONTINUE READING BELOW
Recommended Videos
Load More Stories