Panic in the Streets of Manila
"You'd think this was Iraq or Afghanistan," writes our SPOT.ph blogger, the way "media splashes blood on our consciousness."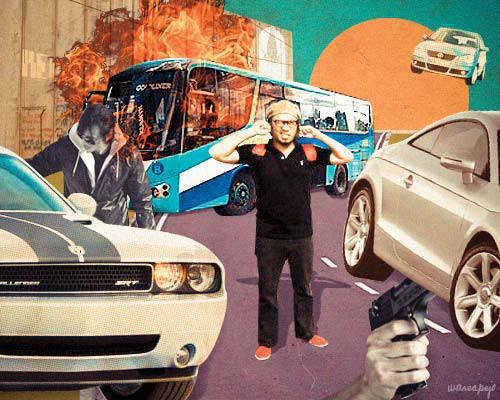 The only thing we have to fear is fear itself, along with a couple of Valentine's Day movies. But can you really blame us? These days, you can't ride a bus on Edsa without getting paranoid about being blown to smithereens. You can't stop at a red light without fear of someone suddenly pointing a gun to your head. You can't park in front of your own house without worrying that your car might vanish in thin air. You can't elect a congressman and not think that he might be snorting cocaine. You can't turn on the TV and not look at the Ombudsman without wanting to punch the damn screen. But we digress.
ADVERTISEMENT - CONTINUE READING BELOW
Philippine society is more than just a police report headline on a tabloid. But media splashes blood on our consciousness so persistently we can't help but cower in absolute terror. You'd think this was Iraq or Afghanistan.
"Dog bites man" is not news. But "man bites dog" is news. Although on this side of the world, "man bites and eats dog" is nothing surreal. It is a culinary fact-an experience made even more delightful with ginger and gin (A practice I condemn, by the way). But what if the "man bites dog" part becomes an ordinary everyday thing? That's essentially the story of Philippine society for the past few decades. The one H and five W's (who, why, what, where, what-the-fuck) no longer suffice. In these times of ten thousand cable news programs clawing for your attention, there must be dramatic scoring and special bumpers and title cards replete with hysterical graphics. Crime reports and bizarre features get more mileage than politics. I remember seeing-gasp!-business reports on primetime news back in the '80s. Now you won't see any numbers and charts on these programs unless it deals with prices of pan de sal and jeepney fare. Or comparative boasting of ratings.
ADVERTISEMENT - CONTINUE READING BELOW
But in spite of all that puffing about public service, media is essentially business. For every show that features impoverished lepers and tuberculosis patients, there's a one that highlights gruesome crimes and toothless cross-dressers slapping each other silly. Gnash your teeth and pull your hair all you want over the very, very, very late airing of the aptly titled late-night news, but it seems the majority of viewers want to see drama, gossip, and people winning a house and lot and a car all the way till midnight. This is an industry that gives the people what they want instead of what they need.
But anxiety and unease is exactly the intended effect of a terrorist act.  The body count doesn't matter. The goal is to inconvenience if not paralyze society as it goes about everyday living. This is manifested in little hassles like security guards poking into your bag with a stick and tenderly touching your butt, not to mention German shepherds sniffing your luggage. If you've ever tried carrying a wrapped gift on the MRT, you know what I mean.
ADVERTISEMENT - CONTINUE READING BELOW
Recently P-Noy chided the media for focusing on the negative and ignoring the bright gains of his very young administration-among the negatives being his unfortunate taste for luxury vehicles. The news media is essentially a business and the cold hard fact is that crime, conflict, and controversy sells. Call it conditioning or whatever you want, but it's human nature. It's the same instinct that makes us step on the brakes when we pass by a car crash. It's the same instinct that makes us ride roller coasters and fall in line for the horror train, the same thing that stops us from pressing the remote to linger at the pixelated blob on the screen.
Fear makes us more alive. Fear elicits an immediate physical response. Fear is the ultimate motivator. As children we have been constantly threatened by "Ibebenta kita sa Bumbay" or "May lalabas na tren sa sugat na 'yan pag hindi mo hinugasan." But now, is it media scaring us?
ADVERTISEMENT - CONTINUE READING BELOW
Carnapping and carjacking-now those are real threats. While it is slowly turning out that the Evangelista-Lozano murders are pure vendetta straight out of a Martin Scorsese plot, you can't help but be spooked by the sight of a charred corpse. "Carjackers" plus "charred corpse" instantly sends a frightful message to everyone. It's not enough that they get your car-they also make sure that you're charred to a crisp. Macabre as that may sound, it is not as frightening as the recent report of a 2010 Mitsubishi Montero stolen directly from the owner's garage. Now that is scary shit. If your wheels ain't safe in your own home, then what? Police visibility? Checkpoints? Proactive enforcement? To quote Nelson Muntz from The Simpsons: haa-haaaah.
But should we be alarmed? Last time we checked, we could still go to the malls and many of us are still able to enjoy expensive steak dinners. It has happened before. The 2000 Rizal Day bombings saw a series of five deadly explosions in different parts of Metro Manila in a span of less than an hour: one in Plaza Ferguson in Malate near the US Embassy, one in the cargo area of the NAIA, one in the Blumentritt Station of the LRT,  one in Makati across Dusit Hotel, and one in a bus travelling along EDSA. Total death toll: 22. In 2005 on Valentine's Day, three separate explosions in General Santos, Davao, and Makati (where an RCGC bus liner was reduced to a twisted heap of metal) killing at least four people and injuring 60 others.
ADVERTISEMENT - CONTINUE READING BELOW
The headlines screamed bloody gore. But life went on. We still rode buses and trains. Those blasts have faded into the haze of memory. It's either we're a tough people or our attention span is such that we just wallow the next big controversial issue. And I have no doubt those blasts will happen again, in the face of haa-haaaah law enforcement. All you can do is pray to not be at the wrong place at the wrong time. And, oh, by the way, Happy Valentine's Day.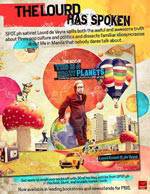 ADVERTISEMENT - CONTINUE READING BELOW
This is a Crazy Planets is available in newsstands, bookstores and supermarkets nationwide for only P195. For more information, click here.
Artwork by Warren Espejo
Recommended Videos
Load More Stories