Bulong Blues
Our SPOT.ph blogger wonders: why our insatiable appetite for superstition and the terrible need to escape?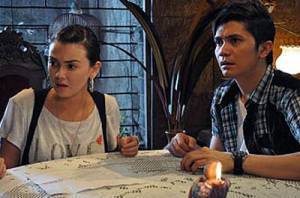 Bulong stars Vhong Navarro and Angelica Panganiban
Bulong, the new Chito Roño movie from Star Cinema, opens promising enough with an albulario-style old lady muttering to herself as she burns things in the forest. She's wearing a long and super straight silver wig (with bangs), as if she had the time to drop by her gay Canadian hair stylist and ask for a Brazilian keratin blow out before shooting the burning sequence. The wig is incongruous with the apparent seriousness of what she's doing-destroying her witchy things while a weird shadow crawls around her-and then I realize: oh yes, this is a horror/comedy flick after all. It's a confusing genre, to be sure.
ADVERTISEMENT - CONTINUE READING BELOW
The trailer of Bulong
The story, by Roño and veteran and award winning screenwriter Roy Iglesias, is about a lowly orderly named Conan (Vhong Navarro, whose physical comedy is cute but otherwise is ripping Jim Carrey off) who is hopelessly in love with hot Nurse Ellen (Bangs Garcia).  Nice guy Conan is just being used by Ellen, and his ligaw is going nowhere, all sweet smiles and empty promises. (Even if he brings her special ensaymada from his tita's bakeshop and she gives it away to the other nurses because she's watching her carbs.) And anyway, she's already hooked up with the handsome doctor at work. In desperation, Conan resorts to whispering his wish to a dead person because he believes in this bulong-sa-patay concept, which will surely win Ellen's love.
It's hard finding a dead body to whisper to, apparently, and they make a lot of jokes at the expense of the dead. Also, jokes about the ugly, the gays, and fat people. (A warning: there are also a lot of puke jokes in Bulong-mainly by the vomiting possessed-but it was really the steady cam in the men's room sequence that is literally dizzying.)  Anyway, one drunken night, Conan witnesses a hit-and-run accident that takes the life of a mysterious old lady in a straight silver wig. Here is Conan's chance to whisper into a dead person's ear. After he does the deed, Conan gets his mojo back. Ellen starts aggressively pursuing him and the ghost of the dead lola starts aggressively haunting him.
ADVERTISEMENT - CONTINUE READING BELOW
Thank goodness for Oprah (Angelica Panganiban) who plays the impossibly hot best friend, the good hearted tough cookie.  (Actually, thank goodness for Angelica Panganiban who is quite the comedienne: strutting around in her Bulacan bar girl outfits, it's obvious that she has great comedic timing and still looks good even when she's rolling around in the mud with zombies.) Together, Conan and Oprah battle it out with The Devil (wow), Korean zombie tourists (cool), the angry lola ghost (classic), and a pair of talking tits (plain weird). There's a really long kulam back story I won't even get in to, but let me at least say that at least there's a happy ending.
In this crazy brew of convoluted story, awful CG, fuzzy sound, and wildly uneven cinematography are a few scenes of surreal brilliance, real darkness, and good comedy.
How's this for surreal: Conan and Oprah end up in Bohol  with a very Pilipinas Kay Ganda moment (with Vhong and Angelica riding a jeepney and a token shot of Chocolate Hills.) They do a nicely choreographed hotel haunting scene that could  have been straight out of Scooby-Doo: the hotel manager wearing a giant tarsier head and two possessed  Korean tourists are trying to kill Conan and Oprah. (Art department outdid themselves with the tarsier head and the toilet paper installation.)
ADVERTISEMENT - CONTINUE READING BELOW
And how's this for dark: there's a scene where Conan and Oprah need to find the cadaver of the dead lola, so they go to the morgue where their friend "arranges for access" to the bodies. It's a creepy thing, bribing the local necrophiliac.
The one remotely funny thing for me was a wrong Engrish subtitle sequence involving the two Koreans, Mr. Kim and Mr. Kim.
All in all, I was not vastly amused or entertained by Bulong. Instead it left me wondering about our insatiable appetite for superstition and terrible need for escape. If this is all the audience craves-and this is all they are being fed-what kind of audience are we building?
***
Joaquin Valdes made a short film also entitled Bulong. I find it infinitely more interesting. See the trailer here:
***
This Saturday at the CCP: The Society of Filipino Film Archivists presents Isang Gabi... Tatlong Babae (1974), directed Elwood Perez. February 5, 2 p.m., at the Tanghalang Manuel Conde. Special guests: Elwood Perez, Amalia Fuentes, and Boots Anson-Roa. See you there!
ADVERTISEMENT - CONTINUE READING BELOW
Photos from bulong.starcinema.com.ph
Recommended Videos
Load More Stories