My Valentine Girls: Cheesy Fun For V-Day
"It's a good thing Richard is both handsome and bland... the standard formula for a leading man in a cutesy rom com," says our SPOT.ph blogger.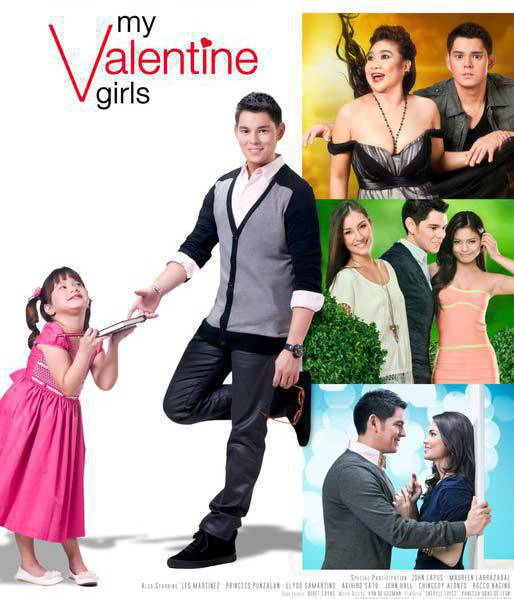 Oh, Richard Gutierrez. He's kind of like Shannen Doherty-we all love to hate him. Well, I don't hate him. But I do know at least one girl who is completely immune to his charms and at least one guy who thinks two and a half hours of RGutz is cruel torture. Indeed, two and a half hours is way too long for an episodic Valentine's Day romantic comedy. It's a good thing Richard is both handsome and bland, which is the standard formula for a leading man in a cutesy rom com. My Valentine Girls, the latest offering from GMA Films and Regal Films, is cheesy fun, for sure, and for the Valentine's Day crowd-why not?
ADVERTISEMENT - CONTINUE READING BELOW
Watch the trailer
I sat in the freezing theater, clutching my artisan chocolate (creature comfort when watching romantic comedy), alternately cringing and laughing at Richard play a romance writer while his little sister (Jillian Ward) bugs him about the stories.  

In the first story "Soul Mates" (directed by Dominic Zapata) Oslec (Richard Gutierrez) is a hardworking cab driver who gets into a near fatal accident with lonely rich girl Aia (Rhian Ramos). It's surprisingly cute in some parts and unsurprisingly saccharine in others. Ultimately, there are too many twists in this fantasy episode sprinkled with lots of bad special effects. (Was their peg Ghost? It's not quite there.) But you might almost forgive the un-special effects, because the camera just loves Rhian Ramos, who is young and at her most gorgeous. Hopefully, she is not just a pretty face and has the real potential to become the rare type of actress who is beautiful and can also act. All in all, "Soul Mates" is unabashedly cheesy, it ends like a Close Up commercial with elements of a Taylor Swift music video. But for those who believe in magic, it's the perfect happy ending.

And who am I to ruin that for them?

In the second story, "BBFF," Richard plays a very lucky young man (whose name escapes me) to have a super cool girl best friend like Solenn Heussaff and a super hot girlfriend like Lovi Poe. Directed by Andoy Ranay, this classic love triangle about a guy in love with his best friend but in a relationship with another girl. It is the only episode based in reality, but still it is steeped in Pinoy-style melodrama that's just over the top. Turns out Solenn Heussaff is a complete natural. I thought she was convincing in her role as the impossibly gorgeous and fun-loving dolphin lover/party girl-but perhaps because it wasn't much of a stretch from reality. She reminded me a bit of a young Cherie Gil-the same great bone structure, a similar careless charm-but softer and less brilliant. Her chemistry with Richard is palpable: they feed each other Pringles in the car (what did I miss? I never did this with my BFF), while Lovi Poe's martyr-ed girlfriend struggles to win him over. Lovi, dressed in scandalously short outfits and ridiculously high heels, is a bit of a fish out of water in this movie. There's an old school glamour about her, a quality that's a bit tragic and slightly baduy. Like a starlet from the 1970s, Lovi Poe is the only one who can say "Next time, doon tayo sa favorite restaurant ko. Masarap ang kare-kare doon," and make it sound sexy and wistful. Anyway, with Solenn and Lovi to choose from-how can Richard lose? The episode ends with a big sunset kiss, so there.

I shivered through two thirds of the movie and had run out of chocolate, which I certainly wanted more of-but the question was: did I want more of Richard? I considered ducking out, but thank goodness for the last and best episode: "Gunaw." Director Chris Martinez (and Marlon Rivera, who shares a story by credit), had the smarts (and the balls) to create something a little less obvious and a lot funnier: how about a post-apocalyptic love story with zombies and Eugene Domingo as the last woman alive?
ADVERTISEMENT - CONTINUE READING BELOW
Honestly I would have watched this episode as a feature length. Aidan (Richard Gutierrez), a survivor of the apocalypse, spends his days driving around shooting zombies and trying to make contact with other survivors. After getting beaten up by marathon runner zombies, Aidan is saved by Ivy (Eugene Domingo), a strange woman in a church (apparently the cute little one down in Boso-Boso, Antipolo) who also survived the apocalypse. It's pretty hilarious, with Eugene Domingo-who is in top form-as the last and most tigang woman on earth, dressed in her leopard print lingerie and praying  novenas for a man. Meanwhile,  Richard is inadvertently cute and funny as caricature of his action star persona. In the end, "Gunaw" worked best as a romantic comedy. The reaction of the audience was undeniable: everyone went wild when Richard and Eugene kissed (on horseback!). Hiyawan, in the style of high school students at film viewing. It was five seconds worth of kilig.

Whatever does the trick, I suppose.



Photos from My Valentine Girls Facebook page





ADVERTISEMENT - CONTINUE READING BELOW
Recommended Videos
Load More Stories