CHECK IT OUT: Ronac Art Center in San Juan
Hip lifestyle boutiques, casual dining spots, a yogurt bar, and more make this art hub a must-see.
Drive north along busy Ortigas Avenue and you'll notice a modern-looking structure that doesn't quite fit in the old neighborhood. A closer look reveals an intriguing building façade, a giant spiral staircase, and huge Acacia trees that look like bonsai plants. This unconventional-looking building is the Ronac Art Center, a four-storey edifice that houses an interesting mix of tenants. Casual dining spots, a yogurt bar, a gallery, a mattress showroom, a design studio, a basketball court, and a number of lifestyle boutiques were all handpicked by owner Bigboy Cheng himself. More than a space with unconventionally cool architecture and hip lifestyle boutiques, this art center is all about Cheng's vision to create a space that promotes art, fashion, and design for people with a passion for all things urban cool.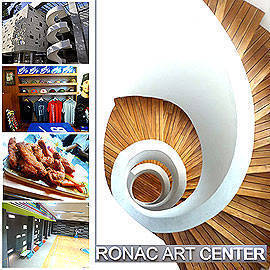 ADVERTISEMENT - CONTINUE READING BELOW
EAT
On the first level of the building you'll find eating spots: Jozukin, Charlie's Grind and Grill, and Yoggle. Jozukin, a restaurant run by Batali-trained Chef Jayme Natividad, is well-known for its contemporary Japanese cuisine. Interesting out-of-the-box dishes like the Pan Fried Foie Gras with Mango Puree and Sushi Rice, Ebiko Jalapeno Udon, and Tartufo Spaghetti with Smoked Salmon are all must-tries.

When Charlie's Grind and Grill first opened in Kapitolyo, Pasig, it was impossible to get a table. You either had to wait for a table or have your car cleaned in the adjacent carwash. At this branch, you won't run into that problem-there's a big dining area at the back and more seating outside the burger joint, and you can enjoy your Black Angus Burger without having to rush.

Beside Charlie's Grind and Grill is Yoggle, a self-service yogurt bar with bright interiors and a happy vibe that make it the perfect afternoon chill spot. They serve unusual yogurt flavors like dulce de leche, raspberry, kiwi, and lychee.
ADVERTISEMENT - CONTINUE READING BELOW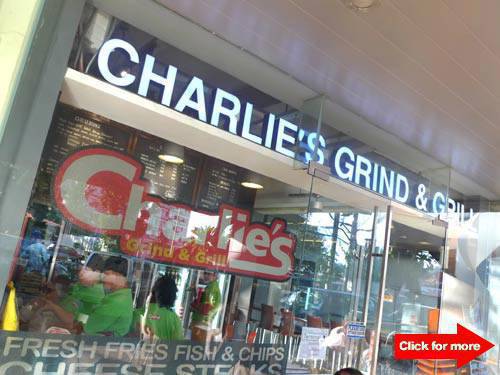 Grab a bite at these dining spots. Click for more.
SHOP
The Ronac Art Center houses some of the hippest boutiques in Manila. In the basement, you'll find Bunker Obey. The boutique, owned by Borgy Manotoc, sells quality footwear you won't find in any mall in the country like Nike Jordans and hard-to-find Vans. They also carry funky eyewear and products from foreign street wear brand Obey (this is their flagship store in Manila).

Toy store Secret Fresh is on the ground level. But before you think of taking the kids on a shopping spree, know that the toys sold here aren't exactly kid-friendly. The go-to store for designer toys sells vinyl and plush toys from popular brands like Kid Robot, Kaws Original Fake, Medicom, and a lot more. They also have an in-house brand, Secret Fresh Exclusive that carries toys made by local artists.  

The Deck, the 4th level of the building, houses all the other shops. Unschld, the smallest store there, sells German footwear brand Pointer and an in-house brand designed by local graphic artists. Next door is We Legendary, a one-stop skate shop for skateboarders. It has everything from street apparel and skateboards (local and imported), to safety gear, skate wax and other accessories. But the reason why people flock to this store is because of their wide selection of limited edition Nike SBs-which, these days, aren't just used for skateboarding but also as everyday footwear.

If you're a Vans fan, check out Secret Service. The store that won't reveal how or where they get their stock (hence the store name) carries limited sizes of authentic Vans footwear that have not been released in both local and international Vans stores. Secret Service also sells T-shirts from New York and old style Casio watches.

Terminal, an Asian street wear boutique, carries independent labels Quolomo and Erect 81 from Japan, Knowledge and Nomadic from Hong Kong, and Philippine-made, The Artisan. Old school Adidas, Onitsuka, and Reebok footwear, plus hard-to-find G-Shock watches are also found here.

The store with an eye-catching LED wall display is Progress, a local concept store that sells everything from bags, T-shirts, Swiss knives, lighters, bats, and even pepper spray. Don't be deceived by the simple-looking merchandise that has nothing but the brand logo design on its items-Progress products are made using high quality materials.
ADVERTISEMENT - CONTINUE READING BELOW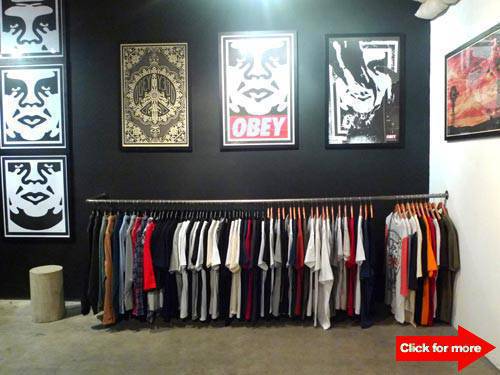 Shop to your heart's content at these hip boutiques. Click for more.
PLAY AND LOUNGE
On the second level of the Ronac Art Center, you'll find a mattress showroom that showcases Uratex's high-end mattress line, and the Secret Fresh gallery, which is a big space that can be used for events, exhibits, and parties. On the third level is a full-size basketball court that's regularly used by pro and amateur players for practice, and it also serves as an alternative venue for big functions. The Deck, the building's top level is usually where product launch parties and Ronac's signature event, Chill Sessions, are held.
ADVERTISEMENT - CONTINUE READING BELOW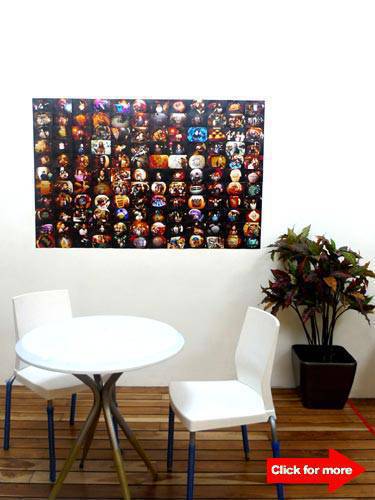 Hang out on The Deck. Click for more.
DESIGN
You would never think that the Ronac Art Center's façade was inspired by a mattress. It's true, the large gray block with punctured, uneven holes mimics the mattress's foam, while the gigantic spiral staircase represents the spring-an idea instantly approved by Cheng's family who also own Uratex. Inspired by Japanese design and the driving force to create an urban lifestyle hub unlike no other in Manila, Cheng commissioned Jagnus Design Studio to execute and make his idea concrete, literally.
ADVERTISEMENT - CONTINUE READING BELOW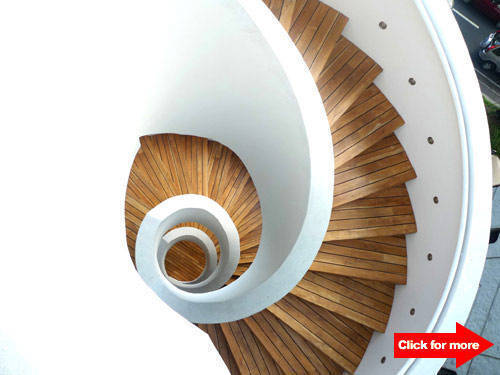 Interesting architechture designed by Jagnus Design Studio. Click for more.
Ronac Art Center is on Ortigas Avenue, Greenhills, San Juan
Photos by Monica Barretto and from Facebook.
Recommended Videos
Load More Stories