The lowdown on alleged Puey Quiñones "fashion scam;" Quiñones apologizes in his statement
"I was simply pressured to create a suit and found a perfect blank canvas to develop," says the designer.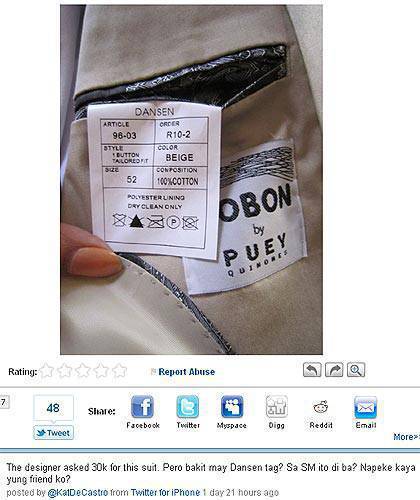 Screencap of Kat de Castro's Twitter photo
UPDATED (February 17, 1 p.m.): Fashion designer Puey Quinones released a statement today on StyleBible.ph regarding the suit scandal (see below) that went viral this week. "I was simply pressured to create a suit and found a perfect blank canvas to develop. I know the entire situation could have been handled better but now it has just been blown out of proportion and affected so many others."

Quinones apologized to the couple whom he sold the suit to and "to everyone else that have raised concerns over the quality of (his) service as a designer." He said he is "in contact with the party involved and (intends) to settle this peacefully." He added, "I am doing all that I can to make sure that this does not happen again."
PUBLISHED (February 17, 11:19 a.m.): An alleged "fashion scam" has been the talk of social networking sites since TV host Kat de Castro Tweeted a photo of a double-labeled suit on February 14. The beige suit in the photo carried the labels Bobon by Puey Quinones and the off-the-rack brand Dansen.
De Castro Tweeted, "The designer asked 30k for this suit. Pero bakit may Dansen tag? Sa SM ito di ba? Napeke kaya yung friend ko? (But why is there a Dansen tag? Isn't that from SM? Was my friend duped?)" She added, "The designer should really explain why was there a Dansen tag in his so-called original suit."
According to de Castro, a friend of hers had the suit made for a wedding to be held in less than two weeks. She later Tweeted, "Designer update: He asked my friend to give back the Dansen suit but also give him time to create a new one. Wow."
ADVERTISEMENT - CONTINUE READING BELOW
Shortly after the photo made the rounds on Twitter, Facebook and other social networking sites, Bobon released a short statement saying the "fashion scam" is "not a registered and official Bobon transaction."
A few hours later, Bobon released another statement that read: "We wish to clarify that BOBON is not in any way involved in the design, production or sale of the suit in the photo, or the affixing of the 'BOBON by Puey Quinones' label to the suit."
Bobon said they used the label "Bobon by Puey Quinones" in 2008 but they discontinued it more than a year ago. All Bobon pieces have been labeled "BOBON" since 2010, they said.
CONTINUE READING BELOW
Recommended Videos
"We have used every effort to reclaim and destroy these old labels (Bobon by Puey Quinones). We are certain that this suit was not purchased by the owner from or through BOBON. All BOBON pieces are sold exclusively at or through the BOBON store at The Podium and we have no record of this transaction," the statement reads.
Bobon also said they "started as a collaboration with a single designer in 2008" but it has since "grown into a collective effort involving several Filipino designers." They maintained that "BOBON is not affiliated with any one designer."
Today, de Castro Tweeted, "My friend went straight to the designer, not Bobon." She said Quinones promised her friend "a refund, pero (but) two gives. Needless to say, my friend went to another designer for help."
The TV host also Tweeted, "I never thought many people would react to it (the photo). All I wanted was to help a friend out. Sana hindi na mangyari ulit (I hope this doesn't happen again)."
ADVERTISEMENT - CONTINUE READING BELOW
Homepage photo from Kat de Castro's Twitter.
Share this story with your friends!
---
Help us make Spot.ph better!
Take the short survey
Load More Stories