PHOTOS: Scenes from the 1986 People Power Revolution
Relive the spirit of People Power, 25 years after.
Human barricades, peaceful demonstrations and a gathering of Filipinos united to restore democracy in the country marked the 1986 People Power Revolution. Go back in Philippine history through images captured by Pulitzer-winning photographer for the San Francisco Examiner Kim Komenich who was on assignment to the Philippines and Nino Sinco, athletic trainer and Sports Science & Sports Marketing Consultant, who joined the throngs of people in EDSA to oust a dictator in February 1986.
Says Sinco, who captured the images on film, he remembers "the fear of [possible] attacks from Marcos loyalist troops and the moment it was official that Marcos had fled the country. [It was] an explosion of relief and ecstasy all over."
Sixty of Komenich's photographs will also be on display at the Ayala Museum from February 22 to March 5 entitled "Revolution Revisited." "More than half of Filipinos today were born after 1986 and do not have a memory of People Power. A significant number of people may have been too young at the time. Photographs are a powerful tool for remembering and understanding," shares Ayala Foundation executive vice president Guillermo Luz. Fourteen photos which Komenich took during his assignment in the Philippines, will be part of the exhibit, and the set of photos was granted the 1987 Pulitzer Prize for Spot News Photography.
ADVERTISEMENT - CONTINUE READING BELOW
CONTINUE READING BELOW
Recommended Videos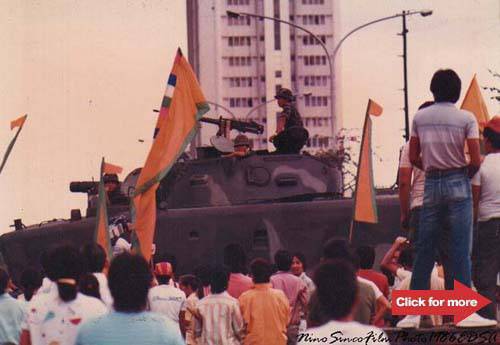 Were you at EDSA in 1986? Click for more photos.
Photos courtesy of Nino Sinco and Kim Komenich
Load More Stories