Pacman's fake Twitter account, Bieber's cut + more lowlights
Plus, Vicki Belo defends Hayden Kho, Mar Roxas is sent to Taiwan to "troubleshoot" + more lowlights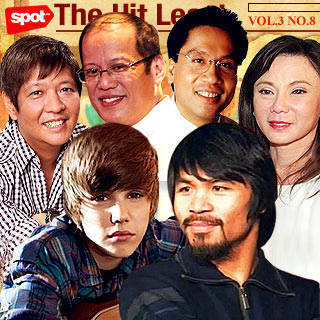 1. DOCTOR'S PRESCRIPTION NEEDED TO BUY CONDOMS IN BARANGAY AYALA-ALABANG, ORDINANCE BASED ON 1969 LAW. Sample prescription: "10 boxes of condoms, to be distributed to friends only (Facebook friends optional)."
2. BOXER-CONGRESSMAN MANNY PACQUIAO DISOWNS FAKE TWITTER ACCOUNT. Forget about Pacman, we want his Mommy on Twitter!
ADVERTISEMENT - CONTINUE READING BELOW
3. IT'S BEEN 25 YEARS SINCE EDSA 1 AND IT'S STILL AQUINO VS. MARCOS. "Reconciliation" is like "healthy living," it's easy to declare it but it's too damn hard to stop yourself from devouring the crispy pata.
4. CONVICTED FOR DRUG POSSESSION, REP. RONALD SINGSON GETS AN 18-MONTH SENTENCE. When they said, "Life begins at 40," we don't think they meant it would begin in jail. (For the record, Singson's 42. Call him a late bloomer.)
6. DR. VICKY BELO DEFENDS HAYDEN KHO AGAINST SHARON CUNETA'S TIRADES. Bukas Luluhod ang... Wait... What do you call them? HayVi? VickDen? BelKho? Cougar and Askal?
ADVERTISEMENT - CONTINUE READING BELOW
7. MAR ROXAS SENT TO TAIWAN TO "TROUBLESHOOT." Think of him as the pirated version of the vice president.
8. SOME PEOPLE BELIEVE THAT "FIREWALKING" WILL MAKE THEM FEARLESS. Er, try riding a Metro Manila bus, folks.
9. DFA ISSUES TRAVEL ADVISORY ON BAHRAIN, YEMEN, AND LIBYA. We treat travel advisories like traffic lights--we ignore them and then cry foul when we get hurt.
10. ALICIA MAYER POSES NUDE FOR ANIMAL WELFARE AD. Truth be told, "animal welfare" is the last thing on our minds when we see a naked woman. (Still, in behalf of the entire animal kingdom, we thank you, Alicia Mayer.)
Art by Warren Espejo, photos from MarRoxas.org (Roxas) and YouTube screencaptures (Aquino, Belo, Bieber, Marcos, and Pacquiao).
Recommended Videos
Load More Stories