Pinoy professor wins Gallieno Denardo international physics award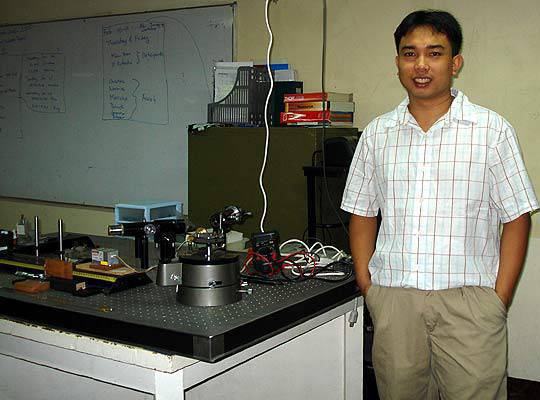 Physics awardee at work in his laboratory. Photo from the Department of Science and Technology-Science Education Institute.
Dr. Ryan Balili, head of the photonics research of the Mindanao State University-Iligan Institute of Technology, has won the Gallieno Denardo international physics award for his work on semiconductor optics.

A scholar of the Department of Science and Technology (DOST), Balili was recognized for developing a "new source of coherent light which may be the future in laser production," according to a statement by the DOST Science Education Institute.

He will receive the Gallieno Denardo Award this year, along with US$1,000, a diploma and an invitation to a three-week stay in Trieste, Italy where he will be given a chance to conduct a seminar on his work.

"Although this was not my first international award, it means more to me because it specifically searched for science or scientists from developing countries.  Due to the prevailing culture of research in developing countries, the value of promising scientists as effective agents of economic and social development are far too often ignored if not belittled," Balili said.

Balili, who won the Physica Status Solidi Young Researcher Award in 2006, added, "International awards are sometimes a wake-up call to local leaders. They might start asking themselves why they have overlooked something more developed countries consider far too important, such as keeping a critical mass of active scientists."

The International Commission for Optics and the Abdus Salam International Center for Theoretical Physics gives the annual Gallieno Denardo Award to researchers "from developing countries who are below 40 years old, active in optics research, and have contributed to the promotion of research activities in their own or in other developing countries," according to the DOST statement.
ADVERTISEMENT - CONTINUE READING BELOW
For more on this story, log on to ICTP.it and ICO-Optics.org.
Recommended Videos
Load More Stories