FOOD REVIEW: IMC Kavino on Jupiter Street
Our SPOT.ph blogger weighs in on the new Chinese food joint.
IMC Kavino
G/F Jupiter Place Bldg., 136-138 Jupiter St., Bel-Air
Makati City, Tel.  9647545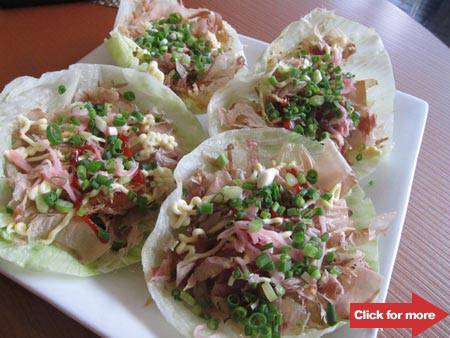 IMC Kavino's version of takoyaki balls. Click for more photos.
Lately I've been tired of the "big restaurant."  You know what I mean. The big boys who've been around for a bit. The mall guys. The usual suspects. Okay, maybe not tired, but just in the mood for something that doesn't immediately pop into my head.
Recently, a friend of mine told me of a joint his friends opened called IMC Kavino. What kind of name is IMC Kavino? I thought. However, my instincts-and a rare nudge from my pop who went there before me-sent me over to investigate.
The restaurant itself is in a space that quite frankly, terrifies me. There's nothing wrong with it at first glance, but in the past few years there have been several fine establishments that have occupied the same space that have closed down. And mind you, those were not mediocre joints. They all had pretty good grub (the last one was this place called Malacca) and had plenty to offer. Maybe it was cursed? Or maybe the previous establishments just weren't ballsy enough. Enter IMC Kavino.
ADVERTISEMENT - CONTINUE READING BELOW
I finally found out what IMC Kavino stood for before I entered the door. Outside, for everyone to see, was a sign that read "International Master Chef Kavino." What the...Seriously? I thought. Then it dawned on me, this guy must not be Pinoy, at which point it became tongue in cheek for me. It sounded a bit like Cooking Master Boy (don't know it? Look it up if you're truly a food geek). It was already beginning to look like a fun ride, especially after beholding on the wall a couple of medals won by Kavino himself. Kooky fun, and a sign to me of a serious Asian cook.
CONTINUE READING BELOW
Recommended Videos
The prices seemed okay too, mostly in the P200-P300 range. Plus, the place was packed wall to wall, and they were on soft opening. Good signs then. But of course, the proof of the pudding is in the food, so away we ordered.
Since our waitress was insistent, my table ordered the takoyaki balls, that Japanese street food that surprisingly clicks over here. Usually done with a bit of octopus, here they use cuttlefish instead with great results. The texture of the ball is nice and tender on the inside, and slightly crispy on the outside. Topped with bonito flakes, green onions and housed in a lettuce cup, it's a fun way to start your meal. I can see why it sells well-crunchy is always good!
Ham siu kok, a dish of ground pork stuffed into a mochi-like dumpling and fried, is one of C's favorite dimsum items, and since not that very many places tend to serve this here, we had to try it. At its best, it's a crispy, slightly chewy treat. At its worst, it's an oily, spongy blob. This one was neither. It was actually a bit hard shelled. I don't think I've ever quite had one in this state so I can't tell if this was the desired effect from the kitchen. Suffice to say, it was edible, if a little bit of a workout on your maw-the weak link of our meal.
ADVERTISEMENT - CONTINUE READING BELOW
Tofu is always good, so we got a platter of tofu "coins," which had round chunks of tofu fried crisp and tossed in garlic and peppers. Yes, I know this is commonly found in most local Chinese joints but what can I say? I'm a fan, and I have to say, this version is exemplary! Not greasy at all, nice and crispy, and (surprise!) with a hint of what I think is Chinese shrimp paste. I eat a lot of tofu and vegetables these days and I'm always on the hunt for them. I would go here just to eat this.
A plate of crispy vegetables was just that: crispy, perfectly wok-fried and retaining all its colors and flavors. To most people, it might seem like a boring old plate but I've come to appreciate subtleties like this. Well done!

Another fun thing was a dish made of chicken and cheung fun-rolled up rice flour rolls are wok'd up with the chicken, basil, caramelized ginger and garlic, and it just soaks up all those flavors. The dish is simple enough, but the flavors just sing. Nothing fancy here, just deliciousness. I'd go here again to order this, and during vegetarian days I can give the chicken chunks to whoever I'm with and eat the cheung fun with just the sauce and seasonings.
The pork ribs came in a pot in some curry-like sauce. It was actually quite tasty, but there was a little mound of sour mango on top that kind of threw me off a bit. It's served with little triangles of roti-type bread, which while serviceable and tasty enough, did not entice me enough to not eat it with rice after scraping off a bit of the mango.
ADVERTISEMENT - CONTINUE READING BELOW
They had a chicken stew of sorts, cut up and served in a clay pot, which was another winner. You mix the chicken with the sauce and juices underneath, and eat with steaming hot rice. Again it's quite subtle, almost like Hainanese style steamed chicken, but with a lot more going on. The leeks that were braised with the chicken are so sweet-and since no one in my table seemed to be minding them, I was silently gobbling them up myself. (Disclaimer: if you like strong flavors bordering on salty, this is not for you.)
Because of a mess-up in the kitchen, the manager gave us some free dessert: mango in mango milk and mochi stuffed with chocolate. Not the best, but not bad-and much appreciated. By that time we were so stuffed anyway, hot tea would have sufficed!
Apparently I have been told there are many other items worth trying. If you do investigate, check out the deep fried items. I think they are one of the kitchen's strengths, together with that nice little chicken dish. Keep your fingers crossed. I want these guys to do well. Go try it out!
3.5 Spots •••.


Share this story with your friends!
---
Help us make Spot.ph better!
Take the short survey
Load More Stories