Public Enemy No.1: A Tribute to Paquito Diaz
His was "the moustache that launched a thousand goons, raided and pillaged countless villages and banks, robbed the dignity of a thousand women..." writes our SPOT.ph blogger.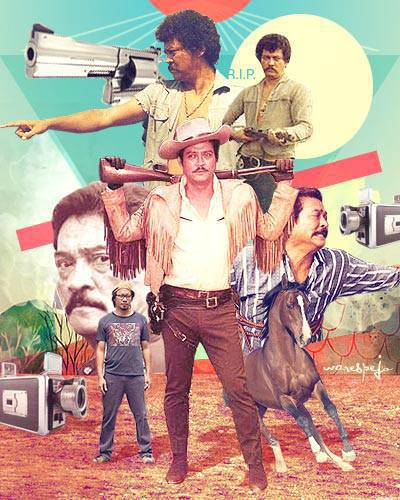 Your enemy is your destiny, so said the great mythologist Joseph Campbell.

Every story is a conflict, a polarity. The antagonist is as significant as the good guy.  Ask every fanboy who has ever cried like a little girl over certain issues of Batman. The Roadrunner's life would be unthinkable without Wile E. Coyote. Itchy without Scratchy makes no sense at all. The brightest star would be invisible if not for the backdrop of the blackest sky.

Paquito Diaz belonged to the pantheon of the greatest celluloid villains of all time. Anywhere. He was up there with Robert Mitchum, Anthony Hopkins, Gene Hackman, Jack Nicholson, Anthony Perkins, and the guy underneath the Darth Vader costume. When he took the screen, you knew exactly the deal. The stance, those broad shoulders, the barrel-like chest. The air of fear and foreboding, the evil glint in his eye, the gruff voice, the oily face, the curly hair-giving affirmation to that Tagalog phrase "Pag kulot, salot."

Then there was the moustache.

It was the moustache that launched a thousand goons, raided and pillaged countless villages and banks, robbed the dignity of a thousand women, held helpless little children hostage, corrupted entire police departments, and sent to the throes of misery innumerable innocent families. It was a seriously brush-like moustache, murderous and blacker than a moonless night, and grown like an inverted 'V', thick enough to scrub clean the barrels of a shotgun.

His great achievement was the creation- through a massive body of work (almost 2,000 movies it is believed)- of the archetype of the ultimate onscreen villain.

A character actor once said that being the bad guy is an even tougher assignment than the lead role. It's easy to earn sympathy. But genuine hate and revulsion are much more difficult emotions to arouse. Then again, it's a symbiotic relationship. For us to empathize, the hero's life should be made miserable-his wife raped and his kids and mother and grandmother and pet dog murdered in the most unspeakable manner possible. He must be framed for a crime he did not commit. He must be humiliated. He must be oppressed, his modest farmland violently taken away from him. And who better to do that than the antihero. It is not simply by imperative of plot and production design. The actor as goon should also be a force unto himself- a dark, immovable force with a laugh more sinister than ten thousand funereal orchestras combined.

And to be able to do this film after film, day in day out, for more than three decades, is just mutherfucking genius.

Paquito Diaz's demise leaves a vast, howling vacuum in Philippine cinema. Realize that this man transcends the parameters of popular culture and already occupies the exalted heights of mythology. Think about it: We know more about Cherie Gil and the Joker and- of course, Paquito Diaz- than Lam-Ang. Paquito Diaz as villain is indestructibly iconic.

For and for several generations of moviegoers, there is only one kontrabida. Well, maybe there's George Estregan, but his mythology bleeds partly into the iconography of, uhm, erotic love. These are definitely impossible shoes to fill.  

Unfortunately, for today's audiences, who will have to deal with inane rom-coms and bewildering indie dramas. In the former, the antagonist is usually played by some middling star with diminished equity (normally ex-matinee idols after the tragic poundage); in the latter it's usually that boring thing called the human condition.  Like a menacing flower, Paquito Diaz bloomed when films were made with a deceptively simple sensibility. White versus black. Honest cop versus corrupt police chief. Hardworking farmer against greedy landowner. There were rarely gray areas. There were times when FPJ played be a fallen hero but Paquito always unremmitingly played the fallen, period. The conflict clear as day, the motivations even more crystal. The dynamics, uncomplicated. Evil initially defeats good. Good strikes back. In the end, good trumps evil, particularly with a double-barrel shotgun, a flaming car, and an epic bodycount. I miss the witty violence of Ako Ang Huhusga, Hindi Ka Na Sisikatan ng Araw, ang Kapag Puno na Ang Salop, and the rest of those Guerrero-Valderama epics (FPJ plays a provincial cop, Eddie Garcia's a corrupt judge whose man-Friday is Paquito).

Of course, everyone has a favorite Paquito Diaz scene. Among many others, there's that one scene where FPJ plugs a shotgun into his ass and... boom. In Kapag Puno Na Ang Salop, there's an unforgettable encounter: Garcia and Poe trade lyrically barbed threats; as Poe is leaving, Paquito flashes him a goofy smile and without warning is sucker-punched in the stomach. No more words needed. In a more majestically gladiatorial setting, there's a film where he and FPJ beat the crap out of each other in a cavernous, empty swimming pool with hundreds of people gathered on the edge like they were watching from a distant hillside- a vision that can only be described as epic.  Sigh. They don't make movies like this anymore. There's a reason why the weekly screenings of FPJ films on ABS-CBN remain wildly popular. There's a reason why all these morose art-house indies aren't.
ADVERTISEMENT - CONTINUE READING BELOW
Diaz in Kapag Puno Na Ang Salop
FPJ movies defy natural physical laws. What red-blooded male could ever forget FPJ snatching a .45 pistol from Paquito, and, in a blink of an eye, disassembling it with a single hand? Other variations include taking out the magazine and popping out one bullet after another. Of course, anyone who's ever held a gun would sneer at the sheer impossibility of it all. But we never question. We only suspend our disbelief. In the same way we do not ask why all villainous henchmen always wear jackets and are always as addressed as "mga bata." And why they always have a surfeit of facial hair.
CONTINUE READING BELOW
Recommended Videos
Which really brings us back to that moustache. Despite its nefarious implications, Paquito Diaz's was a moustache laden with humor and irony. It could be comical when needed, as this clip demonstrates:
Diaz's mustache could be comical when needed
True evil via facial hair-evil that knows no salvation nor remorse-belongs to his brother, Romy Diaz. But that, my friends, is another blog entry altogether.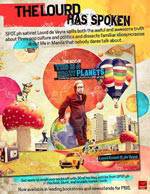 ADVERTISEMENT - CONTINUE READING BELOW
This is a Crazy Planets is available in newsstands, bookstores and supermarkets nationwide for only P195. For more information, click here.
Artwork by Warren Espejo.
Share this story with your friends!
---
Help us make Spot.ph better!
Take the short survey
Load More Stories