Top 10 Hollywood Celebrity Meltdowns
Oh, Charlie, Charlie, Charlie. But remember Christian Bale's <em>Terminator</em> tirade and Alec Baldwin's furious voicemail?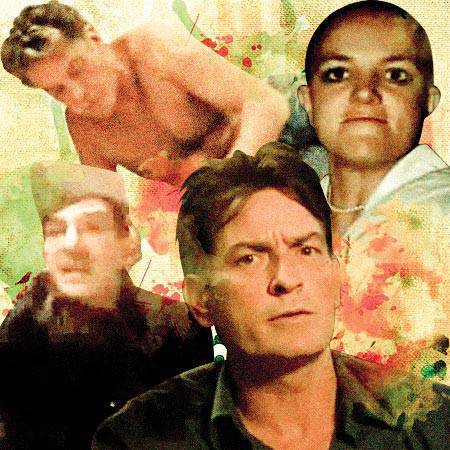 Former Two and a Half Men star Charlie Sheen recently dominated headlines with a slew of highly-publicized name-calling antics and other very questionable behavior caught on camera. Like Sheen, some stars happen to break down in public, while others shun the limelight when a moment of weakness gets the better of them. But as they know all too well by now, being a celebrity means everybody is watching their every move, and it's not uncommon for private and court-sealed evidence of meltdowns to get leaked and go viral. SPOT.ph looks back at 10 of the most shocking celebrity meltdowns that rocked Hollywood.
10. Amy Winehouse
The Freakout: After an acclaimed performance at Nelson Mandela's 90th birthday celebration in 2008, Amy Winehouse tainted her Glastonbury Festival show the next day by seemingly throwing punches at the crowd. Glastonbury organizer Michael Eavis said the troubled singer did so because someone felt up her breasts, but her spokesman said it was because someone tried to grab her hair.
The Aftermath: The man who claimed to be the one Winehouse hit on the head, James Gostelow, said she lashed out after a hat hit her beehive hairdo. "She looked down, saw me looking up, and her elbow went for me. She caught my forehead, then someone may have shouted something from the back, which is when she went in again." Gostelow chalked it up to experience. "Not everyone can say they have been hit by Amy Winehouse."
9. David Hasselhoff
The Freakout: David Hasselhoff's infamous cheeseburger video blew up in 2007. In the clip, the recovering alcoholic is seen shirtless, slurring his words and sloppily eating a cheeseburger on the floor. His daughter Taylor-Ann, 16 at the time, reportedly recorded the video to show Hasselhoff what he was like that night.
ADVERTISEMENT - CONTINUE READING BELOW
The Aftermath: Shortly after the video went viral, Hasselhoff came out with a statement and said, "Part of recovery is relapse." He said the video was never meant to be publicly released. Most of its copies have been taken down but there are plenty of spoofs like these. Three years later, the Baywatch actor laughed off the video in the "Comedy Central Roast of David Hasselhoff."
8. Britney Spears
The Freakout: The "Hit Me Baby One More Time" pop sensation attacked a paparazzo's car with a green umbrella in 2007 after she personally shaved off all her hair at a California salon. Before going bald, she reportedly cried in her car outside the salon for about 10 minutes. After shaving off her hair, she got a new tattoo on her wrist. Spears was in the middle of her divorce with Kevin Federline at the time.
CONTINUE READING BELOW
Recommended Videos
The Aftermath: Four months later, Spears apologized for the incident on her website. She claimed she did it for a role that she didn't get. "I was preparing my character for a (role) in a movie where the husband never plays his part so they switch places accidentally... I take all my (roles) very seriously and got a little carried away."
Interestingly, footage of her umbrella attack inspired Shane Feste to write and direct the movie Country Strong, which stars a troubled singer.
7. Dave Chappelle
The Freakout: This comedian famously walked away from a $50-million contract with Comedy Central in 2004. Mid-production, he left the country without telling anyone except his brother. He stayed in South Africa for two weeks and then returned to his farm in Ohio. His breakdown is probably one of the calmest (and footage-free) ones in Hollywood but it was still the talk of the town, even prompting speculations that Chapelle checked into a mental health facility.
ADVERTISEMENT - CONTINUE READING BELOW
The Aftermath: Although he had been interviewed by the likes of Oprah, Anderson Cooper and Conan O'Brien after his abrupt disappearance, the real reason (or reasons) for his walkout is still unclear. According to TV Squad, he cited different ones: TV execs had too much control over his show; he felt out of place as an African-American comedian in a predominantly "white" entertainment world; he had ethical issues with some of his show's sketches; and he was under too much pressure.
6. Christian Bale
The Freakout: You don't mess with Christian Bale's scene and get away with it unscathed. While shooting for Terminator Salvation in 2008, he let out a bleep-filled tirade after the director of photography Shane Hurlbut wandered onto the set to check the light. Hurlbut apologized but it did nothing to calm down Bale:
"No, don't just be sorry. Think for one f***king second. What the f*** are you doing? Are you a professional or not?" Bale shouted. "You are trashing my scene. You do it one more f***king time and I ain't walking on the set if you're still hired. I'm serious. I'm f***king serious."
TMZ released the approximately four-minute-long recording months after the incident. "Film execs sent the tape to the insurance company that insured the film in case Bale bailed."
The Aftermath: About a week after the recording surfaced, Bale apologized for his "potty mouth." He said, "I was out of order beyond belief. I acted like a punk. I regret that... There is nobody that has heard that tape that is hit harder by it than me. I make no excuses for it."
ADVERTISEMENT - CONTINUE READING BELOW
He said he and Hurlbut have "completely resolved" the issue. "I have no intention of getting anyone fired. There is no problem whatsoever."
5. Alec Baldwin
The Freakout: In 2007, an angry voicemail he left for his daughter Ireland, which was a sealed court file in the custody battle between him and ex-wife Kim Basinger, was leaked to the press. Furious that Ireland, 11 at the time, didn't answer a court-appointed and pre-arranged call from him, Baldwin called her a "rude, thoughtless little pig" in the voicemail.
The Aftermath: The court temporarily suspended Baldwin's visitation rights because of the leaked voicemail. After the voicemail went viral, Baldwin apologized "for losing his patience" in a message posted on his website. "I have been driven to the edge by parental alienation for many years now." He said he is "equally sorry" that the sealed file was released to the public.
Almost two years after the incident, Baldwin and Ireland appeared in public together at the 2009 Screen Actors Guild Awards. The next year, though, the two engaged in another heated phone conversation, which led to Baldwin being rushed to the hospital. They got into an argument and Baldwin supposedly threatened to take pills.
"She tried to call him back (but) she couldn't reach him, so she called 911," Ireland's uncle Don "Skip" Basinger said. "Ireland loves her dad. But kids and their dads are always arguing. Have you ever tried to raise a (teenager?)"
4. John Galliano
ADVERTISEMENT - CONTINUE READING BELOW
The Freakout: The former Dior designer's racist rant rocked Paris right before the capital's 2011 Fall Fashion Week. In a video supposedly produced December 2010, Galliano was caught saying in a bar, "I love (Adolf) Hitler." He told a couple, later identified as Philipe Virgitti and Geraldine Bloch, "People like you would be dead. Your mothers, your forefathers, would all be f****** gassed." He was reportedly drunk at the time.
The Aftermath: On March 1, a day after the video went public, Christian Dior fired Galliano. Jewish actress Natalie Portman, the face of the fragrance Miss Dior Cherie, came out with a statement the same day, saying she was "deeply shocked and disgusted" by the video. "I will not be associated with Mr. Galliano in any way."
In a surprising turn of events, Virgitti said earlier this month that he doesn't believe Galliano is racist or anti-Semitic. "I think above all that he's very ill and that for him it was about provocation... Ultimately it was just a row in a bar. John Galliano didn't deserve all this."
3. Michael Richards
The Freakout: At a Los Angeles comedy club in 2006, laughs turned to walkouts when Michael Richards-Kramer in the hit sitcom Seinfeld that ended in the '90s-unleashed a racist tirade onstage. He called a few hecklers in the crowd the N word and said, "Fifty years ago we'd have you upside down with a f****** fork up your ass."
The Aftermath: After a video of Richards' outburst came out, the actor apologized and said, "I'm not a racist. That's what's so insane about this." He added, "I'm a performer. I push the envelope. I work in a very uncontrolled manner on stage... In view of the situation and the act going the way it was going... The rage did go all over the place."
ADVERTISEMENT - CONTINUE READING BELOW
About three years later, Seinfeld co-creator Larry David said Richards is "like a new man. He really went through something (with that incident). He used to be very angry and bitter. He's completely different now."
2. Mel Gibson
The Freakout: When he was arrested on suspicion of drunk driving in 2006, the actor reportedly didn't cooperate with the police, repeatedly dropped the F-bomb, and blamed Jews for "all the wars in the world." The next day, he apologized in a statement: "I acted like a person completely out of control when I was arrested, and said things that I do not believe to be true and which are despicable... I have battled with the disease of alcoholism for all of my adult life and profoundly regret my horrific relapse."

The Aftermath: Fast forward to 2010, the incident was still an issue for Gibson. "I was drunk. It just turned into a big thing. I apologized-not once, but three times. So what's the problem? It was four years ago. Do I need to apologize again?"
The Freakout: About four years after his racist rant, he came under fire for another meltdown. In July last year, phone recordings that supposedly documented conversations between Gibson and the actor's ex-girlfriend, Russian singer Oksana Grigorieva, were leaked. Grigorieva claimed to have taped them. In the recording, when Grigorieva said that Gibson supposedly knocked out her teeth while she was holding their then months-old daughter Lucia, he said, "You f***ing deserved it." The other rage-filled recordings quoted Gibson as saying "I am going to burn the goddamn house down but blow me first!" and "I own you!"
ADVERTISEMENT - CONTINUE READING BELOW
The Aftermath: On the day the first recording was uploaded on Radar Online, Gibson's agency reportedly dropped him. In November, Gibson admitted to slapping Grigorieva with an open hand but denied punching her. "I was just trying to shock her so that she would stop screaming (and) shaking Lucia back and forth."
A few days after the taped conversations surfaced, "top forensic experts" claimed that the recordings had been tampered with. However, this month, a forensic audio expert who previously worked for the Federal Bureau Investigation and Las Vegas County, Kent Gibson, said the recordings were authentic. His statement was entered as court evidence.
1. Charlie Sheen
The Freakout: Where do we begin? The former Two and a Half Men star has continuously one-upped himself this year while facing divorce and child custody proceedings. After supposedly going on a Las Vegas weekend bender in January with porn star Bree Olsen, Sheen slammed Men creator Chuck Lorre on live radio in February. On The Alex Jones Show, he said Lorre was a turd and a clown and called his mind "un-evolved." (Prior to Sheen's radio rant, Lorre spoke about Sheen in his post-show vanity card.)
CBS and Warner Bros. then decided to suspend production of Men's latest season, to which Sheen reacted with an open letter. Referring to Lorre, he said, "This contaminated little maggot can't handle my power and can't handle the truth... Clearly I have defeated this earthworm with my words-imagine what I would have done with my fire-breathing fists."
ADVERTISEMENT - CONTINUE READING BELOW
The Aftermath: This month, he was fired from Men, and he continued to lash out against the show's network (even co-star Jon Cryer) through his controversial webcast Sheen's Korner. He was also spotted drinking "Tiger Blood" and wielding a machete on a rooftop in full view of the paparazzi.
He has a live show tour next month, My Violent Torpedo of Truth/Defeat is Not an Option, but if you're sick of all his antics, use this browser blocker to screen out all things Sheen.
Artwork by Warren Espejo.
Share this story with your friends!
---
Help us make Spot.ph better!
Take the short survey
Load More Stories