Going Viral Too: Asians React to UCLA Student's "Asians in the Library" racist rant
YouTube users fight back: See how they responded to the infamous anti-Asian racist rant video.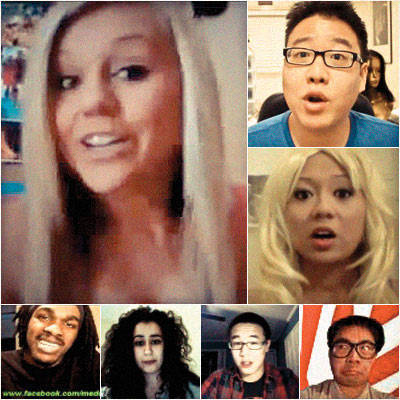 After a video of UCLA student Alexandra Wallace's anti-Asian racist rant went viral last week, web vigilantes have taken to YouTube to respond to her now infamous "Asians in the Library" video.
The DavidSo Comedy Channel rants about Wallace's anti-Asian sentiments
Of the most popular is a comedic video response posted by The DavidSOComedy's Channel, which has garnered more than 1,000,000 hits since it was posted on March 14. Our favorite line: In response to Wallace's sentiment about "old Asian people" who "don't teach their kids how to fend for themselves," the comedian said, "We don't know how to do anything? There's a reason why you outsource your jobs to people in Asia. That's why we counterfeit all your sh*t. Your car can break down in the middle of the road; we can take it apart and make it into an airplane. That's how great Asian people are."
ADVERTISEMENT - CONTINUE READING BELOW
"TheAngelieVaudeville" spoofs the Alexandra Wallace video
This parody shows an Asian girl wearing a blonde wig while mimicking Wallace's famous lines and cracking a few jokes of her own. The video has garnered more than 90,000 views since it was posted on March 14.
"Jimmy" wrote Alexandra Wallace a song
By far the most creative is this catchy acoustic song by Jimmy, with lyrics like, "Ching chong, it means I love you" and "ling long, I really want you." The music video has garnered more than 200,000 hits since it was posted on March 15.
Load More Stories