Get a chance to win an all-expenses-paid trip to New York City!
Sun Life wants you to shine in the Big Apple!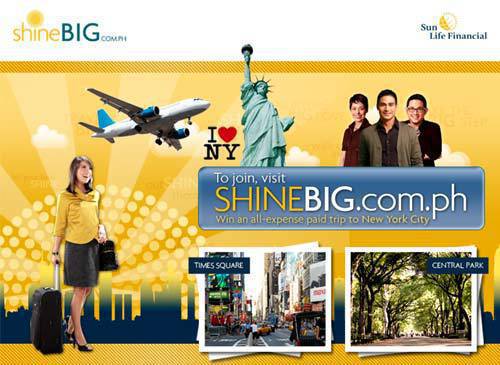 Be stuck in a rut or be a big shot? Be tied to your desk or travel big time to New York City?

Discover the bright and brilliant pulse of the city that never sleeps as Sun Life Financial Philippines launches its SHINE in the BIG Apple promo.

"SHINE in the BIG Apple!" invites everyone to help the company spread and promote the benefits of becoming a Sun Life Advisor.  Sign up and invite your friends to register at www.shinebig.com.ph. Five valid emails translate to one raffle entry. The more friends you invite, the better your chances of flying to New York for all expenses-paid vacation this June.
ADVERTISEMENT - CONTINUE READING BELOW
As a Sun Life Advisor, you help people plan for their future as you enrich your present," says Chief Marketing Officer Mylene Daez-Lopa. "Sun Life offers you the good life --big income opportunities and endless possibilities," she added.
Promo runs until May 2. Go to www.shinebig.com.ph for the full promo mechanics and other details.

Sun Life Financial - Philippines introduced life insurance in the Philippines in 1895 and is a member of the Sun Life Financial group of companies.  Sun Life Financial is a leading international financial services organization providing a diverse range of protection and wealth accumulation products and services to individuals and corporate customers. Chartered in 1865, Sun Life Financial and its partners today have operations in key markets worldwide, including Canada, the United States, the United Kingdom, Ireland, Hong Kong, the Philippines, Indonesia, India, China and Bermuda. As of September 30, 2010, the Sun Life Financial group of companies had total assets under management of CDN$455 billion.



ADVERTISEMENT - CONTINUE READING BELOW
Load More Stories