Catch it if you can: Kano An American and His Harem
Our SPOT.ph blogger skips the Sarah Geronimo-Gerald Anderson comedy for a good documentary. Read why she thinks it was amazing.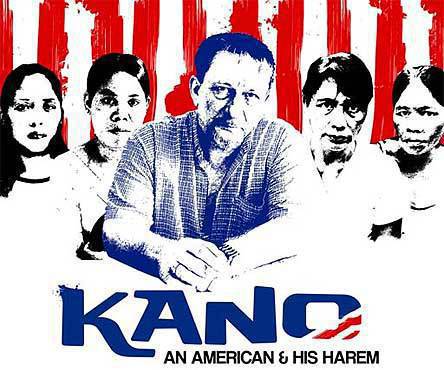 Kano: An American & His Harem is Arkeo Films' fist documentary
A new Sarah Geronimo-Gerald Anderson comedy opened this week and I should reallllly watch it but I'm in no mood to do so. They already made P15 million on their first day. In the spirit of penny-pinching spinsterhood, I resent having to cough up a hundred fifty bucks for the benefit of the big studio and the huge mall chain, plus parking. I just can't bring myself to do it anymore. This schizo early summer weather, that weird full moon, the Japanese and their response to tragedy, is apocalypse now? Sorry for the cheap pun. Life is too short for cheap puns. The world could end very soon and I do not want to waste my time on another lame ass romantic comedy. There's way better stuff going on right now and it would be awful to miss it. Fortunately, we are allowed to filter and find the good stuff.

On Tuesday night I caught the second-to-the last screening of Kano: An American and His Harem by Monster Jimenez of Arkeo Films. This "fascinating, awful, and compelling" documentary feature is her directorial debut-and it's amazing. Along with a team of long-time collaborators-Mario Cornejo, who is Kano's main producer and main editor, Margie Templo (producer), Ike Avellana (cinematographer), Jay Abello (cinematographer), and Corrine de San Jose (sound designer and cinematographer)-Monster Jimenez paints an absorbing picture of Victor Pearson, an American-Vietnam veteran who settled in rural Bacolod and started a harem of women. In 2001, Pearson was charged with over 80 counts of rape and is now incarcerated in Manila. The documentary traces the story of Pearson who is the worst kind of ladies man (the psychopathic kind) and the various women in his life-those fucked up, funny women who put up with so much from this crazy American for his wads of cash and of course, some lovin'.
ADVERTISEMENT - CONTINUE READING BELOW
Watch the trailer of Kano: An American and His Harem
Pearson is a fascinating character and Monster Jimenez allows him to unfold with a gentle detachment. She catches Pearson's twisted charisma and his central tragedy, evoking revulsion and compassion in equal measure. The nicotine-stained and puffy-eyed sexual predator should be nothing but repulsive, right? Right. But sometimes he's just a lonely old man with screaming lambs of his own.

The real strength of the documentary lies in the stories of the women in Pearson's harem, by turns hilarious and harrowing, tragic and yet typical for the Philippines. The poor girl from a poor town selling herself for money and security-she's not just a film character, she's a real girl. In Kano, these women have names and faces; they are giddy, gossipy, and sad. One of them claims Pearson raped her, then later takes it back and marries him in a Muslim ceremony. Another one prepares his food and patiently brings it to jail twice a day. There are regular conjugal visits and dole outs, so in a way Pearson's harem is somewhat intact.

I mean, how crazy is that? Crazy and true.

I was in a state after watching Kano. This is what a good documentary will do to you.


CONTINUE READING BELOW
Recommended Videos
***
There's one more screening this month for Kano: An American and His Harem. Monster Jimenez will be there for a discussion after the screening. Click on the link for more details.




Share this story with your friends!
---
Help us make Spot.ph better!
Take the short survey
Load More Stories