10 Tunes to Listen to This Month
Barbie Almalbis' new song, a catchy tune from Urbandub, Rihanna and Britney's new collaboration, and more!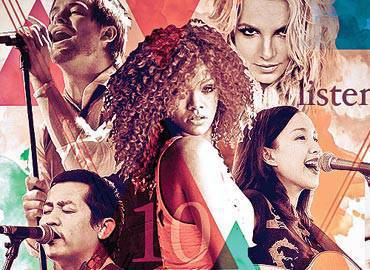 (SPOT.ph) This month, our playlist includes a cool instrumental from a group of local music gods, a "message" from rock band Urbandub, and LSS-worthy pop songs from some of the biggest international stars.  Plus, a sneak peek from Barbie Almalbis' new album!
Song: "Goodbye My Shadow"
Artist: Barbie Almalbis

Barbie's back with a brand new album and a single that will move you. After a four year hiatus (she got hitched and had kids), the talented singer-songwriter releases "Goodbye My Shadow," a touching tune that pays tribute to the Almighty. It's a non-cheesy pop-rock ditty that showcases a fresh new sound yet is still very distinctly Barbie.         

Fun fact: Remember Barbie's collaboration with Ely Buendia's band Pupil? The song was titled "Nakakabaliw."  

Download "Goodbye My Shadow" here.


Song: "S & M" Remix
Artist: Rihanna featuring Britney Spears

What do you get when two of the biggest pop stars merge? A kick-ass tune made even better. Officially released online, this remixed version of Rihanna's controversial tune "S & M" features pop princess Britney Spears. With lyrics like, "I may be bad but am perfectly good at it" you'd think the song was tailor-made for Brit. Pop this in your player and you'll be grooving in no time.    

Fun fact: Rihanna first announced the duo's collab on Twitter. She tweeted, "I got a sexy collaboration coming your way super-dupa soon! By popular demand... it's Britney bitch!"
Available at Odyssey and O Music and Video Stores Nationwide.
Song: "Sending a Message"
Artist: Urbandub

In a mini-concert held last month, local rock gods Urbandub played their newest track "Sending a Message," a stirring song that pays homage to the band's fans and clearly states the band is here to stay, especially after many local band break ups. Strong both lyrically and musically, this catchy song has the makings of your next LSS. We can't wait for the full album to be released.  

Fun fact: The Cebuano rockers were originally supposed to play reggae mixed with dub, rock, ska, and dancehall, thus the name Urbandub.


ADVERTISEMENT - CONTINUE READING BELOW
Song: The Last Goodbye
Artist: David Cook

Come June, American Idol winner David Cook will finally release his sophomore album titled This Loud Morning. Rock out to his latest tune, "The Last Goodbye." Though the lyrics are on the sad side, the song's melody remains upbeat and Cook's strong vocal shines.    

Fun fact: This American Idol's good luck charm is the tattoo on his left arm.
Available at Odyssey and O Music and Video Stores Nationwide.
Song: "Express Highway"
Artist: The Bloomfields

From their latest all-original album Hit the Ground Running comes "Express Highway," a catchy song that flaunts a fresher sound from the boys. Known for performances and songs inspired by the good ol' 60s, The Bloomfields introduce an edgier, more mature tone that fits them perfectly. Get inspired to hit the road for that one last hurrah before summer ends.    

Fun fact: Discovered by a radio station, The Bloomfields picked up their band name from a street in L.A. named "Bloomfield."
CONTINUE READING BELOW
Recommended Videos
Song: "P.A. Roadie Fernandez"
Artist: Tanya Markova
Known for their funny lyrics, Tanya Markova is one of the most talented local bands today. After dancing and singing along to hits like "Picture Picture," "Linda Blair," and "Disney," you'll definitely do the same with "P.A. Roadie Fernandez." It's an easy listening tune perfect for fun times.  

Fun fact: Unlike most bands that usually have five to six members, Tanya Markova has eight members-including a backup dancer. The members go by these names: Norma Love, Iwa Motors, Mowmow, Heart Abunda, Sugar K., Skrovak Iskopanjo, Rufa Mae Milby, Jennylyn Sucaldito, and Rez Curtis
ADVERTISEMENT - CONTINUE READING BELOW
Song: "Love Song"
Artist: Big Bang

Okay, so we can't understand most of what they're singing but who cares? "Love Song," by K-pop group Big Bang, is addicting, especially when you watch the black and white music video starring the hotties. Heat up your summer with this song and learn the fun dance steps while you're at it.   

Fun fact: T.O.P or Choi Seung-hyun was ranked number one in SPOT.ph's Top 10 Hottest K-Pop Men.
Available at Odyssey and O Music and Video Stores Nationwide.
Song: "Disappear" featuring Ludik
Artist: Mango and Andre Frauenstein

A secluded white-sand island, crystal clear waters, beautiful blue skies, and the perfect partner-that's the picture this catchy house track paints. Play it while on a road trip-this feel-good track screams "summer getaway!"  

Fun fact: Andre Frauenstein, a top South African DJ and music producer, started DJ-ing when he was only 13 years old.
Song: "Humanfolk-1"
Artist: Humanfolk

A musical suite by the some of the most talented and most respected artists in the music industry, Humanfolk is composed of Johnny Alegre, Susie Ibarra, Roberto Juan Rodriquez, Cynthia Alexander, Abby Clutario, and Malek Lopez. Their music is an interesting mix of indigenous Philippine elements laced with electronica and Southeast Asian sounds. This instrumental track will definitely put you in a chill state and open your ears to good music.     

Fun fact: Humanfolk's Susie Ibarra is not only a legend in the Philippine music scene, she's also well known in the international scene having performed with artists such as Sean Lennon, Sonic Youth's Thurston Moore, and Yo La Tengo among others.


ADVERTISEMENT - CONTINUE READING BELOW
Song: "That Should Be Me"
Artist: Justin Bieber featuring the Rascal Flatts

Catch the Bieber fever with this slow ballad-like tune from the young pop phenomenon. Singing alongside American country superstars Rascal Flatts, it looks like Bieber's matured a whole lot, new haircut and all. Finally, a song that really highlights the 17-year-old's voice.     

Fun fact: Justin Bieber performs in Manila on May 10 at the Mall of Asia concert grounds. Get your tickets here.




Share this story with your friends!
---
Help us make Spot.ph better!
Take the short survey
Load More Stories