FOOD REVIEW: Rosso in Binondo
Our SPOT.ph blogger weighs in on the hotpot in this (gasp!) fusion place in Chinese resto-dominated Binondo.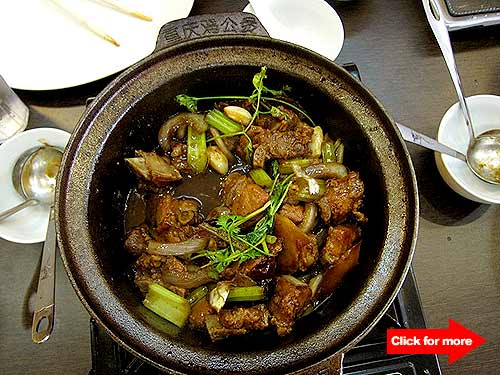 How's the hotpot at Rosso? Click for more.
Rosso
850 Sabino Padilla Street, Binondo, Manila
Tel. No. 482-0888
Open from 9 a.m. to 12 midnight daily


It's been a while since I've tried anything new to me.
Sure there are some cool joints that have been opening up lately, and ones that I've been enjoying a whole lot I might add (Orale, take a bow.. though you're reserved for another post!) Granted that my curious palate has made me try all sorts of stuff, so that finding something totally unheard of is a bit rare (I've tried cow penis. Have you? I, of course, hated it.)

So I took it with a grain of salt when my friend called me to try this joint that was serving something that no one else in the Philippines did, at least to his knowledge. This I had to see. I was happy to find that it really was something new to our food landscape, at least to my knowledge. Not only was it quite new, it was also pretty delicious!
ADVERTISEMENT - CONTINUE READING BELOW
Rosso is located along Padilla Street in the heart of Binondo. For six years they were a (gasp!) fusion restaurant (and actually still are, for now), serving anything from spaghetti and pizza to tonkatsu and grilled fish with garlic sauce and rice. Suffice to say, it's one of the few non-chain restaurants serving stuff remotely Western. A ballsy move to do in Chinatown, where everywhere you look you'll find some Chinese delicacy. So in a surprise, come-from-behind bulaga move, they've decided to switch things up and do... hotpot (starts at P280 for a medium pot).
The hotpot meal is one of my all time favorite treats. The typical set up goes like this: a pot is set before you on a burner, which is then filled with broth. Often you're even given a choice of what broth you want.. maybe it's a straight-up chicken broth, or a broth flavored with saté, or what have you. The idea is to cook your proteins and produce in the broth, which is brought up to a rolling boil-all the better to cook your stuff really quick. You choose what you want to cook and eat by ordering from a list or getting what you want from a buffet, then set yourself up with the sauce of your choice, and maybe a cup of rice or some noodles and you're set to feast. The finale usually means sipping that broth you cooked in, which by then had taken on the flavors of the things you cooked in it.
CONTINUE READING BELOW
Recommended Videos
ADVERTISEMENT - CONTINUE READING BELOW
Boiled meats, seafood, veggies, dumplings, noodles and broth-fresh and light and filling. Practically guilt-free even. THAT is why I love hotpot. At Rosso, they have an old Northern Chinese version of this meal, called ji gong bao. You basically start by choosing what kind of "pot" you want: chicken, pork ribs, beef, goat or pork knuckle ("ji gong bao" originally meant chicken, but now it's a catchphrase for all other varieties). Then you choose from four levels of spice, presumably coming from Szechuan peppercorns. After making your choice and ticking down the items you want to cook, the wait staff-really helpful, by the way-brings out a cast iron pot atop a burner. (I've always loved cooking in cast iron because every time you use one the dish your making more often than not comes out so flavorful-but what was it doing on our table?)

This is where it gets interesting: we choose the pork rib pot, so they brought a plate of slow stewed ribs, with a ton of onions, garlic, celery, swimming in a rich sauce-all ceremoniously dumped into the cast iron pot. Letting off a very audible sizzling sound, the ribs are swirled inside the pot, the sauce swishing around and letting off an intoxicating aroma. Can you guess what this is? This is the base flavor of the broth. After a few moments of cooking, broth is poured in and the party in your mouth starts. Oh Mama. There are, of course, the usual hotpot suspects: fatty beef, lamb, taro, Taiwanese pechay (cabbage), fish balls, squid balls. Can't go wrong with choices like these, of course.
ADVERTISEMENT - CONTINUE READING BELOW
If you're in the mood for something different, though, I'd look into the "hotpot favorites" portion of the menu. Try stuff like Taiwan sausage-a slightly sweet, fatty, peppery little ball of pork goodness. If you listen carefully, it'll whisper in your ear: "Eat me.. with rice. Lots of rice." Plop it into your mouth and wait for the juices to spurt out in a sea of flavor.
The Hershey's kiss shaped crab roe bun is just that: the outside looks and taste like a fish ball, but inside is a nice, orange-tinged surprise of crab fat. Listen to it. It whispers, too! Pork Kaw (Get it? "Pork Cow"? Fine, corny, I know) is a funky little tube of dumpling something. I admit that by this time I was getting so into the damn thing that I never got to ask. So yes, I am only human.
The strangest item we tried, though apparently a bestseller, is the cheese bun. What this is doing on the menu, I don't get. It's not that it doesn't taste good -it just doesn't seem like a good fit. It's essentially a doughy dumpling that when bit into, oozes like molten white cheese. Seems like an item that you only find in a Chinese joint -again, not necessarily a bad thing!

The only problem I found with this place, and a comment the other people with me quickly observed as well, is that as the meal went on the flavor of the broth diminished rather quickly. Since the ribs in sauce were the flavor base, if you refilled and didn't put in more of the base, then ultimately, you will lose flavor. They should have more of the base, even the sauce without the ribs, to put into the smallish pot as they put more broth. A bummer since it's always nice to sip down all that rich flavor in the end.
ADVERTISEMENT - CONTINUE READING BELOW
But other than that, it's a great addition and a certified "new school" entry into the Binondo dining scene. Judging from the number of customers on hand that day, all mainland Chinese at that (as a large amount of their customers are), Rosso is onto something.
This is the kind of food that's perfect when shared with friends on a rainy day (NOT that I'd want to get stuck in those parts if it rains hard!). Take your time, savor the food, and down it with some ice-cold Tsing Tao or our hometown hero, San Miguel.
Rating: 3.5 out of 5 Spots •••.


Photos by JJ Yulo
Share this story with your friends!
---
Help us make Spot.ph better!
Take the short survey
Load More Stories