Gloria's pinched nerve, LeBron eats humble pie + more lowlights
Plus, Manny Pacquiao backs wage hike, KC Concepcion and Sam Milby star in <em>Forever and a Day</em>, Miley Cyrus in Manila + more lowlights.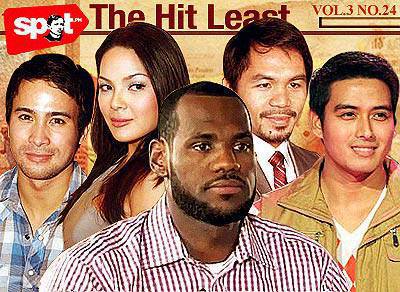 1. BOXER-POLITICIAN MANNY PACQUIAO BACKS CALLS FOR WAGE HIKE. He probably learned this "I know what it's like to be poor" routine from his swimming namesake."
2. GLORIA MACAPAGAL-ARROYO RUSHED TO HOSPITAL DUE TO A PINCHED NERVE IN HER NECK. One life down, eight more lives to go.
ADVERTISEMENT - CONTINUE READING BELOW
CONTINUE READING BELOW
Recommended Videos
3. JERZON SENADOR LITERALLY HANGS A PUPPY OUT TO DRY. Looks like cat-killer Joseph Carlo Candare has found his next best friend.
4. SUPREME COURT WANTS A FULL LIVE COVERAGE OF THE MAGUINDANAO MASSACRE TRIAL. Let's see which TV network agrees to this demand.
5. MILEY CYRUS VISITS MANILA. Unfortunately, Billy Ray is not with her. (There goes our plans of having him sign our The Best of Billy Ray Cyrus CD).
6. SAM MILBY AND KC CONCEPCION STAR IN FOREVER AND A DAY. It's kind of weird to think they've been linked to the same man...
Load More Stories