Andi's pregnant, Derek's married, P-Noy's flirting + more lowlights
Plus, Hayden Kho and Vicki Belo are engaged, the Azkals star in a soy sauce ad, Claudine Barretto is hounded by rehab rumors, + more lowlights.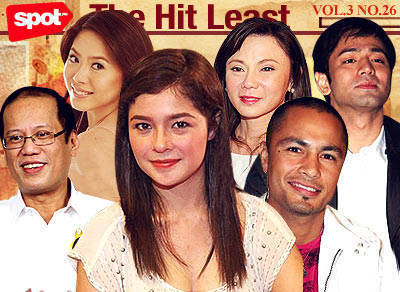 1. P-NOY MARKS HIS FIRST YEAR AND EVERYONE'S ITCHING TO RATE HIS PERFORMANCE. Give the man a break, he's bitten off more than he could chew.
2. ANDI EIGENMANN, 21, IS PREGNANT AND THE BABY'S FATHER IS NOWHERE IN SIGHT. Well, at least she's already legal. (Hopefully, the baby's daddy is, too.)
ADVERTISEMENT - CONTINUE READING BELOW
CONTINUE READING BELOW
Recommended Videos
3. THE MARCOS FAMILY IS REPORTEDLY ENTERTAINING THOUGHTS OF BURYING THEIR PATRIARCH IN ILOCOS NORTE. For God's sake put him under the ground already!
4. CLAUDINE BARRETTO HOUNDED BY REHAB RUMORS. She should take this as a compliment considering the state of her career right now.
5. DR. VICKI BELO AND HAYDEN KHO, JR. HAVE WEDDING PLANS. They say a fool is born every minute...but in this case, these fools for love were born 24 years apart.
6. THE AZKALS ARE IN A SOY SAUCE AD. Tagline: "Dominate the field like a Silver Swan." (The painkiller ad cool, though.)
7. JONATHAN RHYS MEYERS, WHO'S BEEN IN AND OUT OF REHAB, ATTEMPTS SUICIDE. Isn't he too pretty to die?
Load More Stories