FOOD REVIEW: Simply Thai
Greenbelt 5 welcomes a new Thai restaurant with "killer dishes" and "in-your-face delicious" flavors, says our SPOT.ph food blogger.
Simply Thai
G/F Greenbelt 5, Ayala Center
Makati City
Tel. 729 0860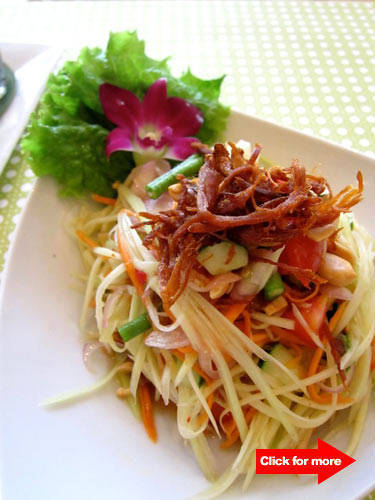 How did this spicy fare go with our food blogger?
There are fewer things in life that are as exciting as a re-boot.
Imagine that you can get a second time around at something-not necessarily from failure, but more from being able to amp things up to even bigger and better heights. In the potentially lucrative restaurant biz, I think that chance is quite the rarity. The rule that applies with most restaurants is that you must get it right the first time, no ifs, no buts. You have to get your concept down pat, or the food orcs of the Philippines will be out to get you and rip you to shreds.
You have to have patience and a very understanding support group, because you will hardly see your family and you will reek of garlic, onions, and probably shrimp and fish guts at all hours. You generally have to be loaded, or have a backer that has a war chest the size of a small house, and the cojones to accept defeat if it doesn't take off-yes, they must be prepared to lose it. A generous amount of luck would be great too, so if you have a birthmark on your butt-and it doesn't matter how beautiful your butt is-then, think twice.
ADVERTISEMENT - CONTINUE READING BELOW
Having all that in mind, especially the smelly part, you will find it hard to believe that Cecille Chang is a chef and restaurateur. I met her a few years back while featuring her then restaurant, Terrace At 5th. For a cook, she looked absolutely spotless and fresh, glamorous even. Fast-forward to today, and she carries herself exactly the same way-even more so. I suspect a Clark Kent-like phone booth in her kitchen where she transforms herself from her sweaty and stinky cook's persona into her colorful public self.
Nowadays, Terrace At 5th is no more, replaced by Cecille's baby, Simply Thai, the sleek sister of Serendra's Silk. Thai food is Cecille's specialty, really, as she travels back and forth between Bangkok and Manila, procuring all the ingredients she needs to churn out the best food she can possibly muster. Here she is in her element, and to quite honest, it shows.
CONTINUE READING BELOW
Recommended Videos
The outside space was converted into an open air lounge, complete with day beds. I spotted the drink prices, and man, are they reasonable considering their location in Greenbelt 5. In the evenings, the inevitable DJs do their thing (and yes, kababayan, they do have an 80's night!). But it is, of course, inside where the magic happens. Notice the little details-the walls lovingly hand painted by an artist who Cecille refuses to name, and my favorite touch: a spotless, clean smelling bathroom-the mark of a dedicated restaurant.
The food is her little spin on Thai cuisine. The closest thing you'll find nearby is People's Palace, which I think is a great restaurant, but which comes out like Simply Thai's modern, highbrow, luxe, city slicker cousin. ST-wow, how hot is that?-is on the relaxed, comforting side of the spectrum.
ADVERTISEMENT - CONTINUE READING BELOW
Start off with telling them to put some kick into the food. It's Thai food-there has to be spice. And please, unless you really must, veer away from pandan chicken and its ilk.  We Pinoys have a tendency to stick to dishes like this (bagoong rice,anyone?)-not that there's anything wrong with it, but it's time to spread your wings, you know? Try something new-you won't regret it.
I really dig their Som Tam (P240) and highly recommend it as a starter-a quintessential Thai dish that you can find in just about any street corner. It's a salad of unripe papaya, tossed with tomatoes, crispy scallions, and flavored with herbs, nuts, hibe (dried shrimp), fish sauce, a little sugar and chili. Lots of it. It's refreshing as it hits your tongue, but devilishly hot (and that's a good thing - not overly spicy, mind you) a few seconds after your first swallow.
A fun alternative is Mieng Kham (P220), or betel leaves topped with shrimp, coconut, lemongrass, nuts and more chili. Pop it into your mouth and have fun with all the flavors dancing around inside. The betel leaf has such an interesting and intriguing flavor.
A truly killer dish is lamb shank in Massaman curry (P565), a southern Thai preparation with Muslim influences, it's flavored with coconut milk, and cinnamon, and cloves, and fish sauce-all really great ingredients-with sweet potatoes and caramelized onions. Slow cooked and off-the-bone tender, and with a really nice kick to it, this is one of the best entrees I've had in awhile. Its bold flavors are just in-your-face delicious, and you'll be pouring that sauce over your jasmine rice til you burst.
ADVERTISEMENT - CONTINUE READING BELOW
For something different but more inclined to the local palate, have a go at the pork confit with chili caramel sauce (P310). Thais, by nature, like their food a bit on the sweet side, so this is like eating a tender lechon kawali with a bit of sweet and heat. There is no other way about it-load up on the rice.
There is a plethora of other dishes (o ha! "plethora"...been playing Scrabble lately) and I'm itching to see more of her seafood dishes (I saw a beautiful prawn dish, wrapped in vermicelli) and other curries. She still flies in Dungeness crabs (about P1900), and she has something called egg and curry crabs-a dish that I got to try on a trip to Bangkok and something that still haunts me to this day. Gotta go back for that, for sure, and perhaps some with chili garlic butter. Woof. (Kind of pricey, though, these crabs...so have them after you get your bonus!)
Desserts are happily not just an afterthought here. I admit, and I apologize, that I did cave in to the usual suspects come post entrée time. What can I say? I do like my sticky rice with mango (P220), drizzled in coconut cream, and my takhoo (P190), or steamed tapioca cakes, which kind of reminds me of Pampanga's tibok tibok for some reason.
A nest of shredded sweet potatoes and taro (P240) has a scoop of coconut ice cream in it and a small puddle of caramel sauce-a simple and elegant looking indulgence. Durian ice cream (P195) was more delicious than I thought, though rich as Manny P. (you decide which one.. haha!)...this is something you'll want to share with someone. I highly recommend this to a durian virgin-if you've never partaken of this "ambrosial" fruit, this is one of the best ways to introduce your palate to it.
ADVERTISEMENT - CONTINUE READING BELOW
Looking at Cecille Chang work her enclave, it really hit me that she had found her stride in this reincarnation. The food is topnotch, the space is quite pleasant, and she's pushing all the right buttons of her patrons.
So take your buddies here and have a few drinks outside before pigging out. Or gee, take a hot date, and sweat it out a bit with all the spice-the start of seduction time (unless you sweat heavily.. that would be a bit gross.) This one is a keeper, folks-enjoy!
Rating: 3.75 out of 5 Spots •••.
---
Help us make Spot.ph better!
Take the short survey
Load More Stories