The Art of Satire: Ang Babae sa Septic Tank
This satirical film on poverty porn, fame and celebrity is Cannes and Oscar-worthy, says our SPOT.ph blogger.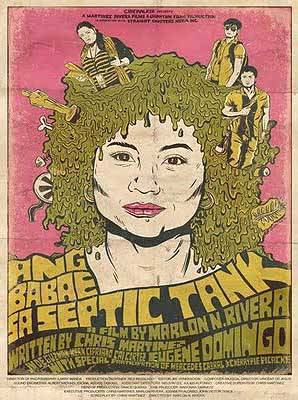 A satire, when it's side-splittingly funny, is a wonderful thing. Marlon Rivera's debut film Ang Babae sa Septic Tank is exactly this-a satire about poverty porn, fame, and celebrity that's hilariously on the dot about the state of "indie" film. Written by Chris Martinez-responsible for comedy hits like Here Comes the Bride, Joey Gosiengfiao's Temptation Island, and Kimmy Dora-Babae revolves around two young filmmakers and their quest to make a film set in the slums with a big star playing the lead role. It's not an easy process, to be sure, but if you can pull it off, say hello to Cannes. In fact, fuck Cannes. Say hello to the Oscars!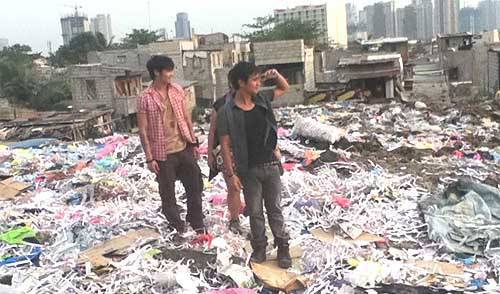 JM de Guzman, Kean Cipriano, and Cai Cortez

Bingbong (JM de Guzman) is a savvy young producer working with Rainier (Kean Cipriano), a hot director with a vision, and the silent and efficient Jocelyn (Cai Cortez), ang dakilang Production Manager. Their day involves a lot of driving around, smoking cigarettes in the car, talking about how they are going to pull it off. Should it be a musical with poor people singing in the style of Les Miserables? Or perhaps some edgy cinema vérité using non-actors? Should they cast suking-suki actresses like the venerable Cherry Pie Picache or the gorgeous Mercedes Cabral? Their film is called Walang Wala, set in the dumpsite of Payatas where mothers have nothing to feed their children but instant noodles. Armed with gadgets and sheer bravado, they plan their ouvre over blended coffee drinks in a wi-fi enabled café, discussing plot points and treatments and how they are going to take the international film festival circuit by storm with their brilliant film.
ADVERTISEMENT - CONTINUE READING BELOW
It all sounds devastatingly familiar, down to the encounter with the pseudo-humble director fresh from the festival in Venice. (Do those festival pictures actually exist on some director's Facebook page?) But Rainier, Bingbong, and Jocelyn are not about to get sidetracked. For the role of Mila, they are determined to cast Ms. Eugene Domingo (who plays herself), a famous actress from the mainstream who is just dying to do land a plum indie role. She's a full-fledged diva in diamonds and kitten heels who eats nothing but salad and has a few ideas of her own. Also, she refuses to do the septic tank scene. Ms. Eugene Domingo's take on a gritty film about poverty and desperation requires full hair and makeup, overacting, product placements, and a lush midi score. As the woman in the septic tank, Eugene Domingo is clearly in her element: we get to see her range as an actress and her sharp intelligence as a comedian. She's fabulous and funny, and always ready for her close up. Meanwhile, JM de Guzman and Kean Cipriano-both super cute and capable of holding their own-have great chemistry as the producer-director tandem.
CONTINUE READING BELOW
Recommended Videos

Marlon Rivera, first-time film director and Renaissance man (advertising executive, makeup artist and founding member of Propaganda, fashion designer, floral stylist, and all around wit), has pulled off something rare in this age of cheap thrill/lame joke/toilet humor comedies. Babae is smart and well-observed, it's witty and wonderfully detailed-but best of all, it is so much fun to watch. And yes, there is a septic tank scene-how's that for toilet humor? The audience was roaring with laughter and I could barely hear some of the dialogue, but never mind. There's nothing like the feeling of being part of an audience who gets the jokes, loves the characters, and enjoys every minute of the movie.
ADVERTISEMENT - CONTINUE READING BELOW
Eugene Domingo headlines Ang Babae sa Septic Tank
***
Ang Babae sa Septic Tank is screening at Cinemalaya 2011 on these dates:
July 20, Wednesday, 9 p.m. at Tanghalang Huseng Batute, CCP
July 21, Thursday, 1:30 p.m. at Greenbelt 3 Cinemas
July 22, Friday, 3:30 p.m. at Tanghalang Nicanor Abelardo, CCP
July 23, Saturday, 6:15 p.m. at MKP Hall, CCP
Photo from Cinemalaya
Share this story with your friends!
---
Help us make Spot.ph better!
Take the short survey
Load More Stories