10 Tunes to Listen to This Month
Trippy tunes from local dub group Goodleaf, the <em>Zombadings</em> theme song by Johnoy Danao, a Mark Ronson and Amy Winehouse collab, and more!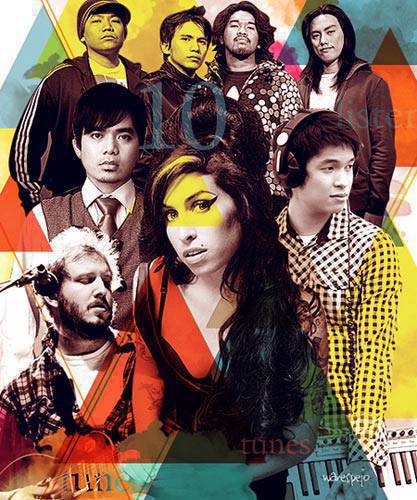 (SPOT.ph) This month, our playlist includes an interesting mix of songs: a trippy tune from local dub group Goodleaf, the Zombadings theme song sung by acoustic sensation Johnoy Danao, Somedaydream's latest offering, a Mark Ronson and Amy Winehouse collab, and more.
Song: "All I Wanna Be"
Artist: LICA featuring Richard Poon

Another Pinay catches the international music scene's attention with her immense vocal talent. 14-year-old Lica de Guzman, who was personally chosen and trained by Phil Collins, joins crooner Richard Poon for a powerful ballad. Her strong angelic voice gets us excited about what she'll sing next. Could she be the next Charice?      

Fun Fact: At such a young age, the Switzerland-based teen has already performed onstage with and Phil Collins and Bryan Adams (talk about world class!).


Song: "Dub Pilipinas"  
Artist: Goodleaf

It's not often you come across a band like Goodleaf. Frontlining the local dub music movement, their sound is a nice mix of reggae, down tempo, and electronica (this tune is a perfect example). Not exactly mainstream material, their music is unique and trippy-the kind that's a real treat to listen to.  

Fun Fact: Watch Goodleaf perform live at Dub Explosion's 5th year anniversary on August 5, 10 p.m. at B-Side
Song: "Valerie"
Artist: Mark Ronson featuring Amy Winehouse (Baby-J remix)

British DJ, guitarist, and music producer Mark Ronson's funky collab with Amy Winehouse is an infectious jazzy tune. It features the soul icon's effortlessly powerful vocal and a non-cheesy rap bit. Too bad the talented artist had to go too soon.      

Fun Fact: During a tribute to Amy Winehouse, Ronson opened the show with this song and invited the song's original author Dave McCabe of The Zutons onstage. Ronson also praised his friend during the show saying, "She made brilliant music, more than I'll make in my entire life."


ADVERTISEMENT - CONTINUE READING BELOW
Song: "Regal"  
Artist: Spongecola

The popular Pinoy rock band slows things down with "Regal," a ballad that packs a meaningful message. Deep and moving, it can  make any woman feel like a queen, especially when it's sung by Yael.  

Fun Fact: The band has been around for nearly 10 years; they've won numerous awards and have close to two hundred thousand Facebook fan page likes.
Song: "Delivery Boys"  
Artist: Somedaydream

Launched just this year and Somedaydream has already gained a huge following. After the success of his first single "Hey Daydreamer," he brings us "Delivery Boys," another electro-pop tune that showcases the kid's so-fresh sound.     

Fun Fact: Rez Toledo a.k.a Somedaydream writes and records his music from his room with the help of laptops and synthesizers. He's got close to 29 thousand likes on his Facebook fan page.


CONTINUE READING BELOW
Recommended Videos
Song: "Holocene"
Artist: Bon Iver  

Beautiful and brilliant, Bon Iver's "Holocene" is one heartfelt tune with words sung so movingly by indie-folk singer Justin Vernon. Highly acclaimed by music critics, Vernon's effortless falsetto complemented by the subdued melody of this song is pure genius.      

Fun Fact: Justin Vernon a.k.a Bon Iver also collaborated with Kanye West for the latter's album My Beautiful Dark Twisted Fantasy.
Song: "Morning Face"  
Artist: Bee Eyes

This easy listening pick is from an indie-pop under-the-radar band. We love how their fresh, raw sound can instantly make you feel warm and fuzzy.

Fun Fact: "Morning Face" was included in a demo released by the band this year.


ADVERTISEMENT - CONTINUE READING BELOW
Song: "Naibang Gabi"
Artist: Johnoy Danao

Originally recorded by Rico J. Puno, "Naibang Gabi" is the official theme song of the much-awaited Raymond Lee movie Zombadings. Sung beautifully by of-the-moment musician Johnoy Danao, "Naibang Gabi" is a steady song with a soft melody laced with Danao's smooth vocal.

Fun Fact: First shown in Cinemalaya (it was one of the closing films this year), Zombadings hits theaters on August 31.

Song: "Brighter Than the Sun "
Artist: Colbie Caillat

If you like Sheryl Crow, you'll adore Colbie Caillat. The Malibu-born singer-songwriter's latest single from her newly released album All of You, is a sunny song that can brighten up even the gloomiest day. Cutesy lyrics and an infectious beat make this the perfect get-happy ditty.        

Fun Fact: The 26-year-old has been nominated numerous times and has won a Grammy for her collaboration with Jason Mraz.



Song: "Kung Tama Siya "  
Artist: Gloc 9 featuring Jac Dionisio

Believe it or not, this rap song is about our national hero, Jose Rizal. "Kung Tama Siya" is Gloc 9's contribution to the Rizal tribute album Rock Rizal. The tune opens softly with a Spanish guitar-style melody then turns into a strong song with heavy words. Noone better to get the message across than Gloc 9.     

Fun Fact: Watch for more Rock Rizal songs from Ely Buendia, Radioactive Sago Project, Hijo and more. Check Rock Ed's Facebook page for updates.     




Share this story with your friends!
---
Help us make Spot.ph better!
Take the short survey
Load More Stories