FOOD REVIEW: Sala Bistro
Our SPOT.ph food blogger calls this Greenbelt spot one of his favorite restaurants in the city and is a huge fan of their special egg menu.
I truly love my eggs.

I like them scrambled, softly, in a skillet or on a plate. I like them sunny side up, on my bed as of late. I like them hard-boiled, topped with Knorr, while resting on a cot. And as you can tell by now, Dr. Seuss I am not.

So answer me this: why are good eggs so hard to find around these parts, or even breakfast for that matter? Maybe I haven't explored all my options, but it's always a challenge to find good grub before the lunch hour that's not served on a chaffing dish in some hotel buffet (which often isn't that great either), that's not tapsi/tosi/bacsi/Spamsilog (which is fine every so often) and which isn't Pancake House (which I do love, in a nostalgic sort of way).

The one place that has always satiated my egg loving ways is Sala Bistro. My family and I are big fans of their Sunday brunch service, where the humble egg is an undisputed rock star.

You could order from the regular menu, sure, and will probably not get disappointed, as it is a chockfull of belly warming dishes, comfort food with a slightly English bent (the owner, Colin Mackay, of whom I haven't had the pleasure of meeting yet, is a Scottish gentleman who's been living here for ages).  

Come Sunday, they bust out their special egg menu for those starting out the day feeling both lazy and hungry. Paired with a dessert, and with an option to include some bubbly, it is a great way to celebrate the last day of the weekend before the start of the rat race the next day.
ADVERTISEMENT - CONTINUE READING BELOW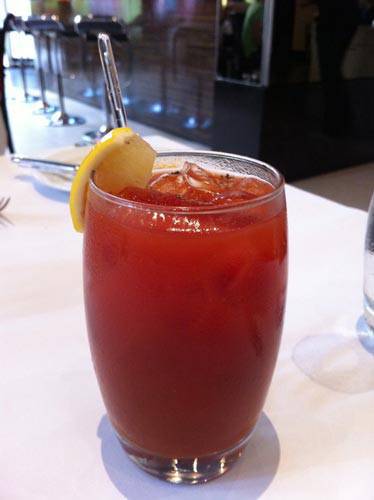 CONTINUE READING BELOW
Recommended Videos
Virgin Mary

I always start off with a Virgin Mary-a Bloody Mary sans the vodka-as I rather enjoy getting my senses kicked in by peppery spices and the zest of tomato juice. It's like a veggie-fueled slap on the face, and is so bracingly good that I got my mom to drink it too.  On the side is a small plate of olives, nuts and parmesan to nibble on, to which I get this stupid thought that put together it all seems like a little salad.

Luckily a real salad (P340) snaps me out that blur, a simple yet effective one of butter lettuce, pear, bleu cheese, walnuts and vinaigrette. Sure, these days this is a fairly common mix, but this one is always done with restraint-tossed well and seasoned, and not drowning in gloopy dressing. It is crisp and fresh, and it tastes healthful, as a salad should be.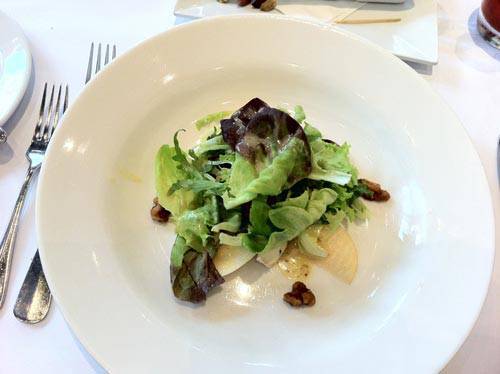 ADVERTISEMENT - CONTINUE READING BELOW
Pear, Rocket, Bleu Cheese, Walnut Salad (P340)

A "caldo verde" (P280) comes next-a potato velouté with herbs and chorizo-a simple little soup that's meant to begin warming your tummy. Not anything truly memorable, but it's oddly comforting and something you can tuck into whatever mood you're in.

It's the egg course, naturally, that is the highlight for me-in my case, a plate of exemplary Eggs Benedict (P490), leagues above even that of Temptation Island. Crunchy butter slathered bread, on which sits slices of ham and two fresh eggs, perfectly poached and topped with a silky, rich Hollandaise, slightly browned after a brief spell under the broiler. Break the eggs open to see the yolk ooze out and puddle together with the sauce and consume with everything else accordingly. Use your spoon to scoop any stray bits and lick away.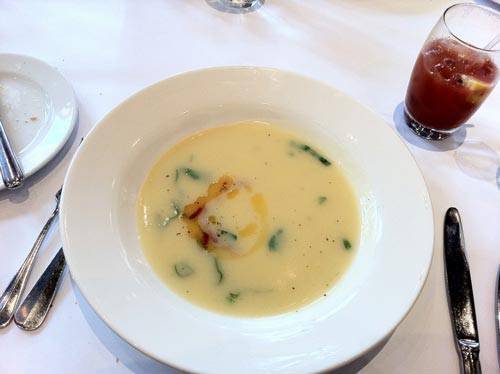 "caldo verde" (P280)
Told you I like my eggs.

Steak and Eggs (P950) ain't bad either, as is a classic smoked salmon with scrambled eggs (though tell them to make yours soft and creamy, as I've seen it overcooked a few times), or even a full Brit fry up: eggs, sausage, beans, tomatoes, potatoes.. the whole shebang. As I've said, generally everything is of such good quality. The only problem I encountered my last time there was that the food took a bit of time to arrive and there was a raw, stray macaroni noodle that found its way into my potatoes. The cook must've either had a bad Sunday hangover, or he was all by his lonesome in there. Poor guy. Well, that's the restaurant biz for you.
ADVERTISEMENT - CONTINUE READING BELOW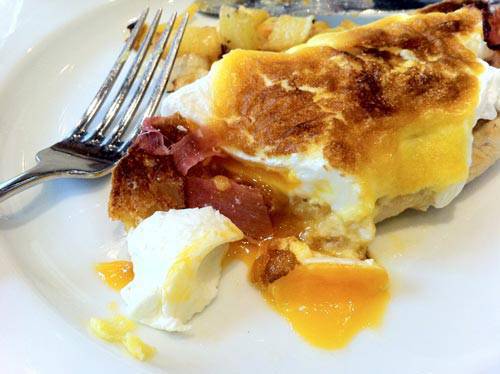 Sala Bistro's eggs Benedict (P490)
All's well that ends well once dessert shows up-a lovely strawberry sundae crafted from home made ice cream, berries and merengue. All other desserts are equally calorific: a croissant with vanilla bean ice cream and chocolate, or toffee pudding, or a coffee ice cream sundae.. well, without getting too graphic, you get the idea. They don't play around, these people.

I will go out on a limb and say this: Sala Bistro is one of my favorite restaurants in this city, for the simple reason that they do manage to keep their cooking topnotch, and their service rather good, all wrapped up in a very chic space. Hats off to Mr. Colin and his team. Yes, there are the occasional slip-ups and all, but no one is perfect. The food is quite good and makes up for any imperfections, in my book.

If I ever opened my own restaurant, my fantasy would be to open something like this joint, where I can eat good eggs, among other things, to my content.
ADVERTISEMENT - CONTINUE READING BELOW
3. 75 Spots out of 5  •••.
Share this story with your friends!
---
Help us make Spot.ph better!
Take the short survey
Load More Stories