Way Back Home: The Middle Child Syndrome, Teleserye Style
Our SPOT.ph blogger weighs in on the new Star Cinema melodrama starring Julia Montes, Kathryn Bernardo, and Agot Isidro.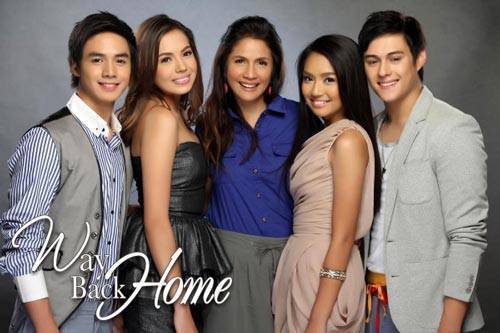 The cast of Star Cinema's new melodrama Way Back Home
The lola of a friend used to say, "Hay these middle children, they never want to go home." Apparently it sucks to be the middle child-often overlooked and insecure, the middle child has to fight harder for parental attention and approval-so why indeed would they want to go back home?
Poor Julia Montes suffers a terrible case of middle child syndrome in Star Cinema's new family melodrama Way Back Home (directed by Jerry Lopez Sineneng) where Montes plays Jessica, a girl who tragically and literally loses her little sister Joanna (Kathryn Bernardo) when they are young.  Jessica grows up with the shadow of this tragedy hanging over her, turning her into an overachiever with perfect grades and swimming team trophies, craving for the love of her slightly distant mother (Agot Isidro).
Meanwhile, Joanna ends up with a poor seaside family, and she grows up as Anna, swimming in the ocean and running around with her best friend. Of course it is a swimming competition that reunites the two sisters after twelve years. When Jessica's family asks Anna/Joanna to come back to them, tension begins between Jessica and Joanna. Jessica, the middle child and classic kontrabida, does everything to make the easily lovable youngest child Joanna miserable.  She ignores her in school and treats her like dirt. Jessica takes everything personally: the welcome back cake for Joanna at her birthday party, having to share her room, even when the juicer breaks it's the stuff of melodrama. Why are we so addicted?
ADVERTISEMENT - CONTINUE READING BELOW
Watch the trailer
The worst part about Way Back Home is not super predictable plot-so predictable we already know about the happy ending where everyone will kiss and make up-is that it looks like a television soap opera, and not the good kind. Poor Julia Montes, who is quite lovely in a young Claudine Barretto/Shirley Fuentes kind of way, is subjected to some bad makeup (it's bad when the foundation is the wrong shade so that her face is lighter than the neck and the rest of the body) and terrible cinematography. I'm not even going to get into the score and sound-someone behind me said, "Ay parang Chipmunks!" during one particularly shrill monologue from Julia Montes. About half of the film is blurred, and yes I was wearing my glasses so I could clearly see all of those soft focus shots.
CONTINUE READING BELOW
Recommended Videos
So watch it for Agot Isidro. If I were her-and by the way, she looks amazing and perfectly elegant in her role as an uppity suburban mom in siopao pearls-I would raise hell over the dismal way they shot me. (She was the one bright spot in this entire movie and I don't mean they lit her well.) Kathryn Bernardo, touted as the new Judy Ann Santos, is really super cute and should do well in future downtrodden dakilang api roles. Just like our national affliction for melodrama, we are also forever the champions of the underdog, and Kathryn-with her accessible Pinay beauty and winsome smile-is the perfect candidate for those roles. Meanwhile the tall, leggy, and tisay Julia Montes (who is half German and apparently looking for her German father) is a perfect little kontrabida-in-the-making, who should take notes from the early work of Cherie Gil.
ADVERTISEMENT - CONTINUE READING BELOW
As in every Filipino family drama there's always a big reunion in the end. While forgiveness is an important value, we must never forget that a lifetime of issues and family dysfunction is not easily resolved, especially not in one hundred and six minutes.


For Way Back Home movie schedules, click here.
Share this story with your friends!
---
Help us make Spot.ph better!
Take the short survey
Load More Stories