Zomba Ka 'Day!
Our SPOT.ph blogger calls the clever comedy <em>Zombadings</em> a "festival of gay wit" with a lot of heart.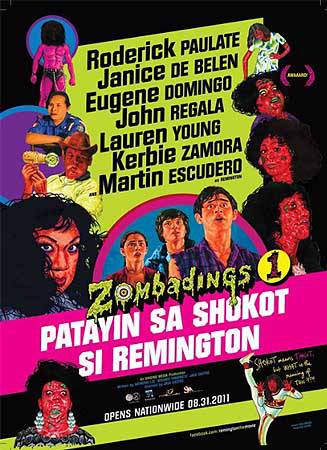 The new comedy about gay zombies Zombadings 1: Patayin sa Shokot si Remington highlights the unlikely and hilarious intersection of nature and nurture, fantasy and superstition.  It is also a festival of gay wit-of which I am a huge fan. Award!
Remington (Martin Escudero) is a naughty boy who likes to shout "Bakla! Bakla!" each time he encounters gay men. One day in the cemetery he sees a fully cross dressed gay man (Roderick Paulate, in fine form) crying by a grave. As Remington screams "Bakla! Bakla!" the bewigged Roderick leaves him with a curse: one day, Remington will grow up to be himself bakla. But Remington grows up reassuringly straight, waking up, in fact, with raging boners and falling in love with the pretty girl next door (Lauren Young).  Soon, however, the sumpa kicks in and Remington is transforming into a smooth shaven, tight shirt wearing, sward-speaking, card-carrying member of the third sex. Mart Escudero does it with such cuteness and pizzazz that I just wanted to take him home and make him my new gay BFF. (I am, as my hair dresser calls me, a real fruit fly or as I have called myself, a fag hag.)
Anyway, while Remington is literally struggling with his sexuality, all the neighbourhood badings, badafodills, and badinger-zees are turning up dead. The police (Janice de Belen as a lady cop is also in fine form) are on the case but they are utterly clueless. There's a serial killer on the loose and Remington could be next. He has his family and friends for love and support, but Remington has to resolve this crisis for himself. The plot is improbable, impossibly well-detailed, and tight like the buns of your gay aerobics instructor as unravels before your unsuspecting eyes. Thankfully it is fast paced-and wonderfully scored by Teresa Barrozo-there's not a single dragging scene. It is a zombie flick, so prepare your best cringe as well as your loudest laugh.
ADVERTISEMENT - CONTINUE READING BELOW
Watch the teaser for Zombadings


The excellent screenplay by Jade Castro (who also directs), Raymond Lee, and Michiko Yamamoto is imaginative and fun but also underscores real human relationships, mostly awkward and sometimes taboo. As Remington becomes increasingly gay, he is more and more attracted to his hunky best friend (Kerbie Zamora). They end up in a tight squeeze, literally making out on the stairs. Jade Castro's direction is pitch-perfect. It's not about who is straight or gay, it's about the half painfully-awkward, half super-kilig moment between two best friends making out on the stairs. Involving silly prop jokes (a "gaydar"), hot actors from the eighties (Daniel Fernando and Leandro Baldemor), ludicrous but well-executed special effects (a floating pink pashmina among other things), and lots of subtitles for the gay speak, Zombadings is a clever comedy with a lot of heart. It encourages the viewer to expand his or her views about being gay and being brave enough to be who you truly are.
"What's shokot?" asked the guy beside me loudly during the screening. "It means afraid, hon," said his very proper wife in understated jewellery. She wasn't laughing either. I suppose Zombadings 1: Pataying sa Shokot si Remington is not for everyone, but I'm pretty sure I'm part of the target market. I hope you are, too.
Zombadings 1: Patayin sa Shokot si Remington opens today! You know what to do-Go and watch it, so that we can have them make Zombadings 2!
For Zombadings 1: Patayin sa Shokot si Remington movie schedules, click here.
CONTINUE READING BELOW
Recommended Videos
Share this story with your friends!
---
Help us make Spot.ph better!
Take the short survey
Load More Stories