CHECK IT OUT: Phat Wong Asian Café on Nicanor Garcia Street, Makati
Chef Ariel Manuel dishes out new Southeast Asian specialties at this new comfort food spot.
Phat Wong Asian Café
Ground Floor, LRI Plaza                         
210 Nicanor Garcia Street,
Bel-Air II, Makati City
Tel. Nos. 298-3573, 555-1346
Open daily from 11 a.m. to 10 p.m.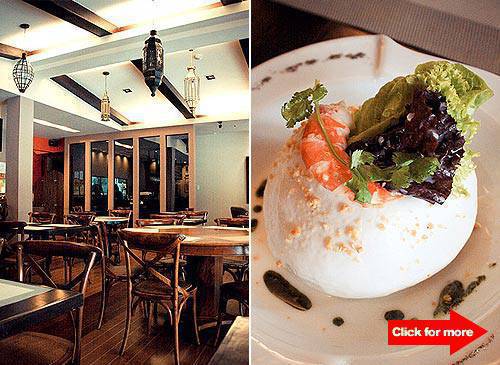 Expect Chef Ariel Manuel's magic in Phat Wong's menu. Click for more.

(SPOT.ph) Helmed by the award-winning chef famed for the Malate restaurant Lolo Dad's, Phat Wong is Chef Ariel Manuel's newest baby, and the menu is all about Asian-style comfort food. The restaurant occupies the space that formerly housed Ricco-Renzo Café at Reposo's LRI Design Plaza.
ADVERTISEMENT - CONTINUE READING BELOW
CONTINUE READING BELOW
Recommended Videos
Expect Chef Manuel's meticulous handiwork in the straightforward menu that lists easy-on-the-palate food like the Blue Crab with Crab Fat Lemongrass Dumpling (P180), a light alimasag appetizer served with creamy wasabi sauce; and their best-selling salad, Shrimp, Pomelo & Young Coconut Milk and Lime Dressing (P270), a beautiful medley of prawns, greens, and pomelo mixed with coconut milk and kaffir lime leaves stuffed inside a sweet coconut globe.
Other house recommendations include Phat Wong's version of Hainanese Chicken (P420), made with fatty, flavor-packed yellow chicken and Chef Manuel's macadamia nut-infused ginger sauce; and the Oriental Burger (P230), which piles on a sweet-savory patty made with US Sirloin, mushrooms and bean sprouts on pandesal, with kesong puti to add texture and subtle salty flavors. Phat Wong's Banh-Mi Roll (P125) is a lighter version of the popular Vietnamese sandwich that uses pizza dough instead of a baguette and packs savory flavors from liver pate, grilled pork, ham and chicken.
ADVERTISEMENT - CONTINUE READING BELOW
Dessert choices at Phat Wong include the Halo Halo Moderno (P170), a clever take on the traditional Pinoy dessert made with braised beans, bananas, jackfruit and tapioca. The magic of Phat Wong's Halo Halo Moderno lies in its kaffir lime leaf-scented coconut ice, which lends its zesty-sweet flavors to the halo-halo's finely-shaved granita ice. Other sweet picks include the Gula Melaka (P95), a small dome of sago pearls, palm sugar syrup and coconut milk, and the Baked Meringue (P130), with soft baked meringue sitting on a bed of seasonal fruits and lightly-flavored pandan cream.
Photos by Trixie Zabal
Load More Stories