Top 10 Reasons to Watch Rakenrol
Our SPOT.ph movie reviewer on this Quark Henares flick: "<em>Rakenrol</em> raks!"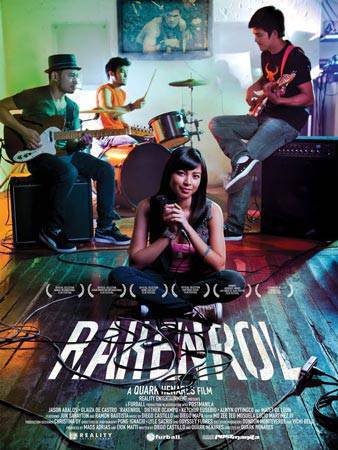 What to do this weekend? Think no further. Get off your ass and watch Rakenrol, directed by Quark Henares. It's the best this you will do all weekend, I promise you. Here's why:
1. The Awesome Cast. Odie (Jason Abalos) has two great loves in his life: rock and his best friend Irene (Glaiza de Castro) who also loves music. They form a band called Hapipaks with minor rock star Mo (Ketchup Eusebio) and crazy drummer Junfour (Alwyn Uytingco).  Ketchup and Alwyn have always been favourites of mine and the reasons are obvious: Ketchup is one of the best young actors around today and Alwyn is adorable in a chinito kind of way, also a good actor to be sure. But Jason and Glaiza are the perfect leads. He's cute in an unassuming way and slightly geeky-heck yeah, geeky men-while she is winsome and not at all self conscious as Odie's muse and the band's lead singer.
Watch the trailer

2. The Star-Studded Supporting Cast. The list goes on and on! Diether Ocampo plays "pogi rock pioneer" Jacci (pronounced Jackie) Rocha and I must say this is his best work ever. Armed with a ridiculous accent and muscular arms, Jacci Roca is hilariously sleazy (dressed in sando-and-jeans derelict couture, a la rock star photographer Juan Caguicla in the scene where Jacci picks up Irene) and yet super hot at the same time. How can any girl resist? Meanwhile Matet de Leon, another perennial on my awesomesauce list, plays herself, that is, former child star and band manager. She sits patiently with her bottle of Red Horse and her cigarettes, doling out good advice and sharing her professional opinion.
ADVERTISEMENT - CONTINUE READING BELOW
Then there's the lovely Jun Sabayton who plays Francis (a.k.a. Yagit)-the conceptual artist who shares an apartment with Mo-who rolls around in dirt and sells Mo's guitar to pay the rent. Jun's sensitive and in-depth portrayal (naks) of a tortured artist in satin short shorts is spot-on-pretentious, ridiculous, and very funny. The discussion on what is "art" is precious. And best of all there's Ramon Bautista who plays the "master of modern cinema" Flame Tigerbluden, who directs the first music video of Hapipaks. Assisted by Lena Cobangbang (production designer, cinematographer, at lahat lahat na) Flame only talks with a megaphone and says things like "Wala ka bang alam sa mise-en-scene?!" What can I say?

3. There are cameos galore from all the coolest people in Quark's circles: his folks (Dr.  Belo is an executive producer), musicians (Ely Buendia and all other members of Pinoy rock royalty), actors (Angelica Panganiban... and Ricardo Cepeda!), fashion designers (Mich Dulce), contemporary artists (Bea Camacho), filmmakers (RA Rivera,Marie Jamora, Raya Martin), writers (Erwin Romulo, Audrey Carpio, Wanggo Gallaga, Philbert Dy).

4.  There are little poignant moments of truth in the film: Irene dressing up for a party listening to Up Dharma Down, hanging out after band practice thinking of band names, Odie wearing a Wolfmann t-shirt at their Saguijo gig, falling in love with your best friend and not having the guts to tell her. There's a sad rainy night scene that made me want to cry.

5. There are also little funny moments of art imitating life: a business scam, a sex scandal (complete with DVD from Quiapo), a rowdy audience throwing piss at the band...

6. The film is beautifully shot (by three directors of photography Pong Ignacio, Odie Flores, and Lyle Sacris). Despite the variety in DOPs, the cinematography consistently captures the energy, chaos, and sheer fun of the underground music scene. Remember those nights hanging out in the Saguijo parking lot, or crowding the smoking balcony at Magnet Hi-Street, or surviving the moshing at Mayrics.

7.  The script by Quark and Diego Castillo of Sandwich is taut, really funny, and sharp. The jokes deviate from the usual formula and the humor is very real. Also, I particularly enjoyed the cut-aways (to explain Jacci Rocha's musical career, Matet de Leon's child star days, and the explanation of Emo) and the clever and tasteful use of motion graphics.

8. The music is really good. The film has a great soundtrack, featuring songs from some of the best rock bands around-too many to mention. Basta if you're a fan of Pinoy rock, then Rakenrol is a must see.

9.  It's great to see a filmmaker do something close to his heart. It took a while for Rakenrol but it was worth the wait because you can tell when a director is doing something for the love of and not for anything else. It makes the film a joy to watch, and not a chore.

10.  Rakenrol raks! Funk's not death!!!
CONTINUE READING BELOW
Recommended Videos
ADVERTISEMENT - CONTINUE READING BELOW
P.S.
Catch Rakenrol at SM Cinemas.


Share this story with your friends!
---
Help us make Spot.ph better!
Take the short survey
Load More Stories