10 Tunes to Listen to This Month
The Red Hot Chili Peppers' comeback song, beats by the Black Eyed Peas, Bamboo Mañalac's solo track, Anne Curtis' single, and more!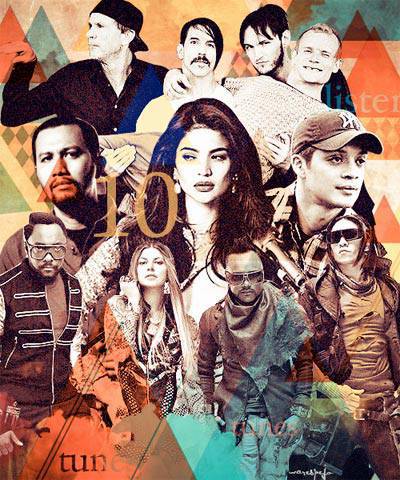 (SPOT.ph) On our radar this month: Red Hot Chili Peppers' funky comeback track, an explosive single by SuperHeavy, the latest from Florence + The Machine, and groovy electro beats by the Black Eyed Peas and Avicii. Plus, OPM favorites-in-the-making from Anne Curtis, Sam Milby, Bamboo Mañalac, Johnoy Danao, and The Sleepyheads.
ADVERTISEMENT - CONTINUE READING BELOW
Song: "The Adventures of Rain Dance Maggie"
Artist: Red Hot Chili Peppers
If you're a big Red Hot Chili Peppers fan, you'll love how their signature sound shines in this catchy comeback single. Get lost in their rock-funk-pop groove and watch for the cowbell bit, it's a trip.
Fun Fact: Their latest album I'm With You features their new guitarist Josh Klinghoffer.
Song: "Questions"
Artist: Bamboo Mañalac

Many a Bamboo fan mourned the loss of one of the industry's best music makers when the band called it quits earlier this year. Mañalac returns to the scene with "Questions," the newest single off his solo album that shows off a sensitive side (more "Much Has Been Said" than "Hallelujah") and that velvet-like vocal that we sorely missed.


ADVERTISEMENT - CONTINUE READING BELOW
Fun Fact: This bare-headed rocker was one of SPOT.ph's Top 10 Hottest Bald Men.
Song: "Love You Long Time"
Artist: Black Eyed Peas (BEP)
T minus 18 days 'til the BEP crew hits the Manila stage again! This trippy tune from their latest album sounds like a throwback to KC and the Sunshine band's "Give It Up" (we see many mash-ups in its future). And while it hasn't had as much radio airplay as "The Time (Dirty Bit)" and "Don't Stop The Party," we wouldn't be surprised if it gets stuck in your head for weeks.
Fun Fact: When Alanis Morissette released a spoof of BEP's 2006 hit, "My Humps," Fergie reportedly sent the singer a butt-shaped cake with a thank-you note saying that Morissette was a "genius."

Song: "Pagbigyan"
Artist: Johnoy Danao
ADVERTISEMENT - CONTINUE READING BELOW
Chill out to this smooth track during the last stretch of the year's rainy days. Here, Johnoy Danao (a.k.a the "country's best-kept secret") sings about love and the confusion it brings in that raspy voice of his we love so much.
Fun Fact: According to Danao, he feels incomplete when he sings without his guitar. "Parang parte siya ng boses ko," he told SPOT.ph.
Song: "Miracle Worker"
Artist: SuperHeavy
It's every music lover's dream come true-a powerhouse band composed of rock 'n' roll legend Mick Jagger, Eurythmics founder Dave Stewart, sexy soul songstress Joss Stone, reggae master Damian "Jr Gong" Marley, and top Indian composer A.R. Rahman. Their killer first single blends catchy reggae beats with Stone's soulful voice and Jagger's signature swagger. Watch for the local release of their album this month.
ADVERTISEMENT - CONTINUE READING BELOW
Fun Fact: Jagger and Stewart were the masterminds of SuperHeavy. The two thought of putting together artists from different genres in one band. According to Jagger, he "never thought it would actually happen."
Song: "Mouth"
Artist: Anne Curtis

Brace yourself, folks, the unthinkable has happened-Anne Curtis has released an album (cue: gasp!). The MRT-riding "It" girl breathes new life into this flirty Merill Bainbridge classic with a likeable version that suits her playful singing voice to a T. We've got a funny feeling we'll be hearing this upbeat number a lot-at numerous karaoke spots all over town.


Fun Fact: In a Twitter conversation with Bianca Gonzalez a few weeks ago, Anne named her flaw: her voice. Go figure!
Song: "Shake It Out"
Artist: Florence + The Machine
Florence + The Machine has lived up to high expectations from the release of "Shake it Out," the lead single from the band's new album Ceremonials. Here, Florence Welch belts out powerful notes and equally poetic lyrics. She's often compared to Scottish singer Annie Lennox, but we think she's a force to reckon with all on her own.
ADVERTISEMENT - CONTINUE READING BELOW
Fun Fact: In one interview, Welch referred to this song as a "hangover cure" so you might consider playing this the morning after a drinking session.
Song: "Hindi Kita Iiwan"
Artist: Sam Milby
Sam Milby has proven his worth outside the movie industry as a promising DJ and again as a singer with this sweet Tagalog song. We're sure he'll have countless ladies singing this to him in no time.
Fun Fact: Milby started his professional singing career in 2006 when he released a self-titled album under Star Records.
Song: "Fade Into Darkness"
Artist: Avicii

When Avicii (aka Tim Berg) first started spinning remixes in his Stockholm apartment in '08, he leaked his songs to music bloggers to get discovered. Three years later, he's touring the world and releasing records under Ministry of Sound, the music masters behind the Hed Kandi franchise. Not bad for a 22-year-old, eh? This party-starter is all about channeling good vibes, fresh beats and a super fun melody that just might make a fist-pumper out of you.

Fun Fact: If the first few chords of this club anthem sound familiar, it's probably because it was featured in Leona Lewis' "Collide" (which uses the same melody), spawning a controversy along the way.
ADVERTISEMENT - CONTINUE READING BELOW
Song: "Happy / Guilty"
Artist: The Sleepyheads
They've been singing this song at B-Side gigs for a while but it hasn't been officially released until now, in time for the indie band's third album Avante-Garage: Wrecknroll. The acoustic release is a testament to The Sleepyheads' non-conformist style-straight up raw with a lo-fi punch, like a relapse to the '60s but more hipster than hippie.
Fun Fact: Wrecknroll comes with a free comic book by painter-cartoonist-sculptor-musician Louie Cordero.

Artwork by Warren Espejo
Recommended Videos
Load More Stories