Arroyos under fire anew, Yasmien Kurdi forgives Baron Geisler, P-Noy's videogame issue + more lowlights
Plus,<em>tuko</em> traders, overloaded jeepneys, and other headaches that won't go away.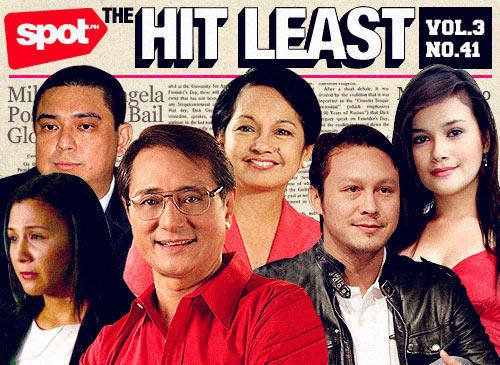 1. OVERLOADED JEEPNEYS ARE ACTUALLY VIOLATING SEVERAL LAWS. We've been violated so many times, we now actually think it's normal to sit with just 1/8 of your, er, posterior on the seat.
2. P-NOY GETS IRKED WHEN ASKED TO RESPOND TO PERSISTENT RUMORS THAT HE WAS PLAYING VIDEO GAMES AT THE HEIGHT OF THE MANILA BUS HOSTAGE CRISIS. Dude, drop the long-winded answers!  (A straighforward "No, of course not!" with a slight dash of presidential indignation would have sufficed.)
ADVERTISEMENT - CONTINUE READING BELOW
3. REP. IGGY ARROYO SAYS PRESIDENTIAL ADVISER RONALD LLAMAS SHOULD RESIGN BECAUSE OF THE AK47 INCIDENT. No matter what the congressman says, we can't seem to take him seriously even if we try.
4. P-NOY DEFENDS LLAMAS. Read: Llamas stays put, Iggy.
5. SEN. MIRIAM SANTIAGO GOES AFTER CONTRACTORS WHO DON'T FINISH GOVERNMENT PROJECTS ON TIME. When she's good, she's very good, but when she's mad, she's the best.
6. SENATORS FILE GRAFT CHARGES VS. MIKE ARROYO AND COMPANY FOR THE ALLEGED HELICOPTER SCAM. What are the chances of Mike Arroyo actually getting pinned down by the law? (Cue the sound of crickets.)
7. TUKO TRADERS NABBED IN MANILA. Hope springs eternal, but stupidity sticks with you forever, too.
ADVERTISEMENT - CONTINUE READING BELOW
8. YASMIEN KURDI FORGIVES THE GLOWING-FROM-REHAB BARON GEISLER. Giving this guy another chance is like believing a pirated DVD vendor when he claims, "Clear copy na 'yan!" (Sometimes, they do tell the truth.)
9. MIKEY AND ANGELA ARROYO, WHO HAVE BEEN ACCUSED OF TAX EVASION, POST BAIL. The couple who post bail together usually stay together.
10. FORMER PRESIDENT GLORIA ARROYO TAKES A TURN FOR THE WORSE. We thought about saying, "Get well soon." (It's the thought that counts, right?)
Art by Warren Espejo
Recommended Videos
Load More Stories