Sen. Tito Sotto's population equation, the Ligots post bail + more lowlights
Plus the latest Ruffa Gutierrez-Annabelle Rama tiff, Justin Bieber's "baby," the NAIA 3 newborn, and more nutty news.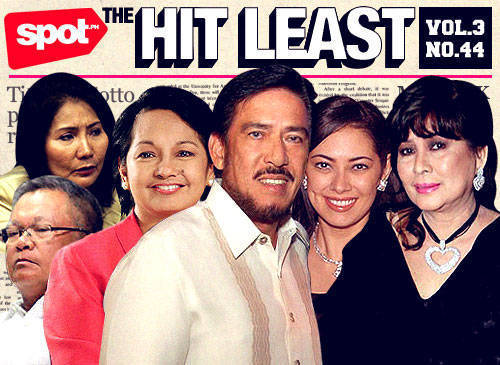 1. FAKE MARTIAL LAW HUMAN RIGHTS VICTIMS ARRESTED. Default defense for small-time crooks: "Wala na kasing makain yung [insert number here] kong anak." (For big-time crooks: "You can't interrogate or arrest me due to my health problems.)
ADVERTISEMENT - CONTINUE READING BELOW
2. WOMAN GIVES BIRTH AT NAIA TERMINAL 3. Does this mean that the baby has a lifetime privilege to frolic with the birds, bees, and snakes plaguing that airport?
3. THE PLOT THICKENS IN THE RAM REVILLA MURDER CASE. As it is, we're having enough trouble with the Revilla/Bautista family tree.
4. BECAUSE OF THE RAM REVILLA MURDER CASE, PEOPLE ARE DISCUSSING "SIBLING RIVALRY." Bottom line: The ties that bind could also be the ties that choke.
5. REP. GLORIA MACAPAGAL-ARROYO'S HEALTH IMPROVES. For all we know, she's just experiencing the effects of Malacañang withdrawal.
6. EX-AFP COMPTROLLER JACINTO LIGOT AND WIFE ERLINDA POST BAIL FOR TAX EVASION RAPS. If these "legal symptoms" persist, they'll definitely consult their doctor.
ADVERTISEMENT - CONTINUE READING BELOW
7. RUFFA GUTIERREZ AND ANNABELLE RAMA MAKE PEACE. Their love-hate tiffs happen so often they've become fillers for slow news days. (Thanks, guys.)
8. SEN. TITO SOTTO HITS DOH AND UN FOR PUBLICIZING THE WORLD'S SYMBOLIC SEVEN BILLIONTH BABY, PRESENTS HIS OWN "POPULATION MATH." Guess who we want to dub as the world's first symbolic idiot?
9. RAYMART SANTIAGO AND CLAUDINE BARRETTO INSIST THAT THEIR MARRIAGE IS "INTACT." So many euphemisms, so little time.
Recommended Videos
Load More Stories