SPOT.ph's Top 10 Wacky Predictions for 2012
Trust us, neither the cards nor the stars foretold these crazy events.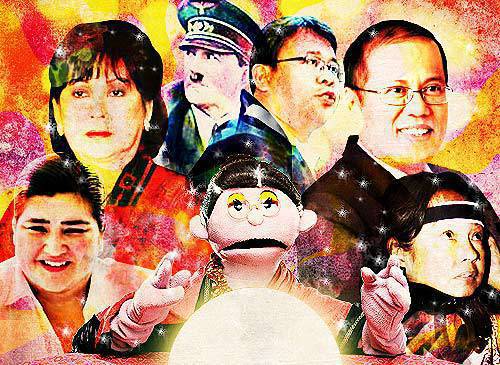 (SPOT.ph) With all the psychics making predictions about what's going to happen this year, we thought we'd come up with some predictions of our own. Since we can't see the future, this list is 50 percent politically incorrect and 50 percent wishful thinking. Though we hardly know where one ends and the other begins. So, don't take this nutty Top 10 list seriously. We do hope it makes you laugh in the middle of another surreal-yet-fun day in our delightfully wacky country. Don't say we didn't warn you. (And, oh, references to actual people, places, and events are all done in the spirit of spoofing.)
What's your favorite Atty. Ferdinand Topacio moment?
10. Atty. Ferdinand Topacio proposes a new Department of Tourism (DOT) slogan. Former First Gentleman Mike Arroyo's Adolf Hitler-loving lawyer feels for the DOT, who is now fielding "copycat potshots" for its "It's more fun in the Philippines" slogan. Topacio, who had declared, " I'm willing to do the worst. Ipatatanggal ko ang itlog ko 'pag di bumalik ang mga Arroyo (I'll have one of my balls removed if the Arroyos don't return [to the country])," comes up with an edgy tagline that will make the Philippines stand out. He calls a press conference and unveils a large poster that reads: "Tanggalin n'yo ang itlog ko if it's not more fun in the Philippines." Topacio also offers to "revamp" the colorful banig logo by suggesting that Hitler's favorite symbol be superimposed over the graphic representation of the archipelago.
ADVERTISEMENT - CONTINUE READING BELOW
Will the MMDA finally come up with a solution to all their traffic woes?
9. The Metropolitan Manila Development Authority (MMDA) proposes a new way to instill discipline in pedestrians and motorists, while solving informal settlers' housing woes. The MMDA will declare that any motorist who hits a jaywalker will be paid P150,000 in cash, no questions asked. Within 24 hours of implementing the said law, there will be no more jaywalkers in Metro Manila. On the other hand, drivers who are caught violating traffic laws and proven guilty beyond reasonable doubt will have their vehicles impounded and licenses revoked forever. The seized vehicles will be given to the poor in lieu of the Conditional Cash Transfer allotment. This way, informal settlers can live in "mobile homes"  instead of rat-infested, fire-prone shacks. However, since the MMDA is merciful, remorseful vehicle owners are given the chance to redeem their vehicles and licenses if they successfully complete The Jaywalking Challenge on Commonwealth Avenue. They have to cross the "killer highway" while there are at least 100 vehicles are speeding through it. If they live through the test, they can have their vehicles and licenses back. The problem is, they will most likely fail in this endeavor as motorists will surely be hell-bent on getting the reward for hitting jaywalkers.
CONTINUE READING BELOW
Recommended Videos
Would Annabelle Rama and Nadia Montenegro make a formidable team if they didn't hate each other's guts?
8. Top Rank boss Bob Arum hires Annabelle Rama and Nadia Montenegro. Tired of Floyd Mayweather Jr.'s constant waffling over the fight against Pinoy boxing champ Manny Pacquiao, Arum taps Montenegro and Rama to go after him. Montenegro, the designated enforcer, subdues Mayweather easily with a sleeper hold while Rama takes care of shouting some sense into him. Unfortunately, this doesn't mean that the Montenegro-Rama feud is over. They only team up briefly and resume slamming each other after they make Mayweather see the light. It sure seems like the only way these two will agree to bury the hatchet is if they can bury it into each other's backs.
ADVERTISEMENT - CONTINUE READING BELOW
How many more Enteng Kabisote movies will be made?
7. Vic Sotto teams up with Bong Revilla, Eugene Domingo, Kris Aquino, Ai-Ai de las Alas, and Mother Lily Monteverde for a Metro Manila Film Festival (MMFF) entry. To lessen the strain of producing an MMFF movie in the year when the world's supposed to end, Sotto and his colleagues band together and churn out the mother of all MMFF flicks.  The movie is titled Yesterday, Ang Tanging Ina Mo at si Enteng Kabisote na-Shake, ni-Rattle, at pina-Roll sa Septic Tank ng Panday Gamit ang Kanyang Segunda Mano na Agimat (Mag Mano Ka na Lang sa Manila Kingpin Today and Tomorrow Kasi Hindi Pa Talaga Ito ang Last, God Help You). The movie is six hours long and is a satirical rom-com fantasy action drama musical flick for all ages. It will be directed by ER Ejercito. (By the way, since the world is supposed to end on December 21, the MMFF organizers should consider opening the festival earlier this year.)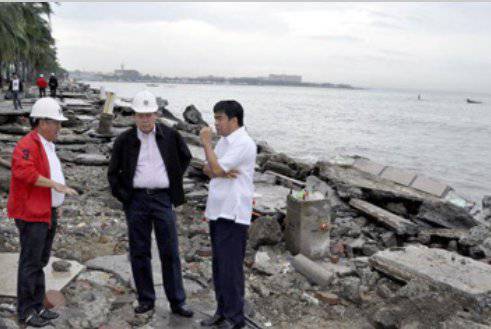 ADVERTISEMENT - CONTINUE READING BELOW
Who can forget this infamous DPWH Photoshop-edited image? (Screenshot of photo posted on ABS-CBNNews.com)
6. The Department of Public Works and Highways (DPWH) launches a beauty contest. In a bid to turn last year's lemons into lemonade, DPWH launches Miss Photoshop Philippines. The participants of the tilt are pairs made up of women and their Photoshop buddies. The women submit their Photoshop-altered photos and then, if the handiwork is deemed topnotch, they're in the running for the title. The woman with the best Photoshop-edited image wins and her Photoshop buddy gets hired by the DPWH.
Why waste double dead meat?
5. The Aquino government fires up its anti-corruption drive and puts a stop to the botcha phenomenon at the same time. Impatient and incensed by the gall of some of the nation's politicians and government workers, P-Noy quits playing Mr. Nice Guy and decrees that any politician or government employee caught stealing from the nation's coffers will be imprisoned and made to eat botcha. The politicians will be rounded up and locked inside rooms with cameras. They will be filmed 24/7 and fed only botcha for the rest of their lives...which may not be too long. Their confinement will be broadcast live. People will refer to the "show" as Pinoy Big Botcha.
How about "The world's most animal-friendly airport"?
4. National Geographic pays for the right to shoot a new series at the Ninoy Aquino International Airport (NAIA). With the working title Airport Animals: Snakes, Bees, and Birds, the Philippine edition is the first installment of the series. Eventually, National Geographic will also cover other animal-friendly airports around the world. The fee from National Geographic will help augment the costs of NAIA's rehabilitation. Perhaps, there'll be enough cash to set up an animal sanctuary. NAIA will then be known as the only airport in the world with an animal haven. Unfortunately, after only six months, the zoo staff will soon go on strike and set free all the animals in the sanctuary. The resulting chaos is good for the National Geographic team, but pretty bad for the people who have to contend with attention-seeking snakes on planes, frantic bees in restrooms, and incontinent birds flying over the tarmac. We consulted a "cosmic energy alchemist" who refused to be named. She advised: "Airport authorities can prevent this cursed event from happening by suspending the collection of terminal fees."
ADVERTISEMENT - CONTINUE READING BELOW
How would Pinoys react to a law banning videoke sessions in residential areas?
3. A congressman dares to propose The Anti-Videoke Law. A congressman from the National Capital Region proposes a law banning all videoke or karaoke implements and other equipment like it from residential areas. The congressman is promptly demonized by Pinoys who can't live without videoke. His fellow lawmaker, Sarangani Rep. Manny Pacquiao tells him, "Adopted ka lang ba na Pinoy? Wala ka yatang dugong Filipino dahil hindi mo mahal ang ating national pastime." Nevertheless, the congressman fights for his proposed law. Later on members of the Catholic Bishops Conference of the Philippines (CBCP) suggest that videoke singing should only be allowed in residential areas as long as people are belting out religious tunes and not songs that will destroy the moral fiber of society. When the congressman refuses the CBCP's request, religious groups storm his office and conduct an exorcism. The Anti-Videoke Law, as expected, gets stalled.
Don't you think this song is perfect for GMA's musical biography?
2. People flock to see GMA: The Musical (Songs That Put the Little Girl to Sleep). To cope with the reversal of her fortune, former President and current Pampanga Rep. Gloria Macapagal-Arroyo commissions the Glee team to create her musical biography. The first few "Gloria-fied" songs are Laura Branigan's "Gloria" (mashed with Neyo-Yo's "Mad");   Semisonic's "Closing Time" (mashed with the Eminem-Rihanna tune "Love the Way You Lie"); and Bonnie Tyler's "Total Eclipse of the Heart" (mashed with "Ding-Dong! The Witch Is Dead" from 1939's The Wizard of Oz). Charice Pempengco is tapped to play the young GMA, while Nora Aunor plays her as an adult. To draw more crowds, Dan Hill is hired to play Mike Arroyo and Anne Curtis will play Luli. To make the musical interactive, random men from the audience will be asked to sing the parts of Mikey and Dato.
ADVERTISEMENT - CONTINUE READING BELOW
Are we ready for a non-traditional SONA?
1. P-Noy foregoes the traditional State of the Nation Address (SONA) and helps the members of his communications team lick their Twitter addiction. In an unprecedented move,  the President decides to visit all 7,107 islands in the Philippines. In a press conference held on his birthday in February, he jokingly calls his trip "State of the Nation Alis." His encounter with the people in each location is filmed and, in effect, the public will get to listen to 7,107 "mini SONAs." (We realize that some of thse islands may be uninhabited, but P-Noy will visit them nevertheless.)  This means  P-Noy's communications team will have to write 7,1017  speeches that should last at least 30 minutes each. They won't have time to exchange heated tweets with their political adversaries or post observations that will be misconstrued as racist or insensitive. P-Noy will visit a maximum of 15 locations in a day.  This means he will be away from the Palace for over a year. By the time he comes back, he would be toned but he would still be a cigarette-smoking bachelor. (Sorry, we don't see a smoke-free President or a Presidential wedding in our crystal ball.)
Art by Warren Espejo.
Image credits: All images are screenshots from ABS-CBN, ANC, GMA-7, and YouTube video clips, except for Manang Bola (Batibot publicity still).
Share this story with your friends!
---
Help us make Spot.ph better!
Take the short survey
Load More Stories