"It's More Fun in the Philippines" Meme: 30 More Crazy Photos
More proof it's more fun in this country.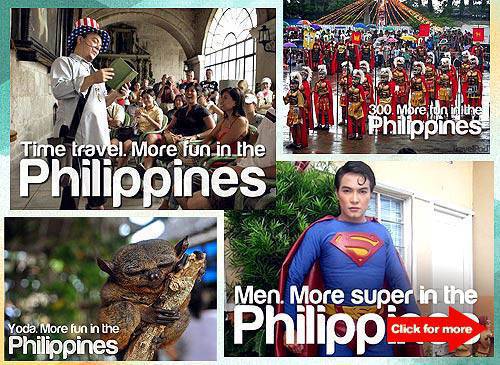 This time, we rounded up the "crazy" but still funny memes on the Web. Click for more.
(SPOT.ph) Since the Department of Tourism (DOT) launched its latest "It's More Fun in the Philippines" campaign on January 6, Friday, Filipinos have been busily invading cyberspace by posting photos of the country at its most beautiful-festivals, scenic spots, food, people, you name it. With all that enthusiasm, it didn't take long for the social networking capital of the world to turn this movement into a top trending topic worldwide.
But with unlimited bandwith, a dash of humor, and a whole lot of wit comes more than just simple photos. From the funny and heart-warming to the utterly outrageous and downright crazy, netizens have been concocting more, well, "creative submissions" for the campaign-albeit jokingly, and sometimes even sarcastically. Today, we're not just encouraging tourism; we're celebrating, er, Pinoy creativity, too.
Disclaimer: These photos were selected based on variety and do not necessarily reflect SPOT.ph's opinion on why it's more fun in the Philippines. The photos featured in this gallery were all uploaded online-via Facebook, Tumblr, Twitter, blogs, and other such sites-by various users. The altered images or photos were likewise sourced by the users themselves. SPOT.ph does not claim ownership of any of the said images. Please note that in cases where we could not determine who originally uploaded a photo, we refer to the website where we saw the photo posted. If you are the author of photos whose original upload author is not identified, please contact us.

ADVERTISEMENT - CONTINUE READING BELOW
Read: "It's More Fun in the Philippines": Top 30 Fun Photos on the Web
Load More Stories