Sen. Miriam Defensor Santiago: Top 10 Mad Moments Caught on Cam
When this feisty senator gets riled, it's showtime!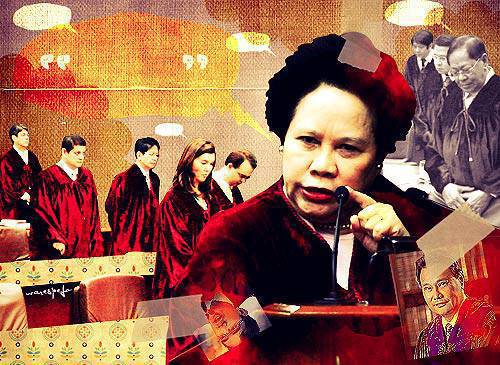 (SPOT.ph) To borrow a line from Mad Men, Senator Miriam Defensor Santiago has definitely changed the vibe of Chief Justice Renato Corona's impeachment trial "from convalescent home to Roman orgy." That is, an orgy of diatribes. She has been quick to dress down anyone whom she thinks is unprepared or is wasting time (hers and the world in general). But her most recent "favorites" can take comfort in the fact that they're not the only ones who have experienced Santiago's wrath. She's been verbally annihilating people on camera for years. Here, we've compiled just 10 of the formidable senator's best loved, caught-on-cam mad moments from the present and from way back.

ADVERTISEMENT - CONTINUE READING BELOW
10. Not the Look of Love
"May I request the Chief Justice to discipline. Or, at the very least, admonish and reprimand this group that sees itself so high above the law."
-Santiago to Chief Justice Hilario Davide, Jr. in 2001, during the impeachment trial of then President Joseph "Erap" Estrada. Santiago was irked by a group of spectators in the Senate gallery whom she claimed looked at her "provocatively." The spectators were asked to leave the gallery.
9. Something Fishy
"If you can't find enough number of senators as a bloc, then bumili ka doon sa (buy some at the) House. Mas marami sila, di mas mura sila. Para silang mga talakitok (There are a lot of them, so they're cheaper. They're like fish)."
-Santiago in full-on sarcastic mode in 2007, when her anti-billboard bill just got swept under the rug.
8. The Smiling Women

"May I just say to those two girls there... Will you please stop smiling and looking at your cellphones. If you're not listening to my speech, please step out! Now! Nakaka-insulto ang ginagawa ninyo sa Senado ng Pilipinas (What you're doing is an insult to the Philippine Senate)."
ADVERTISEMENT - CONTINUE READING BELOW
-Santiago to two women in the Senate gallery during her 2009 privilege speech, which criticized government officials who appeared in infomercials. The two women were, of course, asked to leave the gallery.

7. God's Appointment Papers
"Who knows what God is? Who understands the mind of God? Who has a direct line to God so that he or she can ask God what is right or what is wrong. Pag sinabi mong Diyos at mali ang ginagawa ng iba ayon sa Diyos. Ikaw ang nagsasalita para sa Diyos. (You refer to God and you say there are other people doing things wrong according to God. Then you're the one speaking for God.) I would like to see the appointment papers of the Black and White people from God, signed by God, appointing them, giving them powers of attorney."
-Santiago to Dinky Soliman, on December 14, 2011, at what would have been the confirmation hearing of the latter as Department of Social Welfare and Development Secretary. Santiago had grilled Soliman and even asked her about her membership in the Black & White Movement, an organization of concerned citizens that was formed in 2005 primarily to call for the resignation of then president Gloria Macapagal-Arroyo.
ADVERTISEMENT - CONTINUE READING BELOW
6. No Epal Allowed
"Therefore it behooves us to start with this principle: 'Justice delayed is justice denied.' Huwag na tayong magpa-epal dito dahil nawawalan ng gana ang nanonood. Tama na 'yun. Dumaan na tayo doon (Let's stop grandstanding because viewers are losing interest. Enough of that. We've been through that)."
-Santiago on Day 5 of Chief Justice Renato Corona's impeachment trial, on January 24, 2012, somewhat warning everyone not to waste time with rhetorics. Shortly after this, Santiago ended up berating Rep. Niel Tupas Jr. for not immediately knowing how many witnesses the prosecution team was going to present.
5. In Which Case She Goes Postal
"Tila hindi n'ya naintindihan and ginagawa n'ya, in which case incompetent s'ya. O alam n'ya pero pibapabayaan n'ya, in which case duwag s'ya (It seems that he doesn't understand what he's doing, in which case he's incompetent. Or maybe he knows what he's doing but he's just letting things slide, in which case he's a coward)."
ADVERTISEMENT - CONTINUE READING BELOW
-Santiago talking about Department of Interior and Local Government Secretary Ronaldo Puno in 2009. She was incensed because she thought he couldn't control the so-called warlords in Maguindanao.
Recommended Videos
Load More Stories