15 Ways to Spice Up the Impeachment Trial
Says our SPOT.ph blogger Lourd de Veyra: "I am a tax-paying member of the Philippine populace and I do not deserve to be bored."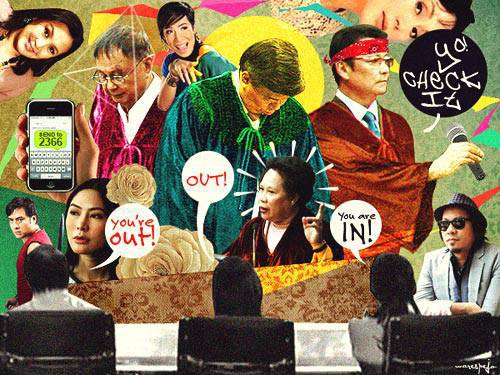 (SPOT.ph) But the question is: Who else appreciates this much-touted afternoon telenovela/soap opera/ sitcom? The media? People whose toes curl upon hearing the words "purport," "impugn," "moto propio," "manifest," and "ad testificandum?" The senator-judges always like to say that this impeachment is for the Filipino people. Fuckit. I am a tax-paying member of the Philippine populace and I do not deserve to be bored. Here is a list of suggestions to liven up the impeachment, which, by the way, is funded in part by you and me, much to my endless annoyance.
ADVERTISEMENT - CONTINUE READING BELOW


1. PUT SUBTITLES
With his overwrought sentences, love of polysyllabic words, and sheer inability to express himself in plain and simple English, Justice Serafin Cuevas might as well be speaking Swahili. The solution: subtitles-for the benefit of the rest of us who do not understand legal gobbledygook. For instance, when he says, "Your honor (or if based on his actual phonetics "Yer hener"), if I may make a simple manifestation to this honorable court, your honor..." why not condense 16 tedious words into one punchy expression: "Yo."
2. CONDUCT THE DEBATES IN RAP
Think Fliptop or Slam poetry or epic rap battles. I.e.
CUEVAS: "Yo, check it ... Congressman Tupas/ Makinig ka, batang Hudas/ Nagtuturo na ako ng batas/ Habang lola mo'y umiinom pa ng gatas/ Nung pinanganak nanay mo ab initio/ Consti na ang aking bisyo/ Kaya ipasak na up your rectum/ Yang subpoena duces tecum."
TUPAS:  "Hoy, Justice Cuevas/ Malapit ka nang kumupas/ Dakdak ka na lang parate/ Pero amoy ka nang bulate/ Batas nga ang iyong buhay/ Pero tinatawag ka na ng hukay."
ADVERTISEMENT - CONTINUE READING BELOW
3.  MORE AIRTIME FOR ATTY. KAREN JIMENO
Even if she has recently broken many a heart by revealing to the media that she got married to her American investment banker fiancé. In a gallery mostly populated by faces that look like they emerged from a swampland, Atty. Jimeno is a refreshing visual respite. Or if Jimeno would not suffice...


4.  HIRE MORE CUTE LAWYERS AND SPOKESPERSONS
Filipinos are an extremely visual race. Yes, it is easy to impute undue virtues to the cute, as the humorist PJ O'Rourke once quipped. But between Rep. Neptali Gonzales II and a lady who looks like a model straight out of a Koreanovela, which one is more pleasant to the retina?


5. ALWAYS AGITATE MIRIAM DEFENSOR-SANTIAGO
As Marikina Rep. Miro Quimbo once said in an interview: "We want her here. She increases the viewership by ten times." Because when her blood pressure shoots up, she becomes viciously lyrical, spewing invectives worthy of Shakespeare. TV network executives should convince members of the prosecution panel to deliberately display the levels of incompetence and inefficiency that rankle Miriam. Oh, what's that? They already do? Okay. But, more please.
ADVERTISEMENT - CONTINUE READING BELOW


6. TEXT VOTING
Since modern entertainment media has placed so much premium on audience interaction and everyone says the impeachment trial should be for public benefit, why not place the fate of the trial in their hands?
7. TURN THE TRIAL INTO A REALITY GAME SHOW
Based on text voting, make all characters subject to elimination via MMS. Text PRO to 2866 to kick out Niel Tupas and Arthur Lim or DEF to 2866 to send Cuevas home. And since we're on the subject of reality game shows, why not get rid of those middling senator-judges and simplify the whole thing and...


8. PUT THREE JUDGES  A LA AMERICAN IDOL
To comment on the individual polemical skills of lawyers. And the producers must make sure there's a resident Simon Cowell bitch in the panel.  In for our purposes, there's no better snark-purveyor other than...
ADVERTISEMENT - CONTINUE READING BELOW
Miriam Defensor-Santiago: "Please don't treat me as a mere observer. I am a judge in this proceeding!"
9.  INCORPORATE FANCY PRODUCTION VALUES
And the only way to do it is to pre-tape the entire goddamned proceedings. There should be musical scoring and stingers. For example, when Cuevas replied, "Maybe you were absent!" when Rep. Elpidio Barzaga attempted to wisecrack, "And I learned that from my teacher in Remedial Law, who is none other than the lead defense counsel," there ought to have been a laugh track or something that goes "wengk-wengk-wengk-weeeengk." When the camera pans to Karen Jimeno, put an audio stinger of appreciatory moans the way Palibhasa Lalake does when a special guest appears. Or when Miriam Defensor-Santiago walks to the mic, cut to and zoom in on Niel Tupas' face as the theme from Jaws plays.  Or when the discussion turns tedious and monotonous, affix funny thought-bubbles to Lito Lapid's head.
ADVERTISEMENT - CONTINUE READING BELOW

10.  MUSICAL INTERMISSION NUMBERS
Not to be directed by the fancy schmancy geniuses of Repertory nor PETA but by the glorious brains behind Willtime Bigtime and Showtime. Put two bikini-clad dancers beside Enrile, who will sway from side to side. And when he bangs the gavel and announces a long one-minute break, the Bellstar Dancers spill onto the senate session hall in their bright and shiny boa feathers. Or get Bamboo-now a certified mainstay in the Sunday variety show ASAP-to do a duet with his purported doppleganger, Sen. Chiz Escudero.
11. GET GAY COMEDIANS TO ANNOTATE
The proceedings themselves are boring; why get more boring lawyers to explain what has just happened? Hire those standup artists in the comedy bars in Timog and Quezon Avenue to do the job. They are masters of the witty insult who would know what to say about Cuevas' hairdo, Lito Lapid's stoic silence, and Barzaga's unctuous pate.
ADVERTISEMENT - CONTINUE READING BELOW
12.  HIRE DICTION COACHES
Listening to Rep. Barzaga perorate in English is like listening to Anne Curtis sing Tina Arena's "Burn" or rusty sheet metal being sawed in half,  which is one and the same thing. Get someone from Speechpower to soften their 'R's' and elongate their vowels. If the prosecution is spending millions for this impeachment, the Filipino people deserve to hear elegant enunciation. We deserve to hear "fact." Not "fack." Minumura mo ba kami?


13.  CELEBRITY CAMEOS
While we've got three action stars and one comedian on the floor, but that just won't suffice. Up the celebrity factor by getting Sen. Ralph Recto and Sen. Francis Pangilinan to bring their wives-Vilma Santos and Sharon Cuneta, respectively.

14. WEAR BRIGHTER AND MORE COLORFUL ROBES
Those robes are simply too monotonous and funereal. Liven up the visuals by hiring German Moreno's wardrobe designer.


15.  JUST CONDUCT THE WHOLE THING IN TAGALOG
Who the hell cares if there's no Filipino equivalent for such highly occult legal terms as  "juridical," "recusal," "neutrality"? Then invent something, goddamit! Just because there was no bridge between Samar and Leyte didn't mean we couldn't build the San Juanico. So again, for the benefit of the bewildered public: conduct the entire proceedings in Tagalog. Parang awa niyo na. Para sa akin. Para sa iyo. At higit sa lahat...para kay Lito Lapid.
ADVERTISEMENT - CONTINUE READING BELOW
Art by Warren Espejo.
Recommended Videos
Load More Stories