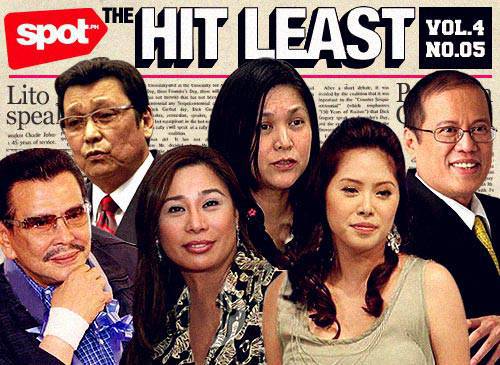 1. IN THE WAKE OF PRESIDENTIAL ADVISER RONALD LLAMAS' PIRATED DVD SHOPPING SPREE, THE OPTICAL MEDIA BOARD IS ITCHING TO DO ANOTHER RAID. The Llamas Effect: When the majority pays for one man's bad luck.
2. TRICYCLE DRIVERS CHIDED FOR OVERLOADING. Let's wait for a few people to die before we do anything about this.
3. GRACE LEE TALKS ABOUT HOW P-NOY IS WOOING HER. He formed a study group to look into the matter closely and at the end of the day (one of his favorite phrases) asked a committee to take the appropriate action.
4. FORMER PRESIDENT ERAP ESTRADA GETS A LOT OF ATTENTION WHEN HE LOOKS IN ON CHIEF JUSTICE RENATO CORONA'S IMPEACHMENT TRIAL. Yes, we miss your impeachment trial, too.
5. SENATOR LITO LAPID FINALLY SPEAKS UP AT CHIEF JUSTICE RENATO CORONA'S IMPEACHMENT TRIAL. Though we braced ourselves for his antics, the guy actually asked good questions.
ADVERTISEMENT - CONTINUE READING BELOW
6. STILL ON CORONA'S IMPEACHMENT TRIAL: SENATORS INCENSED BY THE PROSECUTION TEAM'S BLOOPERS. Question: How do you root for a team that keeps dropping the ball? Answer: You don't.
7. A BUREAU OF CUSTOMS CLERK DRIVING A PORSCHE FIRES A GUN AT TWO COLLEGE STUDENTS DURING A TRAFFIC ALTERCATION. Even if the car isn't registered under his name, we're still in awe of his ability to act like he owns it.
8. PRESIDENTIAL ADVISER RONALD LLAMAS ACCUSED OF ATTEMPTING TO PRESSURE ATTY. SERAFIN CUEVAS INTO DITCHING THE DEFENSE TEAM IN CORONA'S IMPEACHMENT TRIAL. We crown Llamas this year's King of Pain.
9. THE LATE REP. IGGY ARROYO'S ESTRANGED LEGAL WIFE, ALICIA "ALELI" ARROYO, SLAMS HIS LIVE-IN PARTNER GRACE IBUNA. Hell hath no fury like a woman with retroactive rage.
10. NADIA MONTENEGRO HITS ANNABELLE RAMA ANEW WITH (AMONG OTHER THINGS) AN ATTEMPTED MURDER CHARGE. Death by nagging?
Art by Warren Espejo.
Image credits: Screenshots of images used in collage from various video news clips.
ADVERTISEMENT - CONTINUE READING BELOW
Share this story with your friends!
---
Help us make Spot.ph better!
Take the short survey
More Videos You Can Watch
Load More Stories