P-Noy's newfound Grace, Alicia Arroyo vs. Grace Ibuna + more lowlights
Plus, Erap makes a scene, a government clerk drives a Porsche, and more crazy stories.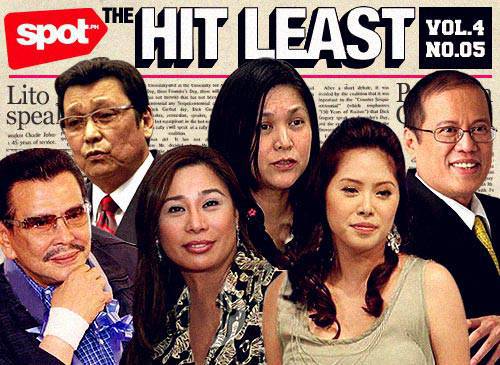 1. IN THE WAKE OF PRESIDENTIAL ADVISER RONALD LLAMAS' PIRATED DVD SHOPPING SPREE, THE OPTICAL MEDIA BOARD IS ITCHING TO DO ANOTHER RAID. The Llamas Effect: When the majority pays for one man's bad luck.
2. TRICYCLE DRIVERS CHIDED FOR OVERLOADING. Let's wait for a few people to die before we do anything about this.
ADVERTISEMENT - CONTINUE READING BELOW
CONTINUE READING BELOW
Recommended Videos
3. GRACE LEE TALKS ABOUT HOW P-NOY IS WOOING HER. He formed a study group to look into the matter closely and at the end of the day (one of his favorite phrases) asked a committee to take the appropriate action.
4. FORMER PRESIDENT ERAP ESTRADA GETS A LOT OF ATTENTION WHEN HE LOOKS IN ON CHIEF JUSTICE RENATO CORONA'S IMPEACHMENT TRIAL. Yes, we miss your impeachment trial, too.
5. SENATOR LITO LAPID FINALLY SPEAKS UP AT CHIEF JUSTICE RENATO CORONA'S IMPEACHMENT TRIAL. Though we braced ourselves for his antics, the guy actually asked good questions.
Load More Stories