(SPOT.ph) Here's a suggestion: instead of watching another lame romantic comedy and coming close to tears from sheer boredom-which is what happened to me when I saw My Cactus Heart-try something fresh and vastly more creative: how about a show inspired by disco, politics, architecture and the iconic Imelda Marcos? Carlos Celdran, known for his cheeky and entertaining walking tours of Manila, brings his Imelda-themed tour to Silverlens SLab for the next five weekends and it promises to be the best show in town.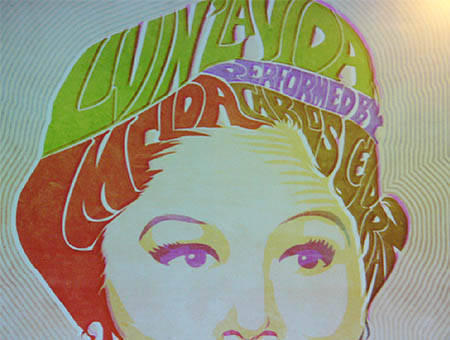 In a gallery setting, the tour is transformed into performance art. Collaborating with Toronto artist Eric Quebral who renders the buildings of the CCP complex (the PICC, Coconut Palace, Film Center, Folk Arts Theater, and of course the CCP itself) in black masking tape on the pristine white gallery walls, Livin' la Vida Imelda also uses the greatest hits of Manila sound, archival photos, a dancing-and-singing Greek chorus, and the delicious Daniel Darwin in drag playing Mrs. Marcos. A tall, graceful, mestizo-looking man in a terno portraying Madame is a fabulous idea, reminding me of Quentin Crisp as Queen Elizabeth I in Orlando. Daniel Darwin, a young Filipino-American writer, is pitch-perfect in this role: he is pretty and nubile as the young Imelda and then increasingly crazy-eyed as the former First Lady falls from grace. "This is the best drag show I've ever done!" says Darwin.
ADVERTISEMENT - CONTINUE READING BELOW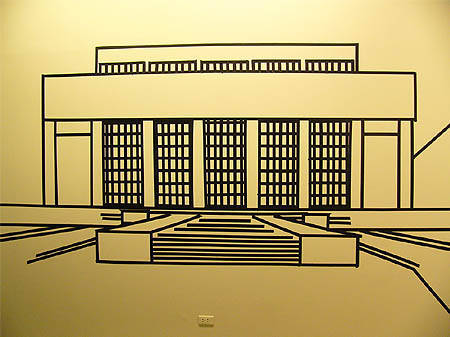 But the real genius of the performance lies in the irrepressible Carlos Celdran's script, which is full of delicious bits of chismis-there's really no other word for it-mixed in with historical trivia and audacious name dropping. Imelda's early years-the idyllic Leyte childhood, the beauty queen background, the courtship with young congressman Ferdinand Marcos-are recounted with dubious glamour and lots of fun. Using her biography as a framework for recent Philippine history, Celdran holds nothing sacred, making jokes about everything from the age of Juan Ponce-Enrile to the size issues of former President Marcos. But also he makes a unique analysis of what the Marcos years did to the Philippines: they promoted arts and culture and nurtured corruption and abuse, the built bridges and buildings but tortured student activists, he was a brilliant man who allowed his beautiful wife to use her strange brand of disco diplomacy to cut deals with other dictators and dream up loopy projects (remember "The City of Man"?)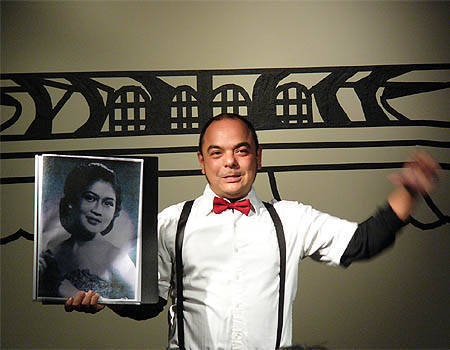 Inevitably the story leads us to the EDSA Revolution, when Ferdinand and Imelda were skirted off to Hawaii (did Marcos really think Paul Laxalt meant Paoay?) and she sang "New York, New York" on the plane. Just when you think it all ends there, Celdran provides a very funny and ironic epilogue. Imelda Marcos is indeed back-back in power (as Congresswoman of Ilocos Norte), back in society (launching her own costume jewellery line and as Celdran claims, eating pizza at the checkout counter of Price Mart), and firmly in her place as an icon of our times.
ADVERTISEMENT - CONTINUE READING BELOW

Livin' la Vida Imelda opens tonight! Shows are on February 10, 11, 16, 17, 18, 23, 24, March 1, 2, 3, 8, 9, and 10. Shows start at 8 p.m. and will be held at Silverlens SLab gallery located at the 2/F YMC Building II, 2320 Don Chino Roces Extension (formerly Pasong Tamo Extension), Makati City. Regular tickets sell for P800 while student tickets sell for P400.
Tickets available at Silverlens: 2320 Pasong Tamo Ext., Makati City. Please call Kat Luciano at 816-0044 (office hours) or text (0917) 587-4011.

***

P.S.

Another performance I'm looking forward to:

Sipat Lawin Ensemble's Battalia Royale: A Live-Action Game Performance! Fringe theater on the CCP ramp! Show runs from February 21 to 23, 2012 at 7:30pm at the CCP Promenade. All performances are open to the public, with pay-what-you-can rates.

For more information, please visit Battalia Royale's community page on Facebook to get live updates on the show's progress. For other updates, follow the Ensemble on Twitter (@SipatLawin) and Facebook (Sipat Lawin Ensemble), and subscribe to their channel at youtube.com/sipatlawin.



ADVERTISEMENT - CONTINUE READING BELOW
Share this story with your friends!
---
Help us make Spot.ph better!
Take the short survey
More Videos You Can Watch
Load More Stories