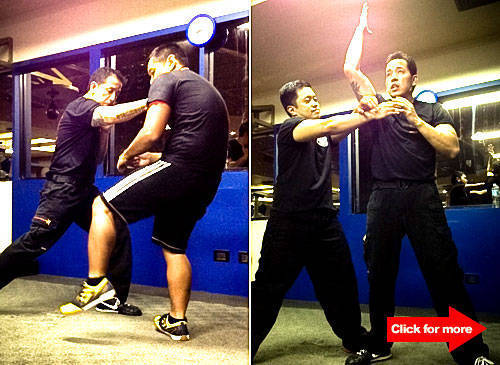 Your body is your weapon. Click for more.
(SPOT.ph) Picture this: You're walking alone in a dark alley. Suddenly, someone comes up to you from behind and grabs your bag. You reach for that supposedly protective pepper spray, but it's too late, he's swiped it away. You try to yell for help, but he starts coming at you, choking you. Now what?
It's always better to be prepared, even if you pass through that alley every single day unscathed. Krav Maga, which is Hebrew for "battle" and "contact," respectively, is an Israeli combat system that uses the body's natural movement to make it a lean, mean, self-defensive machine. As a tactical approach to self-protection, Krav Maga was developed for "street" use, employing a no-rules, no-holds-barred policy. According to the International Krav Maga Federation (IKMF) Philippines' Facebook page, the basic aim is to finish the fight off with minimal movement and as quickly as possible by striking at vulnerable parts of the body like the eyes, throat, groin, and solar plexus.
ADVERTISEMENT - CONTINUE READING BELOW
Dindo De Jesus, a Krav Maga practioner, clarifies that it is not a martial art. "There are no tournaments or exhibitions for Krav Maga," he said, explaining that the techiniques used in the system were developed based on real-life demands. Krav Maga training focuses on prevention, escape, and evasion; attacks and counterattacks from all possible angles and directions; disarming; defense from multiple attackers; and combat in varied situations (aerial, water, car, ground). De Jesus, who heads Krav Maga instruction locally, is the highest level instructor in Southeast Asia, making him at par with practitioners in Europe.
The 90-minute session starts with basic stretching customized to the requirements of Krav Maga. Every lesson is focused on a particular scenario; and the defensive technique is repeated throughout the session to ensure mastery. You may be learning how to get out of a choke hold one day, then practicing what to do when held at gun point the next. With its practical approach to learning and continual refinement of techniques, however, De Jesus admits that there's no ideal number of sessions to train. "I myself am still learning," he said, "there's no destination to this journey."
IKMF Philippines offers Krav Maga courses at at the Summit Wellness Center, Philippine Stock Exchange Building, Ortigas Center, Pasig City (Tuesdays and Thursdays, 7:30 p.m. to 9 p.m.; Saturdays at 10:30 a.m. to 12 p.m.) and the FTX Fitness Exchange, Tordesillas Street, Salcedo Village, Makati City (Mondays, Wednesdays, Fridays, 7:30 p.m. to 9 p.m.).
Rates are at P2,000 (four sessions/month), P3,500 (eight sessions/month), P4,000 (unlimited/month), and P9,000 (unlimited/three months). Students can pay P3,000 for an unlimited number of sessions for one month.
ADVERTISEMENT - CONTINUE READING BELOW
Share this story with your friends!
---
Help us make Spot.ph better!
Take the short survey
More Videos You Can Watch
Load More Stories