37 Random Things I've Learned in My Life So Far
Our SPOT.ph blogger Lourd de Veyra's 37th birthday epiphanies.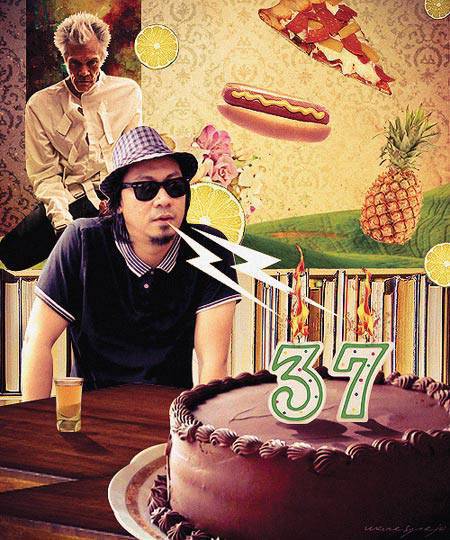 1. Pineapple on pizza or a hamburger: one of humanity's monumental mistakes.

2. The phrase "I'm not a lawyer but..." is almost always a preface to an annoying statement. You're not a lawyer? Then shut up.

3. Tequila is still best without salt and lime.

4. Pointed shoes will always look silly. Also, never trust anyone who wears cowboy boots.   Unless he's Pepe Smith.

5. Any party where you can hear any song by Pitbull or "Superbass" is bound to be horrible.

6. No leftist or Islamic radical is immune to the charms of a US visa.

7. When somebody claims to be "freelancing" what he really means is "unemployed."

8. When an illiterate sees your stack of books, more often than not he will ask, "Nabasa mo na lahat 'yan?"

9. Never befriend anyone who calls Boracay "Bora." Nor should you befriend anyone who watches professional wrestling.

10. Gingko Biloba doesn't work. Especially this one brand, but I forgot the name.   

11. Boxers for ventilation, briefs for protection. You can never, ever choose only one.

12. The more expensive the car sound system, the cheaper the owner's taste in music.

13. To paraphrase H.L Mencken: "Nobody ever went broke underestimating the intelligence of the Filipino public." The dumber the TV show, the higher the ratings.

14. If you're on the verge of vomiting, take a swig of sweet fruit juice just a few seconds before--to alleviate the taste of bile.

15. Don't bother starting an online debate with anyone with an anime/robot avatar. It's a tragic waste of time.

16.   Replying to hate mail from someone who doesn't know the difference between "it's" and "its" is a big waste of time.

17. One day you will be uncool-especially in the eyes of your children.

18.   Just because you're stoned doesn't mean you have to eat that dog food.
ADVERTISEMENT - CONTINUE READING BELOW
19. There are things of absolute culinary beauty even if they're more construction material than food. Like Cheez Wiz.

20. I really, really do not like milk tea. Good thing these, too, would soon be a passing trend, like shawarma and pearl shakes.

21. Writing on freedom walls, changing your Facebook status photo, and signing petitions actually do nothing to end child trafficking and environmental degradation. Neither do they save dolphins nor solve the problem of enforced disappearances.   

22. The angrier the song, the bigger the mommy problem. For girls, nothing conveys the same angst more than a neck and cleavage covered in tattoos.

23.   That spaced-out druggie talking hip to you right now? He'll be an annoyingly devout Bible minister tomorrow.   

24. The more intellectually hyped the movie, the more irritating the conversations overheard in the restroom. In the same way, people who watch Woody Allen films tend to laugh harder in theaters-just to show that they got the cerebral joke.

25. Karaoke only makes sense when you're drunk. Like making love to an ugly woman.

26. There is no surer sign of gayness than an encyclopedic command of beauty pageant trivia as well as the lyrics to every Madonna song ever recorded.

27. Only people who do dissertations on Russian Literature and 17th century Philippine colonial art have the right to act haughty and say, "I don't watch TV." What, you're too busy deconstructing The Purpose Driven Life?

28. The five most irksome words in the English language are: "Who are you wearing tonight?"

29. Never trust anyone who declares "writing poetry" as "a hobby." Also, never trust anyone who says she writes poems and shorts stories but "doesn't really, like, read books."

30. Never say, "I love you" with a major-league erection.

31. Girls who order extra rice are doubly attractive. I'm serious.

32. The only thing that matters in red wine is the alcohol content. Fuck the year and the fancy-ass description on the back label.   

33. The only thing you should put on hotdog is mustard. And maybe some mayonnaise.

34. Never ever order siopao from a restaurant that has long-standing labor problems.

35. Any band whose drummer twirls his stick and stands while playing is bound to suck.

36. Just when you're starting to love your job, you get fired next month.

37. Lists are always a stupid and lazy way to meet a deadline.
CONTINUE READING BELOW
Recommended Videos
ADVERTISEMENT - CONTINUE READING BELOW


####
Artwork by Warren Espejo
The views and opinions expressed by the author do not necessarily reflect the views and opinions of Spot.PH.
Share this story with your friends!
---
Help us make Spot.ph better!
Take the short survey
Load More Stories