SPOT.ph's Top 10 TV and Movie Lolas
Who's your favorite TV <em>lola</em>?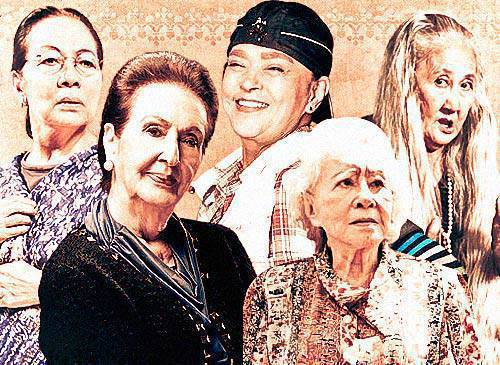 (SPOT.ph) In a country that's been tagged by some people as matriarchal, grandmothers play a very special role. Apart from their obvious biological contributions, grandmothers are great for giving you the last cookie long after mom said no, for always offering a generous slice of time-tested wisdom-romantic or otherwise, or for those rambling tales of how they did it in "her time."
For Women's Month, we're honoring grandmothers by counting down 10 of TV's best lolas who remind us fondly of our own mamangs, mamitas, and grandmamas.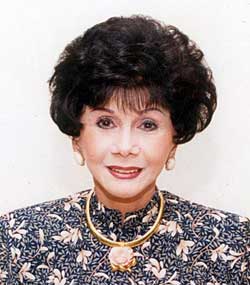 10. Rosa Rosal as Doña Consuelo (Esperanza)
"The Alta Lola"
Some grandmas are meant to be called mamang, others nana, but only this mestiza deserves the title "grandmama" (yes, accents are in order). Elegant and graceful, Doña Consuelo may be mistaken as the classic kontrabida lola who belittles everyone below her status, but that's just a misnomer. Sophisticated as she may seem, this is one grandma who'll fight for her grandchildren to the death-and unfortunately, that's literally what happened.
ADVERTISEMENT - CONTINUE READING BELOW
Upon learning that her grandkids were alive and being thwarted by the evil Sandra (Elizabeth Oropesa), the thin and frail Doña Consuela (who was then living as Sandra's servant) told her off in a discussion that ended in an intense physical confrontation. Suffice to say, the fragile, more senior lady was pushed off the stairs. At least she died a hero.
9. Susan Roces as Virginia (Walang Hanggan)
"The Mushy Lola"
This is the grandmother-in-law every girl dreams of; no raised eyebrows, no intimidating stare-downs, just plain good old-fashioned support. Virginia gave up her chance to get an education and even her love life to focus on raising her ungrateful younger sister. Her rocky past, however, didn't damper her spirits. She raised her grandson (grand nephew, actually) Daniel (Coco Martin) all by herself and plays love adviser to him and his childhood friend and potential love interest Katerina. Friendly, open, and honest, she doesn't hesitate to point out Daniel's denseness when it comes to romance.
CONTINUE READING BELOW
Recommended Videos
8. Barbara Perez as Dr. Alberta Maniego (Budoy)
"The Abductor"
Truth be told, we don't want a lola who'll secretly have us kidnapped just because our handicap might scar the family's good name. We want a grandmother who'll love us unconditionally even if we have a severe case of Angelman's Syndrome (in case you were wondering, this is what Budoy has) or a large mole covering half our face.
She may be hateful at first glance, but Dr. Alberta represents a significant part of society-those who seemingly appreciate the unusual but slightly recoils at the sight of anything abnormal (pretty deep, huh?). Still, despite her initially detestable character, she eventually shows remorse for what she's done and realizes she loves her charming grandson. If Budoy can give her a second chance, so can we.
ADVERTISEMENT - CONTINUE READING BELOW
7. Boots Anson Roa as the Mano Po Matriach
"The Moral Compass Lola"
Starring in a record of four Mano Po films, Boots Anson Roa has been a Chinese immigrant, an out-of-place Filipino, and an independent halfie. No matter what her ethnicity is, however, she's always the light-hearted grandma who doesn't take anything too seriously-whether it's about the geriatric porn she received as a gift in Mano Po 1, or her love cooking tips in Mano Po 5.
But when things go rough, she'll be the first in line to help you through it. In Mano Po 6, she was her daughter Melinda's (Sharon Cuneta) only source of strength and comfort during a series of misfortune that included her husband dying, her children being taken away, and being forced to live in subservience to her in-laws.
6. Caridad Sanchez as Lola Juling (Tabing Ilog)
"The Mentor Lola"
Remember the days when people knew more about Rovic than John Lloyd?  Lola Juling may not be a top-billed character, but we're not sure how the motley Tabing Ilog gang would survive without her constant guidance and support. Lola Juling single-handedly raised the show's main character Rovic. Protector, guardian, and counselor, Lola Juling maintains a jocular demeanor throughout the show's four-year run, but she strikes a more serious note when it comes to Rovic's and Eds' (Kaye Abad) welfare.
5. Lilia Cuntapay
"The Horror Lola"
The title "horror queen" is taken so we're dubbing this scary movie regular as the country's very own Horror Goddess. With her wild, gray hair, sallow skin, hallow cheeks, and eerie expression, Ms. Cuntapay is far from one's idyllic impression of a grandmother; she doesn't have that usual cherubic air and a tray-load of cookies. We're sure Halloweens are a blast with this 75-year-old, though.
ADVERTISEMENT - CONTINUE READING BELOW
4. Tessie Moreno as Lola Techie
"The Hip Lola"
Bolt that generation gap shut and throw away the key. This grandma probably spends more time in front of the computer than she does reminiscing about the good old days. With her hilarious web antics and tech savvy, Lola Techie effectively mirrors how technology (particularly the Internet) has integrated itself in society. More importantly, we love a lola who can beat us in Mafia Wars.
3. Anita Linda as Adela (Adela)
"The Drama Lola"
Hers wasn't a happy story. In Adela, Anita Linda plays the titular character who fondly prepares for her 80th birthday with the hopes that she will enjoy it with her family. On her special day, however, she loses her wedding band, gets robbed, and not one relative visits her. In the end, she sadly sets up a picnic at a crowded park and eats the feast she prepared by herself.
Adela had us captivated, touched, teary-eyed, and rushing over to our lola just to tell her we love her.
2. Gloria Romera as Lola Loleng (Tanging Yaman)
"The Tisay Lola"
Here's a grandmother who won't give up on family even when everyone else has. Ailing and nearing senility, Lola Loleng is fraught with problems as she watches her family break down over financial disputes. With the inheritance issues spilling over to the grandchildren, Lola Loleng remains to be the only thread holding her family together.
When her children failed to swallow their pride, Lola Loleng did what she could do: surrender everything to God and left Him in charge of cutting the emotional and physical distance between the siblings and healing the wounds that have grown deep over the years.
ADVERTISEMENT - CONTINUE READING BELOW
1. Gina Pareño as Lola Gets (Tayong Dalawa)
"The Palaban Lola"
Most lolas are contented with just sitting on the sidelines and handing out customary pieces of advice, but not Lola Gets. This is one grandmother who'll literally fight with and for you no matter what; she might even be the one to hand you the baseball bat first. Fun, quirky, and humorously crass, Lola Gets, who serves mostly as comic relief, adds a touch of lightness to the otherwise heavy drama.
Despite all her idiosyncrasies, however, she remains the voice of reason for her unhinged and slightly obsessive daughter Marlene (Cherry Pie Picache). She was also grandson Ramon's (Coco Martin) sole ally and confidante when he tipped over to the dark side.
Gina Pareño's award-winning portrayal of the spunky grandmother was so iconic fans dubbed her Lola Gets long after the show ended.
Artwork by Warren Espejo
[poll]162[/poll]
Share this story with your friends!
---
Help us make Spot.ph better!
Take the short survey
Load More Stories