MOVIE REVIEW: My Week With Marilyn
Movie reviewer Paul Daza weighs in on Michelle Williams'Oscar-nominated performance.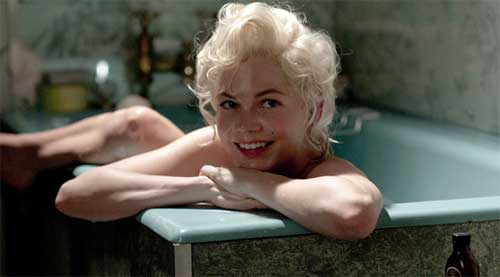 Michelle Williams was up for a Best Actress Oscar for her portrayal of Marilyn Monroe.
(SPOT.ph) Does this sound familiar? A handsome young Brit has an affair with a red-hot Hollywood actress as she films a movie in London. Despite being young in years, he's somehow able to give the sex symbol the love and attention she isn't receiving from her husband. No, this isn't the synopsis for Notting Hill, but My Week With Marilyn, a luminously acted, delicately scripted mini biopic about a brief period in the life of screen goddess Marilyn Monroe.
Watch My Week With Marilyn's trailer here
Unlike Notting Hill, though, My Week With Marilyn is based on a true story, one that tells of a fling Monroe had with Colin Clark, the third assistant director of the romantic comedy The Prince and The Showgirl as it was filmed in 1956. Sadly, My Week With Marilyn is by no means the box-office sensation that Notting Hill was when it was shown in 1999. As captivating as it is heartbreaking, however, the Oscar-nominated Marilyn is playing to near-empty theaters in Manila, just like the Oscar-winning Hugo. If you'd like to see the acclaimed, Oscar-nominated performances of Michelle Williams as Monroe and Kenneth Branagh as actor-director Laurence Olivier, you'll probably only have till Tuesday, March 6 to see their superb performances on the big screen.
There are quite a few reasons why cinephiles should seek out this cinematic gem. For one, My Week With Marilyn is a rare, warts-and-all look at how two celebrated screen icons clashed behind the scenes while making one of Hollywood's early romantic comedies. It's a fascinating snapshot of the movie business, one that allows movie lovers fly-on-the-wall access to the set of a beloved film and the people who orbited its creation. And so, in addition to icons like Olivier and Monroe, we also briefly glimpse the souls of other famous folk from decades past, like Gone with the Wind star Vivien Leigh (Julia Ormond), a.k.a. Mrs. Laurence Olivier; and playwright Arthur Miller (Dougray Scott), a.k.a. Mr. Marilyn Monroe. Seeing all these beautiful, famous people curse the erosion of their movie star looks and display their insecurities just like "normal" human beings is one of this film's sobering but perversely enjoyable qualities.
ADVERTISEMENT - CONTINUE READING BELOW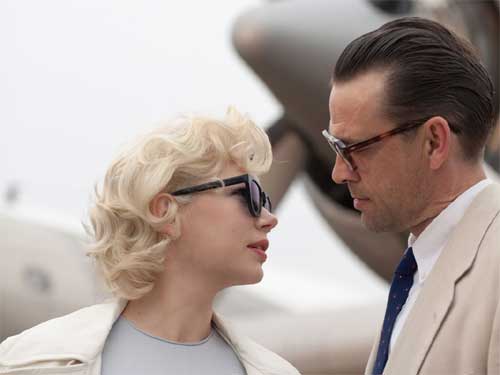 Actor Dougray Scott plays Marilyn's husband Arthur Miller.
CONTINUE READING BELOW
Recommended Videos
And though it's fascinating, intriguing fun to behold these larger-than-life personas as they scream, cry and threaten one another when they don't get their way, the film is at its best during its quieter, more reflective moments. The loveliest scene has the thrice-married Marilyn telling Colin during a daytime dip in a river that he's the first man she ever kissed who was younger than her, and that their "date" is the first real one she's been on since she was 13. There's also a poignant, illuminating scene set in a screening room where Laurence Olivier tells Colin the real reason why he is so hard on Marilyn.
My Week With Marilyn is also a treasure trove of insightful observations. One especially  moving exchange has a wistful Marilyn telling Colin, "Little girls shouldn't be told how pretty they are. They should grow up knowing how much their mother loves them." Another scene has Colin trying to explain to Monroe why Olivier is so mean to her: "It's agony because he's a great actor who wants to be a film star... and you're a film star who wants to be a great actress."
ADVERTISEMENT - CONTINUE READING BELOW
Being a love story, the film also has quotable quotes regarding matters of the heart. Sir Laurence Olivier's words of wisdom to Colin about the opposite sex? "Remember boy, when it comes to women, you're never too old for humiliation." And when Harry Potter star Emma Watson-as a lowly wardrobe girl who has a crush on Colin-finds out that the actress has broken his heart, she tells him, "Good...it needed breaking."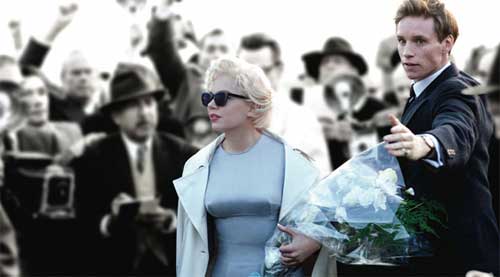 Eddie Redmayne plays aspiring filmmaker Colin Clark, Marilyn's rumored lover
Making such lines linger in the memory long after the film itself has ended are the sublime, pitch-perfect portrayals of Kenneth Branagh and Michele Williams, who were both nominated for Academy Awards for their work in the film. An older friend of mine who's an Olivier fan says Branagh embodied the late acting god flawlessly. As for Michelle Williams, it took me less than a minute to accept that she was Marilyn Monroe. Though she's smaller than the real deal, Williams nailed the icon's body language and flirty expressions from start to finish. Williams even nailed the voice, singing as Monroe in a couple of scenes.
ADVERTISEMENT - CONTINUE READING BELOW
It's a shame, though, that not more moviegoers are feasting on her exquisite performance in this beautiful film. My Week With Marilyn might as well have been called My One Week in Manila's Moviehouses.
Rating: 4 spots out of  5 ....
Share this story with your friends!
---
Help us make Spot.ph better!
Take the short survey
Load More Stories