SPOT.ph's 10 Women Who Changed the Game
Get to know fierce Pinays who made things happen.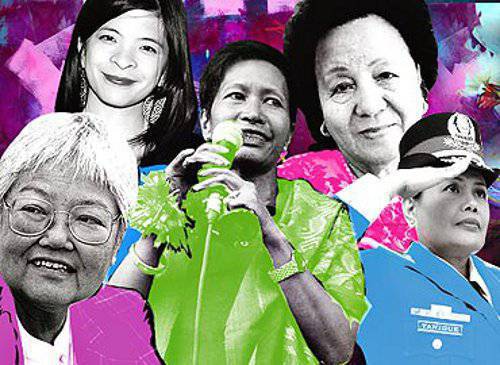 (SPOT.ph) A game changer is defined as "a person, an idea or an event that completely changes the way a situation develops or how people think." In honor of Women's Month, we came up with a list of women who have changed or are working to change the way things are done or perceived. They have shown us that one does not necessarily need to do things in a grand fashion in order to make a big difference. The women on our list range from a young survivor of tragedy to literary stalwarts who may have passed away but whose works will live on to inspire future generations.

ELIZABETH ANGSIOCO
As the national chair for the Democratic Socialist Women of the Philippines (DSWP), Angsioco has made it her mission to emancipate women-particularly of those from the marginalized sector-from oppressive situations. Angsioco believes in empowering disenfranchised women through something practical and tangible such as a micro-credit program, skills training, an anti-violence fund, and an assistance program for victims and survivors of rape and abuse. Throughout 2011 Angsioco was one of the most active advocates of the long-delayed Reproductive Health Bill and there's no doubt she'll keep at it for as long as it takes.
CATHY BABAO-GUBALLA
Babao-Guballa turned her grief over the death of her four-year-old son Migi-who died from an open heart surgery in 1998-into her inspiration to serve others. Sometime after Migi passed away, she went back to get her graduate degree in Family Psychology and Education. She told Smart Parenting in 2011: "When Migi died...that's when I went into full bloom in different fields-as a writer, an advocate for women and children, and a grief educator." Helping others get through the pain that she herself experienced has become her "ministry." Last year, she wrote the book, Between Loss and Forever: Filipino Mothers on the Grief Journey. She also writes a column for the Lifestyle section of the Philippine Daily Inquirer. (By the way, Babao-Guballa is the cousin of newsman Julius Babao and the daughter of actress Caridad Sanchez.)
ADVERTISEMENT - CONTINUE READING BELOW
JESSICA COX
Due to a rare birth defect, Filipino-American Cox was born without arms. But she didn't let that fact define her or limit what she could do. After graduating from the University of Arizona with a degree in Psychology, she took up-among other things-flying. In 2008, when she was 25 years old, she became a licensed pilot. She was subsequently cited by Guinness World Record as the first person to fly a plane using only her feet. Cox is now a motivational speaker and travels all over the world to share her story. According to the information posted on her website, Cox's matra is "Think outside the shoe." And, oh, she's also the first armless person to earn a black belt in the American Taekwondo Association.
CONTINUE READING BELOW
Recommended Videos
PATRICIA EVANGELISTA
This tireless writer, TV host, and producer continues to give the public insights into issues that affect the country through her Philippine Daily Inquirer column and the shows that she's involved in. Storyline, in particular, which she co-created with director Paolo Villaluna, has raised the bar for local documentaries and news features. It's one show that provokes critical thinking without using cheap tricks. While some resort to milking the "pity factor" when it comes to impoverished or disenfranchised subjects, Storyline treats them with an objectivity that gives them dignity. Keep in mind that Evangelista is not even 30 yet. She's just getting started.
DOREEN FERNANDEZ
This noted food critic, writer, and culinary historian may have passed away in 2002, but her legacy and craft lives on. Fernandez led a very busy and interesting life. During the Martial Law era she was an activist. Her biography then goes on to enumerate her achievements. For almost 30 years, she taught at the Ateneo de Manila University. She was a trustee of the Cultural Center of the Philippines, the Philippine Educational Theater Association, and the Ramon Magsaysay Award Foundation. She was also vice-president of the Foundation for Worldwide People Power, editor-in-chief of Philippine Studies, and member of the Manila Critics Circle. The list just goes on. In her honor, there is an annual Doreen Fernandez Food Writing Awards. Fernandez elevated food writing to an art.
ADVERTISEMENT - CONTINUE READING BELOW
RAISSA LAUREL
In September 2010, Laurel, a San Sebastian College-Recoletos law student, lost both her legs when a bomb exploded on Taft Avenue. Laurel was one of the many who were cheering on those who were taking the bar exam. Despite the tragedy, Laurel got through a period of shock and depression and returned to law school. In 2011, Laurel became part of Senator Koko Pimentel's staff. According to an ABS-CBNNews.com report, Laurel had posted an exuberant tweet on her first day on the job: "Part of the working force again... Thank you, God for this day. You are amazing!" Laurel's remarkable attitude about her ordeal inspired people and, no doubt, had many rethinking their attitude towards life.
WINNIE MONSOD
This professor has been in many of our "fierce women" lists. She's known as a fearless commentator on political issues and has, in fact, dressed down a politician or two on national TV. This year, she is on this list for what she revealed to the public in the March 7 episode of  her show, Bawal ang Pasaway kay Mareng Winnie. She said that she had been sexually harassed by a family acquiantance when she was just 12 years old. Her fearless confession and the message she imparted with it made a powerful impression on the public and once again highlighted the need for the country to be more vigilant against child abuse. Monsod had said: "(My parents) brought back my confidence right away. And as a result, I learned a lesson. They taught me that lesson and it was a very hard lesson to learn. Not all adults should be respected. Not all adults should be obeyed. That a child, no matter how young, must use their minds to say 'This is wrong and I will do something about it.'"
ADVERTISEMENT - CONTINUE READING BELOW
TWEET SERING
Palanca Award winner Sering took the indie plunge in 2011 when she self-published her book, Astigirl: A Grown Girl Living on Her Own Terms, a collection of personal narratives. As SPOT.ph blogger Ria Limjap observed: "Tweet Sering very bravely bares her flaws and frailty but does it with humor and honesty in equal doses. She succeeds in making her personal journey compelling because she does not hold back on the page. Generous in her revelations and insightful with her realizations, she will laugh at herself but find the central lesson and apply it." Sering painted a no-B.S. portrait of a complex contemporary Pinay. For this year's International Women's Day, Sering spearheaded Babaenihan 2012, an event featuring women from various fields as speakers.
YOLANDA TANIGUE
Chief Superintendent Yolanda Tanigue is the first female Chief Superintendent of the Philippine National Police (PNP). Her position is equivalent to a one-star general in the military. A licensed social worker, she pushed for the creation of the PNP's Women and Children Protection Center (WCPC). The WCPC is the country's first all-female police outpost. It's popularly known as the "Aleng Pulis" unit, where female police officers are also equipped with full battle gear. They don't just provide counseling, they kick ass, too. Tanigue-a native of Labo, Camarines Norte-is also a wife and mother of three daughters. In a 2006 article published in The Philippine Star, Tanigue was asked how she felt about her promotion. She replied, "This is an honor with pride but I take it not just for me but for other policewomen who are here now and for abused women and children, who have been my inspiration to further come up with programs to help and protect the innocent."
ADVERTISEMENT - CONTINUE READING BELOW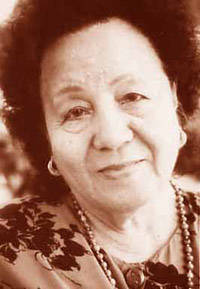 Screenshot of photo posted on the Siliman University website
EDITH TIEMPO
This poet, fiction writer, teacher, and literary critic passed away in 2011. Conferred as National Artist for Literature in 1999, she and her husband Edilberto, also a renowned writer, were the driving forces of the highly esteemed Siliman National Writers Workshop. In an ABS-CBNNews.com article, Siliman University president Dr. Ben Malayang III had this to say about Tiempo: "Memories of her heartwarming smile, soft-spoken personality and the nurturing touch of her hands will forever spark the brilliance in both established and budding creative writers in the Philippines and beyond."
Art by Warren Espejo
Share this story with your friends!
---
Help us make Spot.ph better!
Take the short survey
Load More Stories