Corazon: My Wife is a Harpy
"It's refreshing to see an <em>aswang</em> movie that highlights the human condition more than good old folkloric evil," says our SPOT.ph blogger.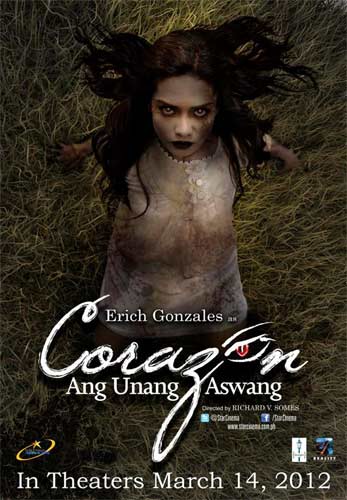 (SPOT.ph) Finally, an aswang not groaning under the weight of too much prosthetics! In Corazon: Ang Unang Aswang director Richard Somes, an accomplished and award-winning production designer, uses a lot of clever makeup and complex back story to transform the fragile beauty of Erich Gonzales into a veritable ghoul but skips the usual fangs and bloodshot contact lenses. There is no big reveal for the monster in this movie. As the title suggests, it is all about a crazy woman named Corazon, with shades of the immortally insane Sisa from Noli me Tangere and damaged pariah Kuala (Lolita Rodriguez) from the Brocka classic Tinimbang Ka Ngunit Kulang, more than supernatural winged creature we all know and love. It's refreshing to see an aswang movie that highlights the human condition more than good old folkloric evil.
In a small hamlet at the edge of a forest lives Corazon (Erich Gonzales) a young wife devoted to her (if might I add, super hot) husband Daniel (Derek Ramsay). All Corazon wants is to have a child, but because of the terrors she suffered under the Japanese during World War II, she cannot conceive. Kind hearted but shunned by the townspeople as a cursed and barren harlot (with Sue Prado being one of the most shrewish women in the village), poor Corazon must resort to the obligingly creepy and mysterious local albolaria for childbearing secrets. Told that she must drag the statue of a Catholic saint into the forest and pray for two weeks, Corazon obediently follows the advice and predictably enough ends up pregnant shortly after. Was it her fervent novena or the (quite hilarious and overly scored) love scene with the smouldering Derek that put the bun in her oven? Whatever it was, Corazon carries to full term, only to have a stillbirth which literally drives her crazy. Raging at God and awash with post-partum hormones, Corazon disappears with the dead infant into the forest and swears that no children will live in their small village again.
ADVERTISEMENT - CONTINUE READING BELOW
Watch the trailer here.
Somewhat inexplicably, the once delicate Corazon survives in the jungle wearing only her frilly nightgown, wrestling wild boars and eating little kids in the village. Soon the nightgown frays and she uses the boar skin as stealth cover at night. As if to signify her craziness, her hair goes from Pantene-perfect to teased forest-dweller wild. Despite her carnivorous diet, her lips are a perfect shade of Chanel Vamp and her eye makeup is artfully smudged. (One thing is certain: Erich Gonzales looks beautiful whether she's perfectly groomed and pristine or perfectly art directed aswang. She acts with her eyes, communicating the depth of her tragedy better with her big black dewy gaze more than her screeching.)
CONTINUE READING BELOW
Recommended Videos
Meanwhile, Daniel spends his time trying to find his wife in the forest. Convinced by his friends in the village (Epi Quizon and Mon Confiado) that the real killer is Matias (Mark Gil) the hacienda's mestizo menace, until the daughter of Matias himself falls victim to Corazon's appetite for small children.
In the end, surprise surprise, it is The Pinoy Male who saves the day. The good husband puts aside his natural prejudice and finds it in his heroic heart to take back his monstrous spouse. Daniel finds Corazon in the forest and despite her weird hair and awful breath, still loves her. Any lesser man would have skipped town long ago, but Daniel and his noble bravery-not to mention his fetching way of wearing native accessories-will stand by his wife. There's a vague feeling that the transforming power of Daniel's love and devotion will recall back his wife from the life of a serial killer. They run off into the forest in a swirl of (probably electronic) violins and a smoke machine haze and I'm left wondering what's next for Corazon and Daniel. Possibly a life in the suburbs. Possibly a sequel-if they made enough money at the box office.
ADVERTISEMENT - CONTINUE READING BELOW
It seems all the aswang movies I've seen (including the one I worked on) suffer from convoluted plots, so we must depend upon other aspects of the movie for redemption. This is a fairly polished movie-with more than decent production design, cinematography, and editing-with glamorous network stars who look great on screen. It helps that Erich is simpatica and Derek is becoming better with the smouldering. It helps that they had wide release and marketing thanks to the ABS-CBN machinery. It helps that the poster was interesting. All these things helped in making apparently seven million on opening day.
Well, good for Richard Somes. I've always had a soft spot for the Ilonggos. I like their aesthetic and their sense of drama (and their approach to food). Of all the aswang myths I've come across, my favorite one again has Ilonggo roots. Joenar Pueblo's experimental short Ang Romansa ni Tiyente Gimo kag Maria Labo is the version of the aswang myth that stayed with me the most because it was so strange and so filled with longing. But maybe this time we need a romantic comedy-I know, another rom com?-about Gimo and Maria, two lonely creatures locked in a bloody love/hate relationship for the ages.
Share this story with your friends!
---
Help us make Spot.ph better!
Take the short survey
Load More Stories