FOOD REVIEW: Nomama in Quezon City
Our SPOT.ph blogger gushed about the unorthodox ramen here. Find out why.
Nomama Artisanal Ramen
Scout Tuazon corner Scout Castor
Quezon City
Tel. No. (0917)522-8272, 542-2558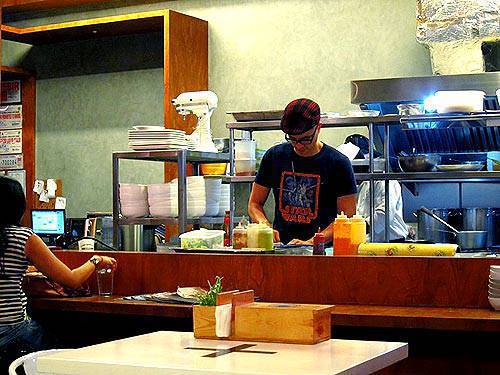 Chef and proprietor Him Uy de Baron
(SPOT.ph) I'll be the first to admit it: as far as eating out was concerned, I had gotten a bit lazy.
After a slew of meals that weren't anything to write home about, I decided that if I wanted to step out to eat, I would just go to my surefire hits. Not a bad thing, but where's the fun in that? That was like me, as a kid, watching Star Wars for the 63rd time, because there wasn't anything else to watch (well, of course there were other things to watch-and yeah, I liked Star Wars that much!)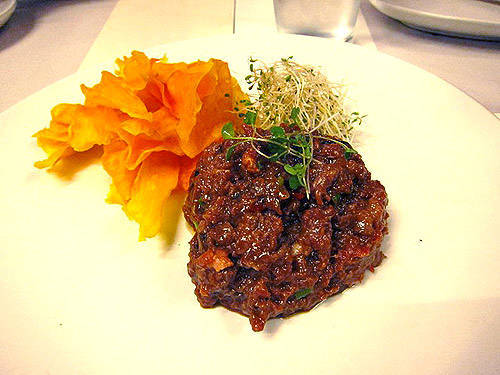 Seared Beef Tataki
ADVERTISEMENT - CONTINUE READING BELOW
The thrill is in the proverbial hunt-well, most of the time, at least-and I had to calibrate my sensors. What finally set if off was a Twitter discussion I had with a friend, Him Uy de Baron, who had been inviting me to his new place. Awhile back he had mentioned to me that he was setting up an "artisanal ramen bar" somewhere-and that somewhere is now what is known as Nomama, in the QC area (a place which you may have heard about from a lot of bloggers and early adapters out there-but this is my blog. So there! Hehe).
CONTINUE READING BELOW
Recommended Videos
But before I continue, I have to say this: I hardly ever make it out to the QC area. I know there must be a lot of hidden gems out there, but the hassle of getting there far outweighs any inclination of mine to chow down. But Him has always been a good guy and someone I trust (Ahem, please send the GCs through the mail, amigo. Just kidding! Who do you think I am-the Big Bad Blogger? Haha! Whatever happened to him? anyway...), so if there is anyone who can entice me to venture there, it would be him.
ADVERTISEMENT - CONTINUE READING BELOW
So one Saturday, after passing through customs and getting my visa (har har!) I finally made it there. Let me tell you this-it is definitely one of the coolest restaurants in Manila. Designed by this other dude I know, Architect Carlo Calma, it's classy and hip without being intimidating, with clean lines, quirky features, and terrific little details-and is immediately transporting. You could be anywhere in the world-a rare quality in our local scene, and one that leaves a glowing first impression.
But aesthetics aside, at the end of the day, it's the food that really matters-something that Mr. Him has delivered.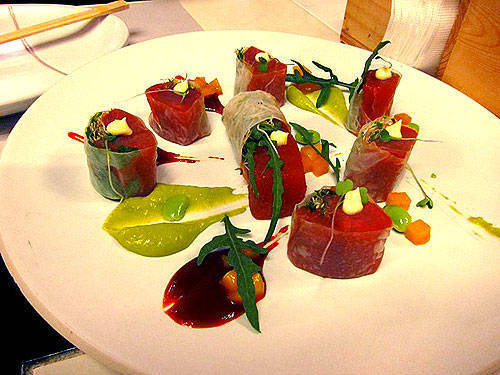 Clean-tasting tuna loin
We started with a plate of tuna loin. Served raw and wrapped in rice paper alongside some sprouts, arugula, mango, edamame puree and ponzu sauce, it's a clean-tasting little dish that's a nice way to open things up.
Even better was a seared beef tataki-Kitayama sirloin chopped up, and folded in with some house tare (a sweet thick sauce that is used in a lot of Japanese dishes, and usually varies from chef to chef) and served with sweet potato chips. The tare was smoky and sweet, a nice harmonious flavor that neatly counterpoints the beef. Easily one of my faves for the evening.
ADVERTISEMENT - CONTINUE READING BELOW
Stuffed squash flowers with a sweet dipping sauce was fun-stuffed with prawn mousse and pork, it reminded me of a riff on a crisp fried siomai. This will be a hit with the kids (and a great way to sneak in some veggies onto their plates!)
A gyoza of beef short ribs in a dark curry sauce could have been a meal in itself. Rich and flavorful (and filling!), it's a dish that I totally see someone scraping into his rice and eating as toppings. Not the lightest dish, but still enjoyable and satisfying-perfect for the macho, meat-loving Pinoy.
If you're looking for a traditional ramen, and most of you are looking-as ramen seems to be quite fashionable these days-this may not exactly be the place to find it. Although there is a pork stock (tonkotsu-style, I believe) ramen on the menu, their other variants are bit more esoteric. And that, in my book, is a good thing. Chatting with Him, I learned that making stuff you may have tried in Tokyo ramen bars and replicating them here is quite difficult-so instead, make your own variants.
A green curry soup base with ramen noodles, bok choy, peas, and a juicy seared chicken was absolutely KILLER. This is the kind of food you don't have to intellectualize about. Just EAT IT. Flavor hits you from all directions, and I love that you can end your bite with some crisp skin. I would plan a trip back just for this!
Spicy ox tongue dry noodle was another highly unorthodox creation that reminded me of Chinese "spaghetti" (ground beef with mushrooms in a slightly sweet spicy sauce on noodles). Beautifully plated with the tongue mixture in a hollowed out tomato, sitting atop the noodles tossed in the same sauce, it's a great dish for sharing (or gee, you takaw you-eat it all alone.)
ADVERTISEMENT - CONTINUE READING BELOW
Twice-cooked pork belly teriyaki has all the marks of a local crowd pleaser: tender, slightly charred pork belly with apples and French beans beg to be eaten with rice. It reminds me of souped up liempo-and for all intents and purposes is its cousin. I liked it, and so did my party, but it pales in comparison to...
Kitayama flank steak. This locally unloved cut, certainly not like the national sweetheart known as ribeye, is absolutely delicious. Topped with miso butter, it has bite and still somehow melts in your mouth from all the marbling - and it tastes like beef. What more can you ask for in a piece of meat? Served with little bricks of tofu fries, this one plate knocked it out of the park. At P740 for an order, you would be hard pressed to find a better deal in Manila for this kind of quality.
For sweets, we had the dessert of the day, a mad creation of toasted cake with mango and wasabi cream which really grew on me-however the wasabi cream took a bit of getting used to. For someone like me who will try anything, it certainly is intriguing, but admittedly it's not for everyone.
Instead I would go for another round of gyozas. We ended with a homage to that institution of dining, McDonald's. Inspired by them apple pies deep fried in god knows what, Him crafted apple gyozas served with some thick yogurt on the side. I am not really a dessert person, but this one just sealed the deal for me.
ADVERTISEMENT - CONTINUE READING BELOW
Now, I know I may sound like I'm gushing too much about this food. The truth of the matter is I think this is one of the most important restaurants we have at this point in time. It pretty much surpassed all expectations I may have had, but that isn't even what makes it special-I prop up this place for the simple reason that practically everything they use is local. Their Kitayama beef a well marbled Wagyu variant raised in Bukidnon. Their pork is local and free range. Their veg is the best they can find around here.
Nomama has managed to push themselves and come up with food without having to resort to Angus Prime steaks, or Kurobota, or imported this and that. It can only get better from here.
So yes, get a visa and make a beeline for this place pronto. My wish is that more restaurants find themselves inspired by Nomama's cooking philosophy. Sure, it won't work for everyone, but many will definitely benefit from it.
Bring your friends, bring your family, bring a date. Hell, bring your dog. This is suitable for just about anyone.
4 out of 5 Spots ••••
Share this story with your friends!
---
Help us make Spot.ph better!
Take the short survey
Load More Stories