Ito Kish on his Manila FAME Exhibit wins and Filipino design
The interior design consultant and furniture designer talks about how he infuses his love of his Filipino heritage into his work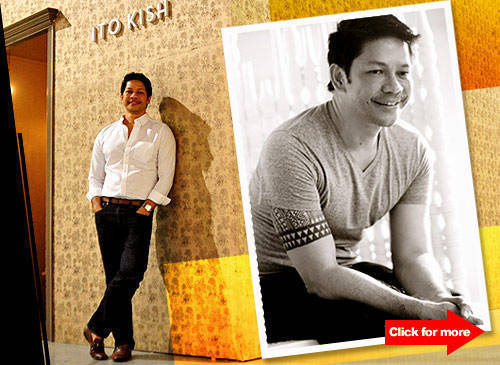 View some of Ito Kish's works. Click for more.
(SPOT.ph) Although Ito Kish has been in the interior design and retail business for 12 years, when it comes to designing his own furniture, he still considers himself a newbie. This is probably why his back-to-back win at the recent Manila FAME Exhibit for Best Booth Design and Best Product Design for Furniture took him by surprise.

"I was really just so hopeful that at least we'd get a nomination for the best booth because I'm known in the industry when it comes to visual merchandising and putting things together," he told Spot.PH in an interview on the third day of the exhibit, which was held at the SMX Convention Center from March 14 to 18. Ito shared that he had really only hoped for a nomination because he knew there were hundreds of booths vying for the win.

Then he was nominated for Best Product Design for Furniture as well, which completely surprised him. "[I] really had no expectations at all," he shared, smiling broadly. "It's really my first time to design and first time to join. I don't know the technicalities, and you do not know what's going to be out there. I was just so excited with the concept and [wanted] to present it, and that's it."

He smiled, looking as if he still couldn't believe he had won. "I guess we got really lucky," he said.

But his win had less to do with luck than it did with his refreshing take on an essentially Filipino interior design element. The furniture he designed was based on traditional balusters, the kind found in many Filipino homes. Ito also added modern touches, keeping the colors light rather than using the darker, more traditional tones. For one piece, he painted the wood a stark white to make it "very modern, minimalist, so it stands out."

When asked about his concept, Ito stressed the importance of retaining his identity as a Filipino designer and expressing this through his pieces.

"It's always easy to design a chair that looks like a spaceship," Ito said. "I mean, you can be in a Scandinavian country or Italy or Tokyo and do a very modern chair, but it will [still] look like a spaceship-you know, alien and everything. So I wanted to come up with something that, once you see it, there's an identity. You know it came from somewhere. Philippine tradition, the culture, is the basis of the inspiration, making sure that all the designs will come and be inspired by the culture of my country."

It wasn't just inspiration that Ito sourced locally, however. "Everything's local, produced locally," he said proudly. "There are no materials that were imported-even the wall paper was all printed locally." He points out that he used a lot of Gmelina wood, pointing out that this was not only widely available in the country but also easily reproduced since the Gmelina is known for being fast-growing.

When asked about designing other pieces, Ito was very adamant that he would keep things Filipino. In general, he said, "[My designs] will be based on the craftsmanship and local materials-what's available-and based on the heritage and the arts and the culture of the Philippines. I guess, in the process, it could look modern or it could look very, very traditional with just a little bit of a twist here and there. What I'm sure about is I'll be inspired by anything Filipino." He also mentioned that he would be working on more décor and accessories to complement the designs exhibited for Manila FAME.

When asked about future endeavors, Ito smiled, shrugged, and said he felt wanted to do more furniture design, having just started. "This is the first time I've done this, so basically I think there's a door that's just been opened [for me]," he shared, almost conspiratorially. "I just want to take my time and enjoy it. I'll probably be enjoying this for a while right now."

But he's quick to point out that furniture design isn't all he does, stressing that he's an interior design consultant but not an interior designer since he isn't licensed. And he isn't planning to rest on his laurels, either. "[Furniture design] is just another avenue for me," he said. "This is [really] something, the response has been so good. When you have a career, you have to look into how far and where else you can go. You have to be relevant. You cannot just stay for the next five years doing this. You have to do something else, which is all connected to who you are and what you do and what you like, what you want to do."


ADVERTISEMENT - CONTINUE READING BELOW
CONTINUE READING BELOW
Recommended Videos
Share this story with your friends!
---
Help us make Spot.ph better!
Take the short survey
Load More Stories