Hot on Spot: Bianca Gonzalez tops up Esquire PH
By now, TV host Bianca Gonzalez's cover photo for Esquire Philippines' April 2012 issue has made the rounds and, as one report put it, "shocked" her fans.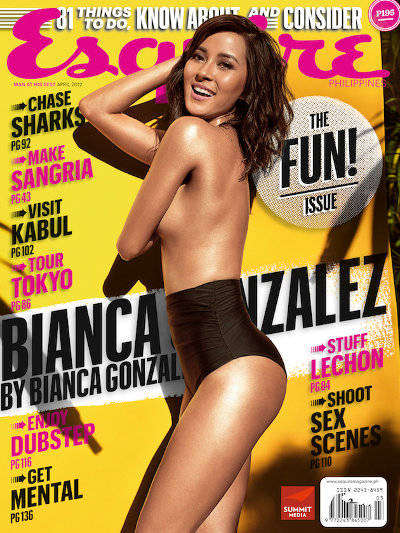 (SPOT.ph) By now, TV host Bianca Gonzalez's cover photo for Esquire Philippines' April 2012 issue has made the rounds and, as one report put it, "shocked" her fans. That's because the 29-year-old-who has cultivated an image that most Pinoys tag as "wholesome"-is the last woman you'd expect to go topless for a magazine cover. But there she is in a high-waisted black bikini -striking a pose that's vaguely reminiscent of 1950s and 1960s pin-up sexpots -with only her arm artfully covering her top. For the record, we think she looks smokin' hot.
The reason for Bianca
Luis Katigbak, associate editor of Esquire Philippines, explained  why they picked Gonzalez: "When we decided that the theme for the month of April would be Fun, we knew we had to put someone on the cover who could embody the concept. The Philippines has many, many insanely good-looking famous people, but not all of them can fit the bill. After meeting several times on the matter, it became clear that we knew the perfect person-someone who had the bright, vibrant, positive spirit we needed-and that was Bianca. Then it was just a matter of getting her to say yes, and of assembling the right team and location for the shoot. The fact that she's also a writer-we had her write her own accompanying article-was a happy plus."
ADVERTISEMENT - CONTINUE READING BELOW
Katigbak added that "the end product" was a collaboration that involved everyone from the magazine's editor-in-chief Erwin Romulo to the rest of the staff. Katigbak also revealed:  "A major factor that resulted in the cover though, I have to say, is the enthusiasm of Esquire Philippines web editor Jonty Cruz, who has long been firm in his belief that Bianca would make a great cover. We think he has been proven right."
For the shoot, Gonzalez was photographed by BJ Pascual. Her makeup was done by Lala Flores, her hair by Ney Guese, and she was styled by Liz Uy.
CONTINUE READING BELOW
Recommended Videos
Pseudo-controversy
After KC Concepcion's provocative cover for Rogue's January-February 2012 issue and FHM Philippines' highly controversial original March 2012 cover featuring Bela Padilla and five other models, Gonzalez's Esquire Philippines cover is now causing a controversy that's not so easy to explain.
In  Concepcion's case, the setting featuring a snake and a male mannequin's head fueled speculations about her break-up with actor Piolo Pascual. Padilla's cover-that-didn't-make it, on the other hand, was accused (if one can apply this verb to a magazine cover) of being racist by petition-happy netizens. In Gonzalez's case, it may stem from the fact that in this neck of the woods people don't think that "nice girls" can be sexy, too. Or that women who are smart enough to write their own cover stories could also give bombshells a run for their money.
As expected, netizens were quick to weigh in on Gonzalez's Esquire Philippines outing right after the image of the cover was made available online.
ADVERTISEMENT - CONTINUE READING BELOW
Behind the scenes: Bianca Gonzalez in her Esquire Philippines shoot.
Violent reactions
Some fans were shocked and expressed that they didn't like it that Gonzalez was ditching her "wholesome image." One Facebook user commented on Esquire Philippines' page that Gonzalez's "clean image" was enough to sell copies. Elsewhere online, one commenter slammed a blogger, who praised the cover, by claiming that the Bible abhors women who "show skin." On Twitter, a surprising number of women pointed out that Gonzalez was "too skinny" and made other nasty comments about her career. 

Pleasantly shocked
Meanwhile, on the SPOT.ph Facebook page, user  Cres Jane Almonza Ebba remarked on Gonzalez's Esquire Philippine cover, "Who knew she was that hot?" On Twitter, user Forest Candelaria tweeted: "Hello Bianca Gonzalez, marry me please." Another Twitter user, Joanne Chavez wrote: "I was like...really? A li'l bit shocked, but I have to say that it was nicely done. Congrats Bianca!"
The results
One more gauge for the magazine cover's popularity? Google "Bianca Gonzalez" and you get a lot of results about the cover on the first page. The trolls (for reasons known only to them) will keep slamming the cover, of course. But then we doubt if that will stop Gonzalez (and the Esquire Philippines team) from having fun.
Share this story with your friends!
---
Help us make Spot.ph better!
Take the short survey
Load More Stories